Search
Close
christian berst
art brut
anna zemankova
hortus deliciarum
Exhibition

From May 31 to July 20, 2013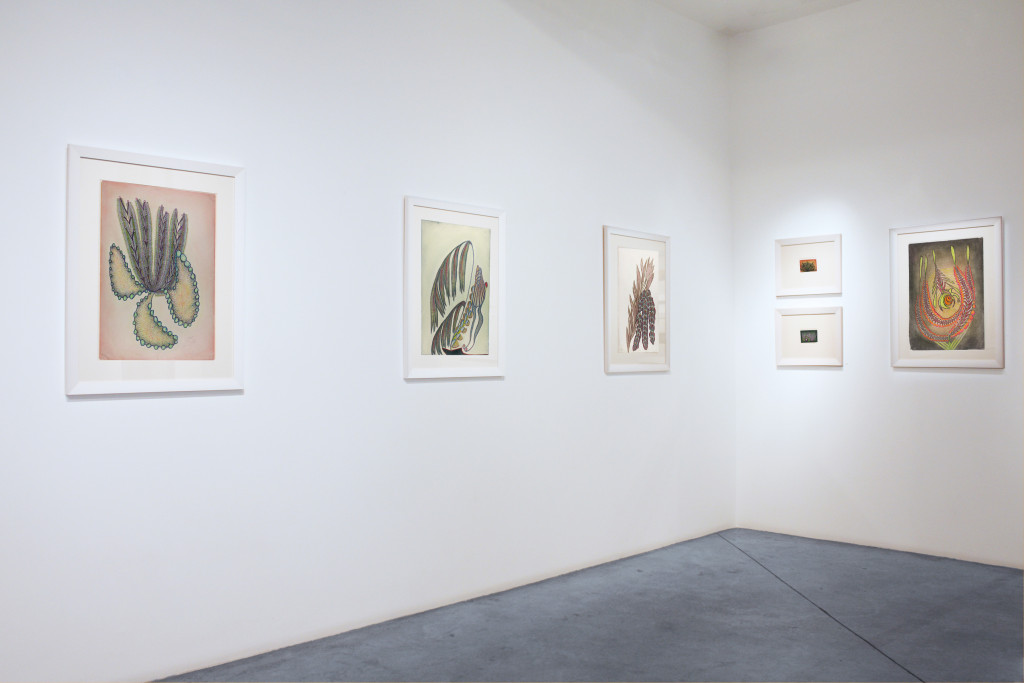 Are our times so disenchanted that the Venice Biennale has invested the works of a poor soul from Moravia with the power of liberating new potential?
Anna Zemánková (1908–1986), now an established figure in the world of Outsider Art, began while in her 50s to produce works that nothing in her background had readied her for.
More importantly, by their very nature they responded to injunctions from the innermost depths; the creative process took no account of pleasing others. So at an early hour, when the demons of the night were still battling the seminal iridescences of the dawn, this family woman, in a trance, would mentally gather strange flowers which she would draw forth out of paper. Stitching them together, embroidering them over, pruning them, sometimes studding the heavens with thousands of pinpricks, crafting an entire system of white magic in the service of a hortus deliciarum from which she hoped, perhaps, to make the ointments, balms and potions that would cure her depression and free her being.
Her legs were amputated and she was doomed to silently contemplate the breaking day; all the while, this vegetation was growing slowly within her. "I grow flowers that grow nowhere else," she would say. But from what herbarium of the abysses did these rootless, soil-less plants, the flowerings – imaginary or erotic – swell up? To what plant kingdom do they belong? How are they to be classified?
In fact, like the plants in the work of Séraphine de Senlis, can these still be considered flowers? Are they not already fruit? They are fleshy and bursting with heady juices, saturated with the urges of a woman who, giving herself up to an unelucidated mystery, simply says, "I live."
Catalog
Anna Zemánková
hortus deliciarum #2
Texts : Terezie Zemánková and Manuel Anceau
Foreword : Christian Berst
Catalog published to mark the exhibition Anna Zemánková : hortus deliciarum #2, from June, 17 to July 18, 2021.
Les fleurs délices d'Anna Zemankova
Dominique Poiret, Libération.
July 17, 2013
.
Anna Zemankova Hortus deliciarum
Philippe Godin, ParisArt.
June 28, 2013
.
Anna Zemankova
La Gazette De Drouot.
June 21, 2013
.
Anna Zemankova
Bénédicte Phillipe, Télérama Sortir.
June 19, 2013
.
Anna Zemankova galerie christian berst
Philippe Dagen, Le Monde.
June 10, 2013
.
La flore d'Anna
Philippe Lespinasse, Siné Mensuel.
June 3, 2013
.
anna zemánková, l'artiste qui « inventait des fleurs qui ne poussent nulle part »
Anna Kubišta, Radio Praha.
May 31, 2013
.
Le "mort-vivant" Anna Zemankova
Stéphane Corréard, Arts Magazine.
May 6, 2013
.