Search
Close
christian berst
art brut
Saved From Disaster
works from two spanish psychiatrists's collections (1916-1965)
Exhibition

From March 7 to April 11, 2015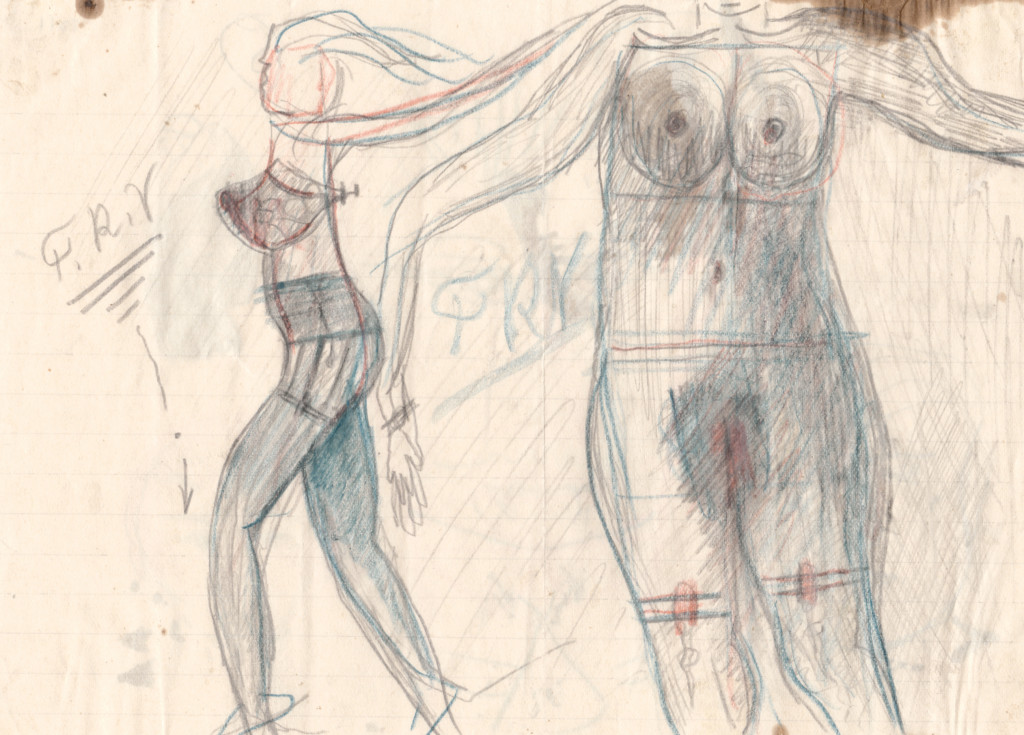 In the life of a gold-washer, which is that of an amateur of Art Brut, to find a gold-bearing vein that spreads over the 20th century in this way has become something rare and precious.
For in these ensembles that form the collections of the Spanish psychiatrists Gonzalo Rodríguez Lafora (1886-1971) and Ramón Sarró (1899-1993), we can discern much more than a freeze frame – in the literal and figurative sense – of what was then called psychopathology of expression.
Likewise we must not linger too long on the attempts of these men of science and some others to launch the vain foundations of pathography. But, even more, what is shown to us between the curtain folds or over the wall, is an illustrated inventory of our affects: through the eyes of these doctors and the filter of their culture, we are invited to leaf through a catalog of works saved from disaster.
From the intimate disaster, this genitor of poisonous and troubling beauties. From these productions essentially liberated from the injunction to please or from the desire to be noticed. To the extent that we begin to dream of those which didn't have the fortune of flattering the expectations of the psychiatrists, marked, thus, by a double-curse, so much did they gravitate towards zones that were out of reach for the gaze of that time.
Though the works grouped together by Sarró have had limited visibility, some of the ones from the Lafora's trove have been available for admiration on two occasions: first in 1950, for the International Exhibit of Psychopathologic Art, during the 1st World Congress of Psychiatry that took place at the Sainte-Anne Hospital in Paris. Incidentally, some were reproduced in the work that Doctor Robert Volmat dedicated to this foundational event.
Others appear in the form of a portfolio that comes with volume no. 7 of the Psychopathology of Expression, dedicated to Gonzalo R. Lafora and published in 1965. But it wasn't until the exhibit Psychiatric Art Gallery in Spain (1917-1990), in 2009-2010 in Valencia, that they were shown again, embellished with original decorative borders composed by this psychiatrist, as if to lift a part of the veil, without really being able to.
Even if many of these artists remain prisoners of their anonymity because of medical confidentiality, the exhibit that we devote to them reincarnates them and pays the standing homage that we owe to these men in spite of everything. This artistic testament of their alterity kept by two atypical psychiatrists allows us to assert with them: those people have lived, suffered, loved, but they have lit up their darkness.
Catalog
Saved from disaster
works from two spanish psychiatrists's collections (1916-1965)
Prefaces : Graciela Garcia et Béatrice Chemama-Steiner
Foreword : Christian Berst
Catalog published to mark the exhibition Saved from disaster : works from two spanish psychiatrists's collections (1916-1965), from march 7th to april 11th, 2015.