Search
Close
christian berst
art brut
joseph barbiero
over the volcano
Exhibition

From April 29 to June 5, 2011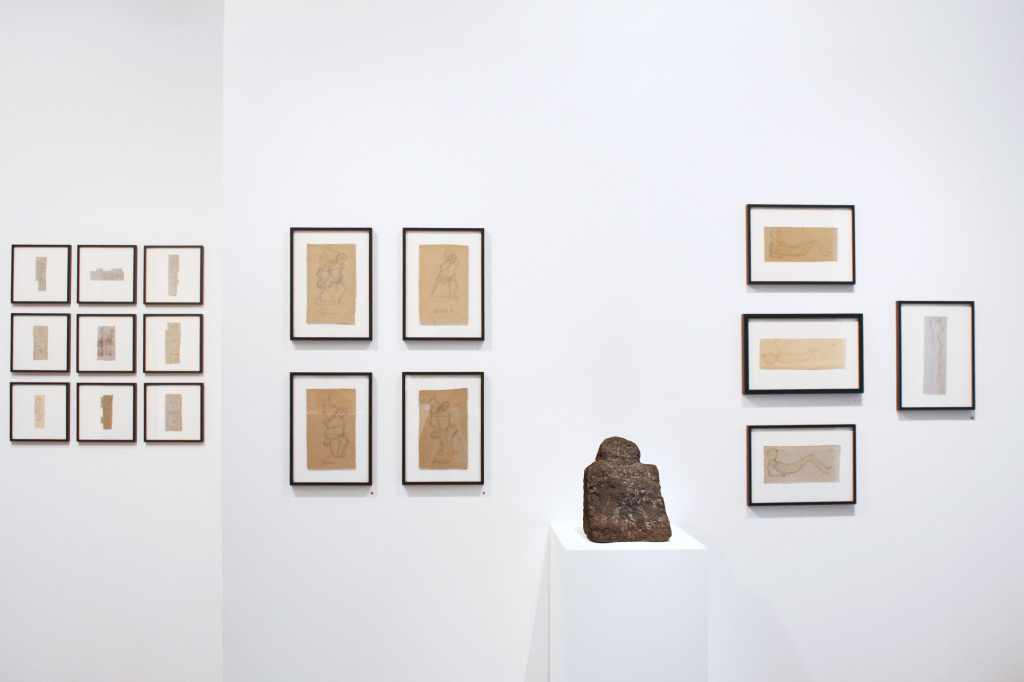 Joseph Barbiero was born near Padua in 1901. Fleeing Mussolini's Italy as a young man, he settled in a village nestled in the shadow of the Auvergne volcanoes in 1923. He worked as a stonemason until 1965, using the local Volvic stone in his restoration projects, which included many local churches.
He grew so accustomed to handling the volcanic rock that he started imagining the stories his chisel could carve out of it. The way he gave shape to the stories was doubtless purely intuitive: some, like the fossilised Casanovas, originated in his home region of Veneto, while others drew on the visual vocabulary of gargoyles or seemed to summon up long-forgotten pagan deities. As his strength faded later in life, he turned to drawing as a way of extending his fervent celebration of a life that was simple and joyous – in a word, elementary. Rock represents immutability, drawing movement, but in his hands, both were shot through with boundless vigour. His sculptures are the boundary stones of a land of exile where he made his home; his drawings are a dancing imitation of life as it grows fainter, budding for the last time.
I like to imagine him bidding farewell to his earthly travails with the same words he used when one of his rocks proved particularly stubborn: "That one was sort of blue!" The present exhibition, where the drawings echo the sculptures, is the first large-scale homage to the art of an ordinary man of the people with an extraordinary genius for art, many of whose works already feature in major museums, including the LaM and the Lausanne collection.
Joseph Barbiero was born on July 13, 1901, in Trebaseleghe in the Veneto region of Italy. The second of eight children, he never attended school, as his father needed his help in the garden to grow food for the family. He left Italy at the age of 22 when Mussolini came to power and spent a short while in the south of France before settling in Beaumont, near Clermont-Ferrand in the Auvergne. He married Andrée Coustet, originally from Paris, in 1927, and took French nationality in 1931.As a professional stonemason, he was given the opportunity to take part in major projects in Clermont-Ferrand restoring Notre-Dame-du-Port basilica and the cathedral, using the local black volcanic rock from[…]
Catalog
Joseph Barbiero
over the volcano
Preface : Jean-Louis Lanoux
Foreword : Christian Berst
Catalog published to mark the exhibition Joseph Barbiero : over the volcano, from april 29th to june 5th, 2011.