Recherche
Fermer
christian berst
art brut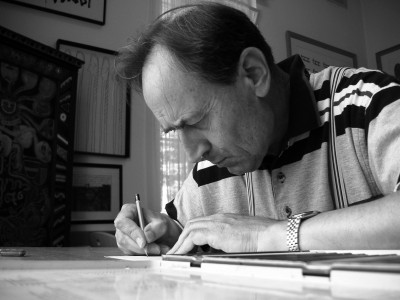 Né en 1938 à Kirchau (Autriche), Reisenbauer arriva à Gugging lorsque, peu après ses années de lycée, on diagnostiqua une psychose. Après 30 ans d'internement dans un pavillon pour malades chroniques, il fut invité, en 1986, à venir s'établir dans la Maison des artistes.
Ses dessins, le plus souvent des petits formats réalisés aux crayons noir et de couleur, offrent invariablement une répétition quasi sérigraphique du sujet qui se distingue par d'infimes nuances. Il manifeste le même souci obsessionnel d'ordre et d'équilibre dans les tâches les plus quotidiennes. Ainsi, lorsqu'on lui confie la distribution des fruits aux pensionnaires de la Maison, l'exercice se transforme en véritable « installation » sur la table du déjeuner.
Avec le quatuor des Walla, Hauser, Tschirtner et Fischer, Reisenbauer est devenu, à l'échelon international, l'un des artistes les plus emblématiques de Gugging.
Œuvres
Pour découvrir les œuvres disponibles, merci de nous
contacter
.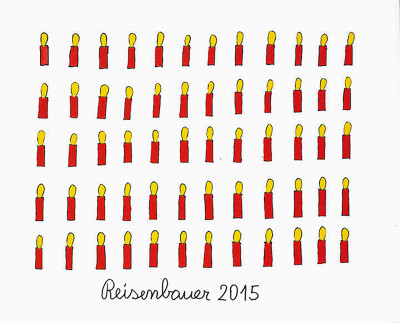 candles, 2015
100 x 80 cm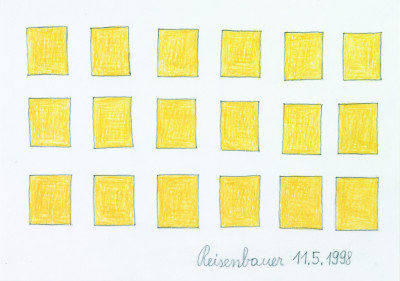 rectangles, 1998
20.9 x 14.8 cm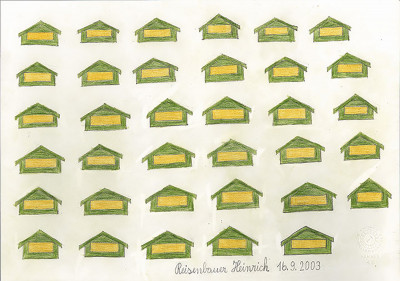 Bird's house, 2003
29.7 x 21 cm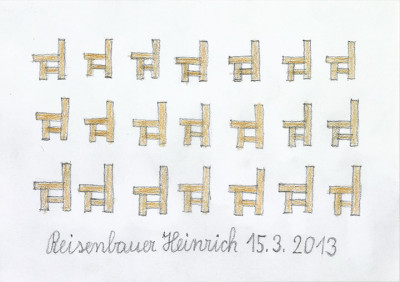 Chairs, 2013
14.8 x 10.5 cm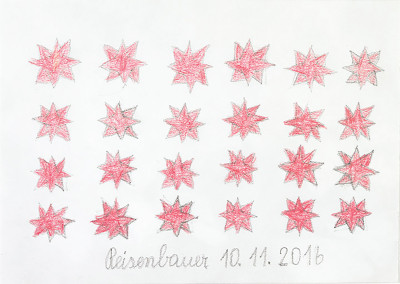 stars, 2016
14.7 x 10.5 cm

Half moons, 2014
180 x 45 cm
Catalogue
Gugging
the crazed in the hot zone
Avant-propos : Christian Berst.
Publié à l'occasion de l'exposition Gugging : the crazed in the hot zone, du 2 septembre au 22 octobre 2017.
Gugging the crazed in the hot zone
les danaïdes, par Jan-Philipp Fruehsorge