Search
Close
christian berst
art brut
jean perdrizet
deux ex machina
Exhibition

From February 3 to March 10, 2012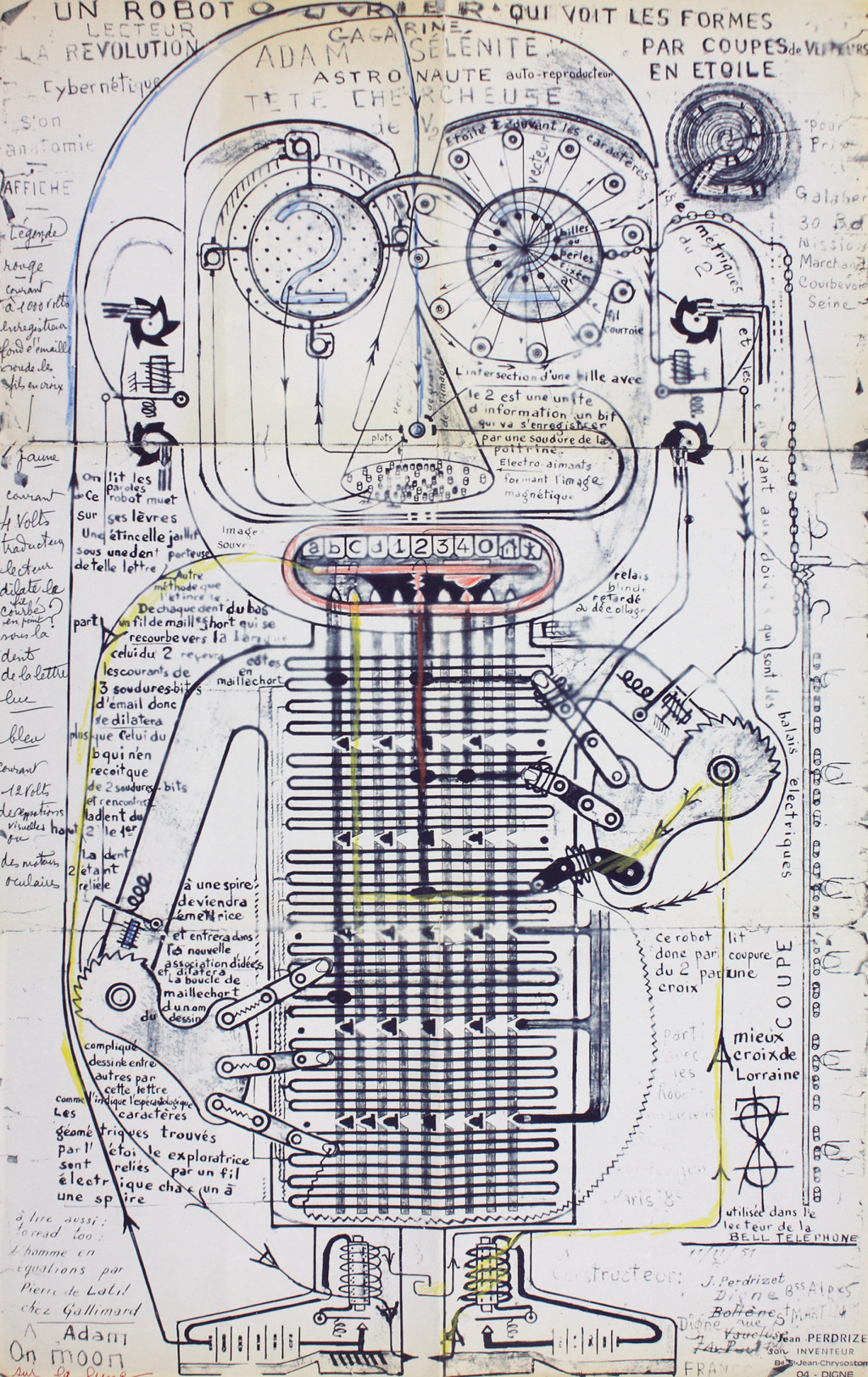 Historians of twentieth-century science have not recorded the name of Jean Perdrizet (1907-1975) for posterity. Perdrizet was originally a deputy civil engineer with the Bridges and Highways department before mental health issues forced him out of his career. He proved a fascinating figure for the many speculative thinkers and scientists he met, describing himself as an inventor and tirelessly striving to awaken human consciousness. Like all great thinkers, he did so by exploring beyond the limits laid down by fields of research.
Perdrizet worked with subtle shifts of reality, transgressing primary utilitarian functionality and living in a mental realm devoted to his mother and the unmarried machines he tasked with enchanting the world. In many ways, his work is reminiscent of Camille Flammarion for the way it reaches beyond the earthly realm, Raymond Roussel, for embracing the poetry of machinery, and Marcel Duchamp for exploring the aesthetics of movement.
He submitted his designs to leading scientific institutions such as NASA, the French National Centre for Scientific Research, and the Nobel Prize committee, each invention an invitation to rethink the limits of physics by providing the code to another world. Inventions such as the "Selenite Adam robots" – humanity's ambassadors to the cosmos – and his "machines for communicating with ghosts" and "sidereal esperanto", designed to facilitate communication with extra-terrestrials, all proclaimed the abolition of death. Perdrizet died in 1975, three days after his mother.
This former bridge and pavement engineer, who became an "inventor," fascinated all the scientists he met. He relentlessly sought to awaken consciences by overstepping the bounds of reason. The plans of his inventions, which he addressed to the highest scientific bodies, such as NASA, the CNRS or the Nobel Committee, are all invitations to reconsider the possibilities of physics, giving us the codes of an elsewhere. The one to whom we have dedicated an important monograph is present today in eminent collections : Mnan-Pompidou Center (France), collection de l'art brut (Swiss), LaM (France), Pinacothèque Hervé Lancelin (Luxembourg) ou Antoine de Galbert (France).
Catalog
Jean Perdrizet
deus ex machina
Prefaces : Manuel Anceau, José Argémi, Jean-Gaël Barbara, Marc Décimo
Foreword : Christian Berst
Catalog published to mark the exhibition Jean Perdrizet : deus ex machina, from february 3rd to march 10th, 2012.
Jean Perdrizet : illustre inconnu, inventeur, artiste malgré lui.
Benoît Hamon Et Diane Zorzi, Agora.
March 2, 2012
.
Allô les sélénites ? ici Jean Perdrizet
Philippe Ducat , Echo.
March 2, 2012
.
L'imaginaire d'un inventeur utopiste
Marie-Odile Monchicourt, France Info.
March 1, 2012
.
La précision des machines chimériques
Gilbert Lascault, La Quinzaine Littéraire.
March 1, 2012
.
Jean Perdrizet, deus ex machina
Le Monde - Agenda.
February 25, 2012
.
article sur jean perdrizet dans parisart
Marie-jeanne Caprasse, PARISArt.
February 23, 2012
.
jean perdrizet , « savant fou », à l'émission ouvert la nuit
France Inter.
February 22, 2012
.
Emission La tête au carré : interview de Jean-Gaël Barbara
France Inter.
February 16, 2012
.
Jean Perdrizet's fantastic machines
Susan Owensby, RFI International.
February 11, 2012
.
perdrizet show in télérama sortir
Télérama Sortir.
February 2, 2012
.
Jean Perdrizet, un inventeur tous azimuts
Animula Vagula.
February 1, 2012
.
jean perdrizet, nobel de l'art brut on universcience.tv
Roland Gros, Universcience.tv.
February 1, 2012
.
Les oeuvres de Jean Perdrizet, savant fou, exposées à Paris
Michèle Folian, Tout Pour Les Femmes.com.
January 27, 2012
.