Search
Close
christian berst
art brut
giovanni bosco
dottore di tutto 2
Exhibition

From March 8 to April 14, 2018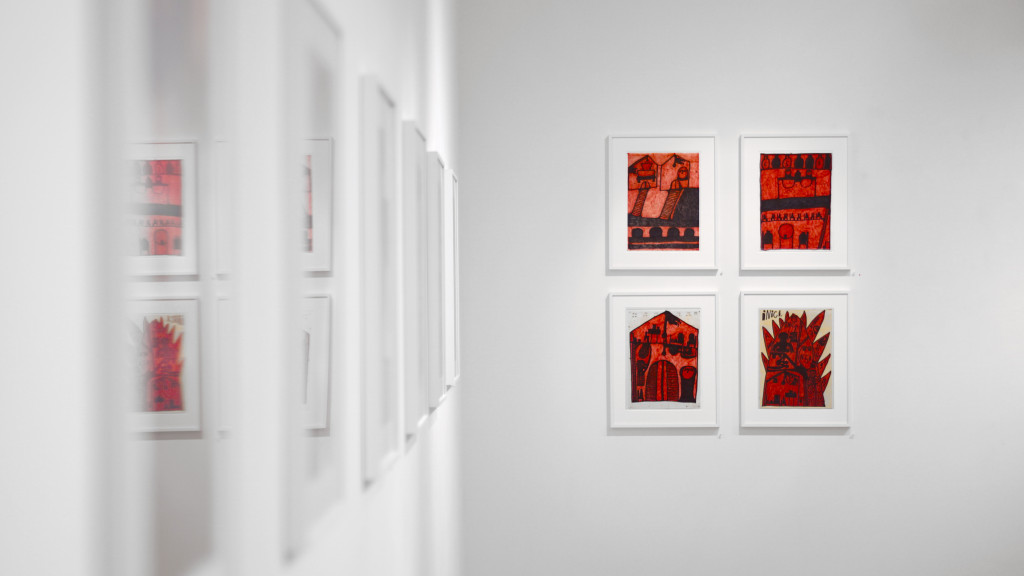 Born in 1948, the Sicilian Giovanni Bosco – first a shepherd and then a worker in a marble quarry – fell into a psychosis following the assassination of his two brothers by the mafia. The psychiatric institution and the prison where he was sent for one year following, apparently, the theft of a farm animal did not take away his disarming smile, nor his propensity for transforming his penniless existence into an act of pure poetry. Afterwards, in Castellamare del Golfo, to the west of Palermo, his days were punctuated by popular Neapolitan songs and paintings of a rare inventiveness that he executed on the walls of his city or on makeshift materials. When his genius was finally recognized – thanks to the efforts of the photographer Boris Piot –, he was lost to cancer in 2009.
His first monographic exhibition was devoted to him by our gallery already in 2011, accompanied by a catalogue with texts from the contemporary art historian Eva Di Stefano and the critic Jean-Louis Lanoux. Ever since, his work has been the object of numerous attempts at decryption, a film tracing the last months of his life was made by students who were among his last friends, and a project to restore and conserve his frescos is in the works. As for the Collection of Art Brut in Lausanne, it organized a retrospective in 2013, at the same time that a study of his work appeared in the 24th installment of Art Brut.
What is first striking in this work is that it doesn't seem indebted to any influence, escaping, in fact, all casual rapprochements. "Bosco was suffused with visual thought," wrote Di Stefano, as a way of underscoring that the complexity and the originality of his works would find their only source in the inextricable mysteries of his psyche.
His compositions, irrigated with red and expertly arranged, his formal non-sequiturs, his hybrid homunculi, his muscular avatars, his votive members, his slippage from glyphs to organic elements and vice versa, end up spelling out the alphabet of a secret, intimate language. As if we were witnessing a graphic soliloquy of the highest intensity. Giovanni Bosco, the melancholic dottore di tutto ('master of everything'), afflicted with all manner of misfortune, had found the ultimate remedy in art.
Catalog
Giovanni Bosco
dottore di tutto 2
Preface : Eva Di Stefano & Jean-Louis Lanoux
Foreword : Christian Berst
Catalog published to mark the exhibition Giovanni Bosco : dottore di tutto 2, from March 8th to April 14th, 2018.