Search
Close
christian berst
art brut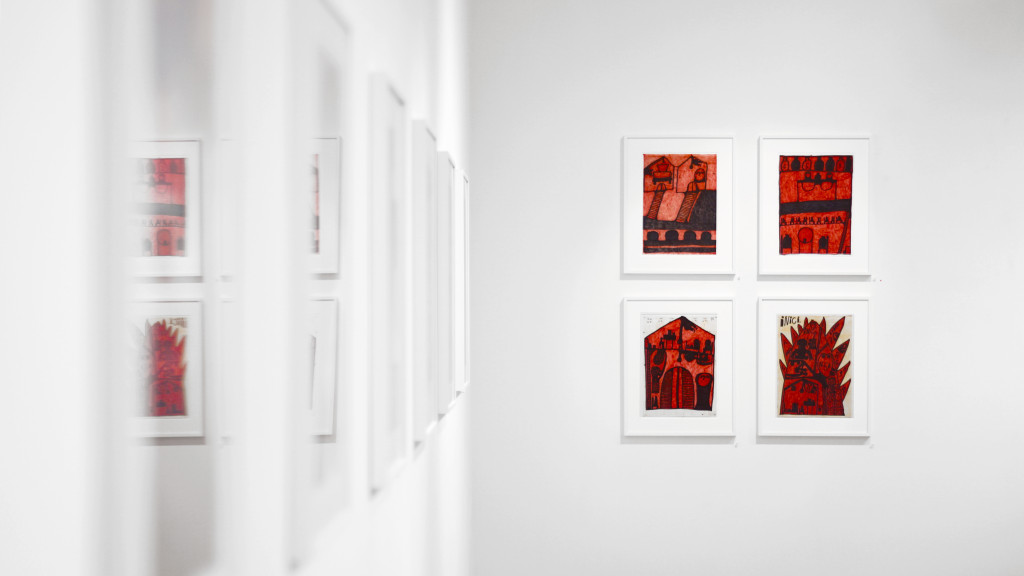 The days of the Sicilian Giovanni Bosco were marked by popular Neapolitan songs and paintings of rare inventiveness that he performed on the walls of his city or on makeshift materials: dismembered or "overmembered" bodies, serpentes shapes and homunculus, cephalic hearts, words and signs punctuating the drawing's interval. A colorist of the Sicilian streets, the artist is now part of prestigious collections, including those of Antoine de Galbert, abcd/Bruno Decharme (France), and Treger-Saint Silvestre (Portugal).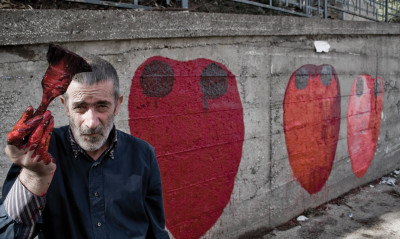 The painful life of the Sicilian painter Giovanni Bosco has always been set in Castellammare del Golfo. This town is situated between Palermo and Trapani, between the mountains and the sea. Pastor or fisherman: two variants of the same poverty were often offered to its inhabitants in the past. Giovanni's family was not involved in maritime activities, so his childhood was spent tending sheep with his father, who soon left him an orphan.
It's the second time his mother has been widowed. When Giovanni is born in 1948, she is only 18 years old. Giovanni Bosco only attends elementary school. In the heavy climate of a time waiting for judges like Giovanni Falcone and Paolo Borsellino, the young shepherd is unable to adapt to his tough job. He loses his herd, occasionally works in a marble quarry. While it is not clear how, he is convicted of a small cattle theft. He spends two years in prison in Trapani, where he is mistreated. During his incarceration, he learns, in 1976, that two of his younger brothers have also become involved in petty crime and that they have been murdered. Organized crime has taken umbrage at their juvenile misdemeanor. This tragedy precipitates Giovanni Bosco into psychosis and it seems that he is prescribed electroshock therapy. Maybe it is at the psychiatric hospital that he witnesses people doing art. He later recalls this by drawing and compulsively writing on makeshift media (found boxes, pizza boxes).
Back home, he devotes himself to creation despite the misery in which he is living. Lonely, exposed to the teasing of kids and yet protected by his fellow citizens. Smoking and singing the popular songs of Mario Merola, the Neapolitan star he loves, he fills the walls of the old houses in his neighborhood with frescos where hearts, robots, elastic figures, knife blades, mingle and challenge us. This repertoire of shapes is astonishing. A rich and coherent vocabulary, totally personal, is offered to the passer-by or the visitor. The former shepherd who no longer has a job refers to himself in his compositions as "Dottore di tutto". A local artist notices his talent and encourages him, but it is from an outside perspective that he must be identified for what he really is: a great creator of art brut.
From 2007 onwards, things are moving fast. A general interest is emerging in his favor. He is no longer obliged to say that these "scribbles" could be valuable once framed. Now people are coming to buy some and his situation is starting to improve. People who love his work start dreaming… They don't know that Giovanni has cancer and that, barely in his sixties, he is condemned. When an international exhibition and symposium is held in Castellammare del Golfo in the beginning of 2009, Giovanni is already no longer able to appear and enjoy the recognition.
Today, Giovanni Bosco is part of several major collections of art brut. In 2014, he is exhibited in the collective exhibition art brut, collection abcd / Bruno Decharme at the Maison rouge in Paris.
Artworks
Please
contact us
to inquire about the available works.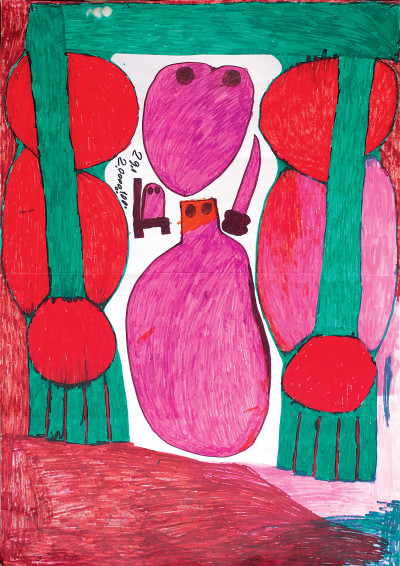 untitled, 2008
27.56 x 39.37 in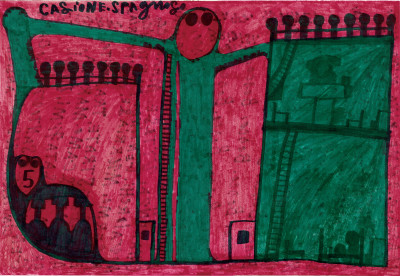 untitled, 2008
18.5 x 12.6 in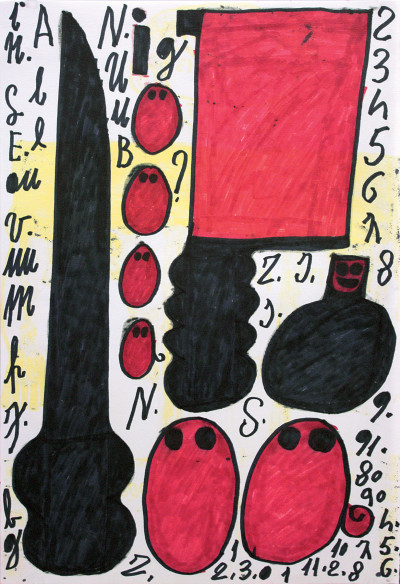 untitled, 2008
12.99 x 18.9 in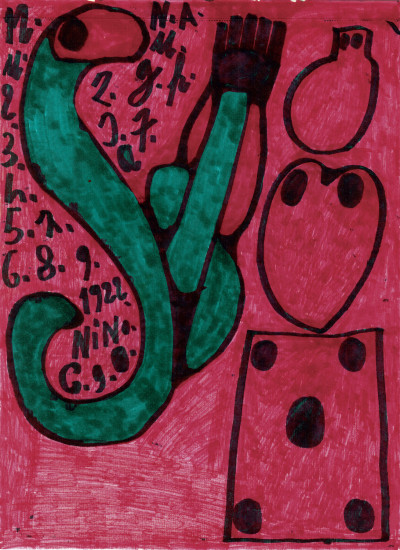 untitled, 2008
9.45 x 12.99 in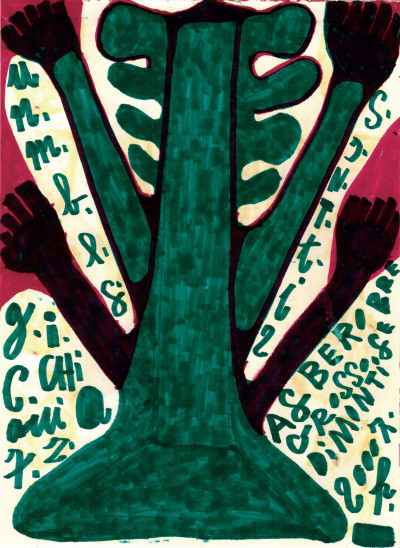 untitled, 2008
9.45 x 12.99 in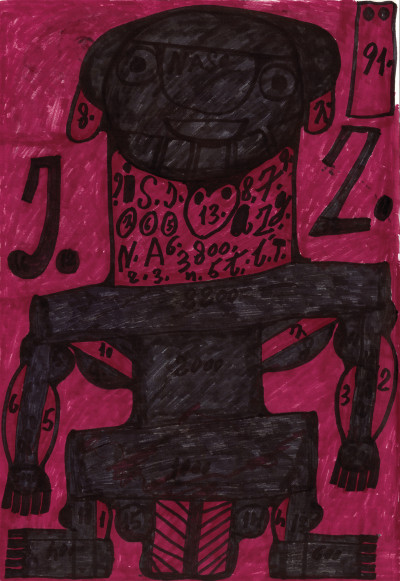 untitled, 2008
12.99 x 18.9 in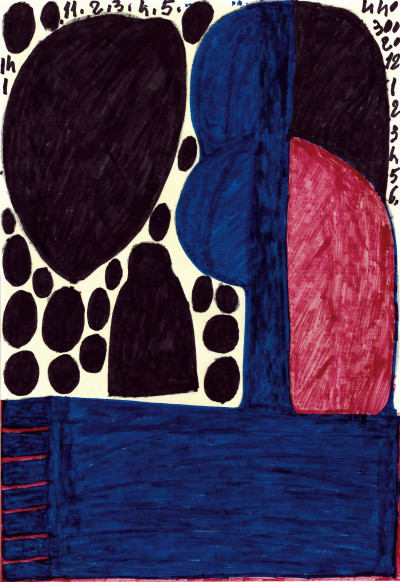 untitled, 2008
12.99 x 18.9 in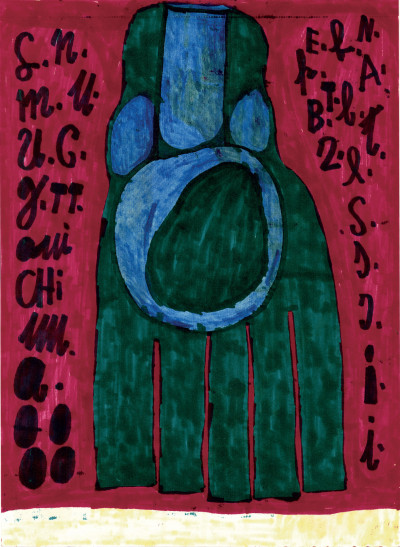 untitled, 2008
9.45 x 12.99 in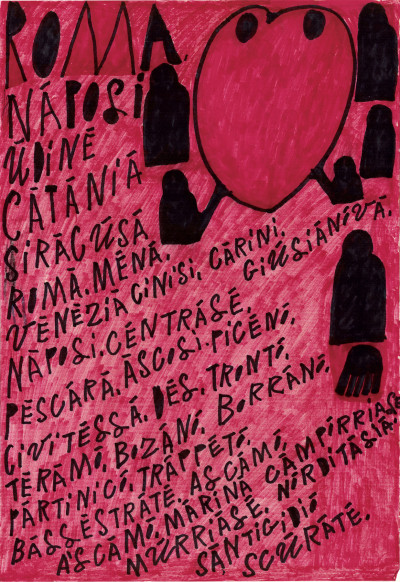 untitled, 2008
12.99 x 18.9 in
Catalog
Giovanni Bosco
dottore di tutto 2
Preface : Eva Di Stefano & Jean-Louis Lanoux
Foreword : Christian Berst
Catalog published to mark the exhibition Giovanni Bosco : dottore di tutto 2, from March 8th to April 14th, 2018.
Sereno variavel
curated by Antonia Gaeta, Centro de Arte Oliva, São João da Madeira.
From October 31, 2020 to May 2, 2021
.
Fiac
#47, cancelled.
From October 21 to 25, 2020
.
In the flesh
real bodies, at the gallery.
From June 14 to July 11, 2020
.
do the write thing 2
read between the lines, at the gallery.
From April 26 to June 2, 2018
.
Histories of violence
a dialogue between the works of the treger saint silvestre collection, Núcleo de arte da oliva, Portugal.
From April 14, 2018 to February 28, 2019
.
drawing now 2018
Carreau du Temple.
From March 22 to 25, 2018
.
giovanni bosco
dottore di tutto 2, at the gallery.
From March 8 to April 14, 2018
.
heterotopias
architectural dwellings, at the gallery.
From December 9, 2017 to January 20, 2018
.
3rd Biennale de l'Art Brut
Bodies, Lausanne, Suisse .
From November 17, 2017 to April 29, 2018
.
The Museum of everything
Museum of Old and New Art, Tasmania.
From June 17, 2017 to April 2, 2018
.
Art Brut
A Story of Individual Mythologies, Treger Saint Silvestre Collection, Portugal.
From January 1 to February 26, 2017
.
Une partie de campagne
Chassagne Montrachet.
From June 10 to 12, 2016
.
PreTENse
at the Gallery.
From September 12 to October 10, 2015
.
do the write thing
read between the lines, new york gallery.
From October 30 to December 21, 2014
.
Art brut
ABCD Collection / Bruno Decharme, la Maison rouge, Paris.
From October 17, 2014 to January 18, 2015
.
A Temporary Museum
For Giovanni Bosco, Castellammare Del Golfo, Sicile.
From July 4 to September 30, 2014
.
Art brut: breaking the boundaries
curator Christian Berst, Oliva Creative Factory, Sao Joao da Madeira, Portugal.
From June 1 to September 11, 2014
.
Raw Vision
25 years of art brut, Halle Saint Pierre, Paris .
From September 18, 2013 to August 22, 2014
.
Drawing Now 2013
Carrousel du louvre, paris.
From April 11 to 14, 2013
.
Arte Bruta Terra Incognita
by Christian Berst, Collection Treger-Saint Silvestre, Lisbonne.
From April 20 to September 13, 2012
.
Banditi dell'arte
La Halle Saint Pierre, Paris.
From March 23, 2012 to January 6, 2013
.
giovanni bosco
dottore di tutto, at the gallery.
From March 18 to April 19, 2011
.
outsider art fair
From February 11 to 13, 2011
.
beyond the boundaries season 2010
discoveries and recent acquisitions, at the gallery.
From September 16 to October 16, 2010
.
quatrième tour des galeries post-confinement
La Rédaction, Connaissance Des Arts.
June 20, 2020
.
du chant des signes giovanni bosco, artiste brut contemporain
Annabelle Dupret, Flux News.
December 18, 2018
.
graphomanies brutes
Claire Margat, Art Press.
December 7, 2018
.
giovanni bosco : dottore di tutto
Bénédicte Philippe, Télérama Sortir.
March 16, 2018
.
giovanni bosco : miracle à l'italienne
Brigitte Ollier, Libération.
August 27, 2014
.
Dessins (prière de toucher)
Philippe Ducat, Oh Cet Echo.
April 16, 2013
.
Giovanni Bosco, géographe du vivant
Catherine Cazalé, Tatourag.
March 30, 2011
.
Giovanni Bosco : le berst of
Animula Vagula.
March 14, 2011
.
Giovanni Bosco, Dottore di tutto
Céline Delavaux, PARISart.
March 11, 2011
.
Beautiful heart
China Visual.
February 22, 2011
.
Mental Images: A View from the Outsider Art Fair
Paul Laster, Flavorwire.
February 11, 2011
.
New York: 2011 Outsider Art Fair is open for businesses - and surprises
Edward M. Gomez, Edward M. Gomez.
February 11, 2011
.
Une rentrée hors-les-normes
Télérama Sortir.
September 29, 2010
.
They are n°1
Surface.
August 20, 2010
.