Search
Close
christian berst
art brut
Josef Karl Rädler :
the key to the fields
Exhibition

From February 3 to March 27, 2022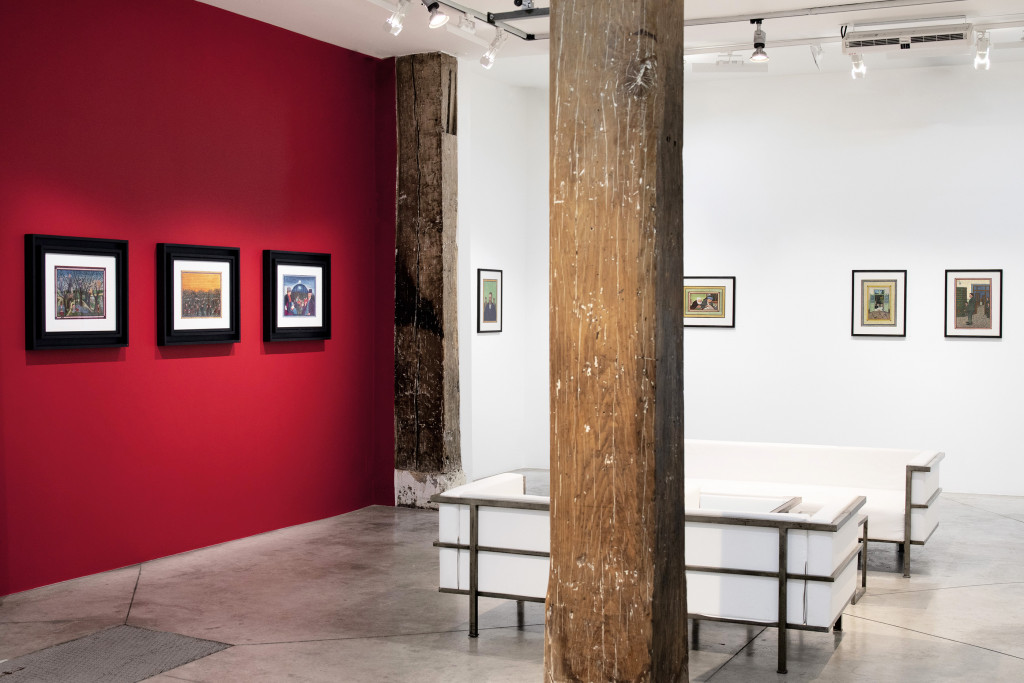 More than a century ago Josef Karl Rädler (1844-1917) produced a considerable body of work in the Austrian psychiatric asylum where he would pass away, most of which work is now in just a few collections. At the Centre Pompidou several of his works have joined those of modern art masters such as Klee and Kandinsky from the same period. Yet this entire body of work was almost destroyed. A nurse in the mid-1960s was responsible not only for its miraculous rescue, but also for enabling the famous psychiatrist Leo Navratil to see it.
The doctor was so fascinated that in 1994 he was able to arrange for several hundred works to be placed in the National Museum of Lower Austria, and at the same time to publish a major monograph on the artist. The "laughing philosopher"– as Rädler called himself – was thus elevated to the status of creator of art brut classics.
However, there is still a lot of mystery as to why this successful porcelain painter spent the last quarter of his life in asylums. His medical records sometimes mention psychosis, sometimes dementia.
The self-proclaimed "court painter of Austria, Siam and Italy", the "apostle of humanity", the committed pacifist, the proselytising vegetarian, the man who dreamed of turning all churches into museums or galleries, nonetheless left a unique record of the asylums of his time. With a sure hand, covering both sides of the sheet, he executed his sketches with a constant concern for the balance between text and image. Both had to be at the service of the edification of his fellow humans, who were enjoined to cultivate only "the good, the noble and the beautiful".
Moreover, if we are able to detect his inclination for the allegorical, we note above all his remarkable inventiveness when, abandoning the decorative for decoration's sake, he exaggerates forms, abolishes perspective, summons daylight in the night and vice versa, and perches naturists in trees.
Far too transgressive to fit into the narrow confines of naïve art, Rädler's is impeccable in the perfection of its compositions as well as in the exuberance of its details and its flawless chromatic harmony.
"I shan't be afraid to put forward the idea, paradoxical only at first sight, that the art of those classified as mentally ill constitutes a reservoir of moral health."
(André Breton, 'L'art des fous, la clé des champs', 1948)
Six artworks by three anonymous artists from the collection of Spanish psychiatrist Gonzalo Rodriguez Lafora (1886-1971) are also exhibited in the cabinet of curiosities.
Artworks
Please
contact us
to inquire about the available works.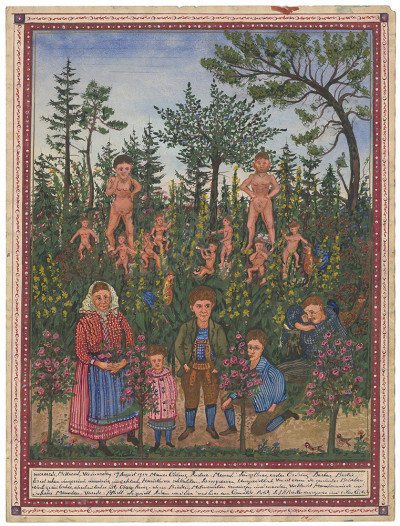 Josef Karl Radler
untitled, 1914
11.42 x 15.35 in
Josef Karl Radler
untitled (he who lives dissolutely young…), 1916
14.96 x 11.42 in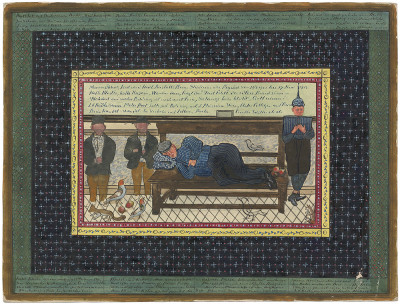 Josef Karl Radler
untitled (leg study of psyche…), 1903
14.96 x 11.42 in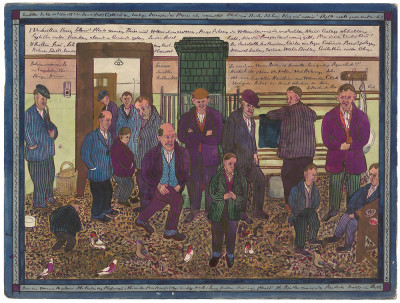 Josef Karl Radler
untitled (unculture war misery!…), 1916
15.35 x 11.42 in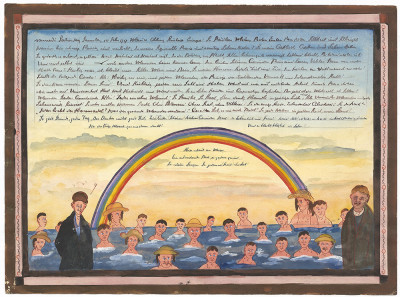 Josef Karl Radler
untitled, 1917
15.75 x 11.42 in
After a prestigious career in painting porcelain, Josef Rädler, plagued by delusional episodes, was committed at the age of 49 to the Mauer-Ohling Institute near Vienna, where he produced hundreds of brightly coloured watercolours illustrating his daily life in hospital, on the back of which he wrote diatribes on such issues as world peace and women's rights. Radlër saw himself as a great philosopher, "Painter to the Court of Austria, Italy and Siam", "apostle of humanity". Despite being violent toward hospital staff, he owes the rescue of his work, considered of little value by the doctors, to a nurse, and to Professor Léo Navratil for having brought it to light in 1960.
Catalog
josef karl rädler
the key to the fields
Texts : Céline Delavaux & Ferdinand Altnöder
Foreword : Christian Berst
Catalog published to mark the exhibition josef karl rädler : the key to the fields, from February, 3 to March 27, 2022.
Trailer - josef karl rädler : la clé des champs
Josef Karl Rädler, par Christian Berst