Search
Close
christian berst
art brut
unveiling the world : Andrés Fernández and Santiago Talavera
curator : graciela garcía
Exhibition

From June 15 to July 16, 2023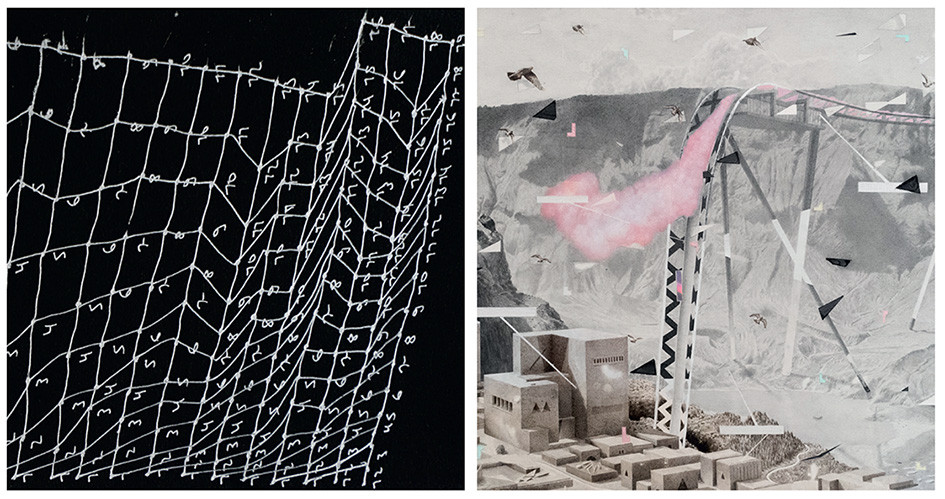 Christian Berst entrusts The Bridge exhibition to Graciela García, researcher and curator specialized in art brut. Unveiling the world brings together the work of two artists, each with their own particular way of approaching what cannot be seen. Both are geographers of sorts, narrating the attributes of specific spaces: Andrés Fernández with the eye of a cartographer, Santiago Talavera with that of a landscape gardener.
The infinitely poetic universe of Andrés Fernández (born in Madrid, Spain in 1973) obeys to an intimate impulse that drives him to connect with his surroundings in the manner of a scientist. His work takes form in a system of drawings, maps, and lists in which he exhaustively gathers data from the external reality and illustrate his visions of the mysteries of the world. Due to his limited communication abilities, it is very difficult to know if Andrés' visions are inspired by dreams, intuitions of a future world or memories. His artworks have already been showcased twice at the Berlin Biennale and at the Museum of Contemporary Art in Barcelona.
Andrés Fernández focuses on the origin: the mystery of the birth and evolution of human life, as can be seen in the Map of Life and Pre-life, where all the major stages of an existence unfold until its end. When Santiago Talavera (born in Albacete, Spain in 1979) immersed himself in Andrés Fernández's work, he was amazed by the simplicity with which the latter expresses deep, intimate yet universal concerns. In response, his latest creations are filled with rails that hover over inhospitable landscapes.
With these giant slides, has he found a way to connect or to overcome something fragmented? Is it possible that what moved Santiago has to do with the desires that emanates from his work, to find an interlocutor? The central axis of Santiago Talavera's work is a pondering on the human condition through the symbolic possibilities of the landscape. Crushed by the drift of a semio-capitalist society along with the acceleration of a relentless commodification. Santiago invents a future without humans, in which animals live freely.
Catalog
andrés fernández and santiago talavera
unveiling the world
catalog published on the occasion of the exhibition
unveiling the world: andrés fernández and santiago talavera
June 15th to July 16th, 2023
89 color pages, 14.8 x 21 cm, bilingual french / english
price € 5
unveiling the world : Andrés Fernández and Santiago Talavera