Search
Close
christian berst
art brut
Exhibition

From September 9 to October 11, 2014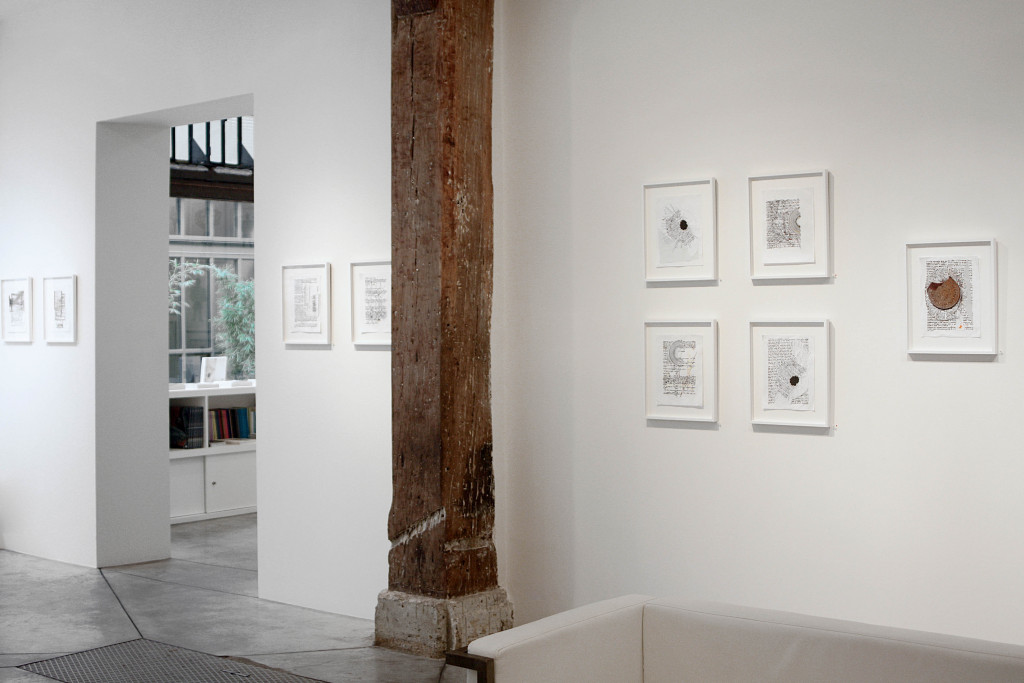 The gallery presents, from September 9 to October 11, the work of José (Pepe) Gaitán, discovered this year in Colombia, while in the curiosity cabinet will be presented the drawings of body builds by the Cuban Misleidys Castillo.
Pepe Gaitán was born in 1959 into a bourgeois family. His father died when he was very young. His mother receives him every Saturday to read the newspapers. Pepe studies social communication and is particularly interested in radio. In 1975, he heard the curious expression "don't eat so many sweets if you don't want to catch amoebas" which marked a turning point in his life.
It was from this moment that he began his work. His creative process is centred on the text. He spends his days in libraries, meticulously selecting pages, inspired as much by the content as by the shapes that emerge from the sentences. He photocopies them and then intervenes on them by scribbling the letters, in which he looks for amoeba shapes that he calls pseudopods, then draws or pastes the images that the movement of the text suggests to him.
He always uses a very chosen chromatic range. The echoes of shapes that make one think of a codification give these works a striking geometrical force. Today he lives alone in Bogotá and spends his days composing his pages.
The Cuban Misleidys Castillo, a 28-year-old deaf autistic girl, compulsively draws, paints and cuts out body builders or anatomical fragments, sometimes very large ones, which she covers the walls of her house by applying them with strips of brown tape.
Prefaces : Johanna Calle Gregg & Julio Perez Navarrete
Foreword : Christian Berst
Catalog published to mark the exhibition Pepe Gaitán : ephiphany, from september 9th to october 11th, 2014.
Pepe Gaitan, ou l'art de la lettre barrée
La Rédacton, Libération.com.
October 7, 2014
.
Brutes de l'art
Marie Zawisza, Le Monde.
October 4, 2014
.
Pepe Gaitán
François Salmeron, Paris Art.
September 19, 2014
.
A l'avant-garde : Misleidys Castillo – Hombres
Dauphine De Cambre, Theartchemists.com.
September 5, 2014
.
Pepe Gaitán
Bénedicte Philippe, Télérama Sortir.
September 4, 2014
.