Search
Close
christian berst
art brut
Alexandro Garcia
No Estamos Solos #2
Exhibition

From December 3, 2016 to January 14, 2017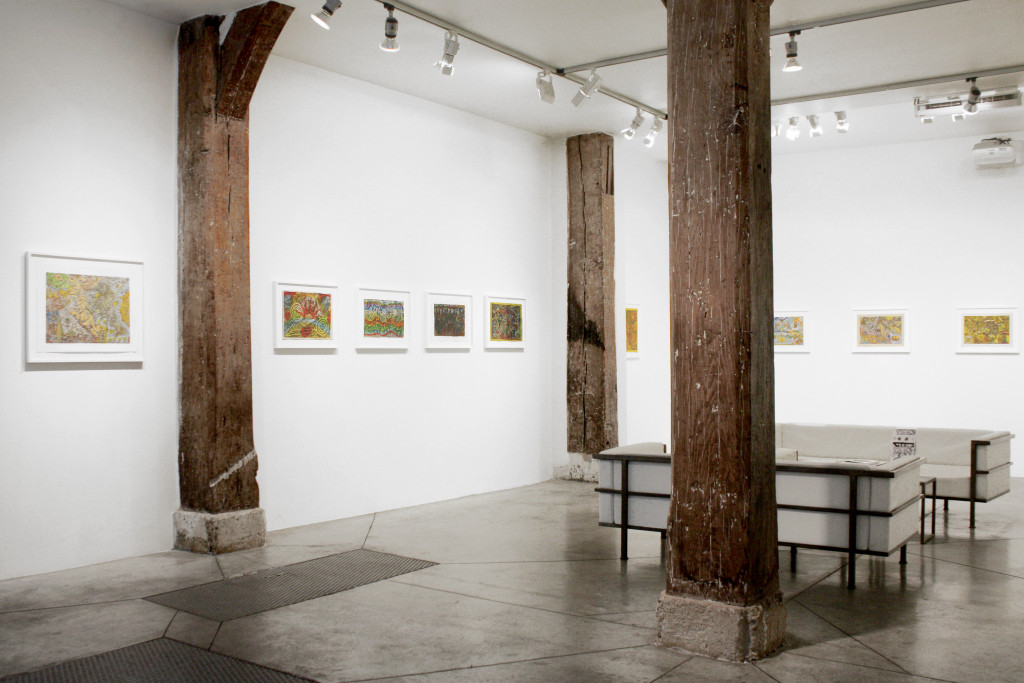 The story of Alexandro García is that of a gardener from Uruguay who began to transcribe his ethereal visions following an encounter of the 3rd kind – or an avistamiento – that he had on the shore of a beach, at night, when he was a child.
His work, in which the cosmogony of pre-Columbian civilizations frequently comes up to the surface, should be compared to psychic art insofar as forces for which he is but an instrument, according to him, are at work there : "I am a channel that absorbs the messages of the cosmos […] my works are the pathways of a new era, spiritual psychographic messages for saving the energies from this era, from the old, and from the future."
Alexandro García, like Vassilij Romanenkov, does not take his "visions" from an intimate conversation with the dead then, as is typical in necromancy. With him, it is rather a matter of recapturing an ethereal golden age, an extraterrestrial knowledge floating somewhere in limbo and capable of saving us from our turpitudes.
His psychedelic, meticulous, extremely codified compositions, blend fantastical cities and Incan temples – as if weightless or about to embark into the infinite cosmos – with the ballet of constellations that have come to greet them. Truly the heir to magical realism, Alexandro García goes beyond that scope however and speaks to us of an elsewhere offered up to our projections and to the colonization of a new humanity: "we are not alone."
Catalog
Alexandro Garcia
no estamos solos II
Preface : Pablo Thiago Rocca
Foreword : Christian Berst
Catalog published to mark the exhibition Alexandro Garcia : no estamos solos II, from December 3rd to January 14th, 2017.
alexandro garcia: no estamos solos II
Olivier De Rincquesen, Image By JP Depersin, BFM TV.
January 15, 2017
.
Alexandro Garcia at the Christian Berst gallery, Paris
La Rédaction, Blouinarteinfo.
December 30, 2016
.
alexandro garcia : no estamos solos II
Bénédicte Philippe, Télérama Sortir.
December 15, 2016
.
Ouf, le merveilleux revient !
Bruno Dubreuil, Viens Voir.
December 5, 2016
.
Alexandro Garcia no estamos solo