Search
Close
christian berst
art brut
Marilena Pelosi
Catharsis
Exhibition

From January 28 to February 25, 2017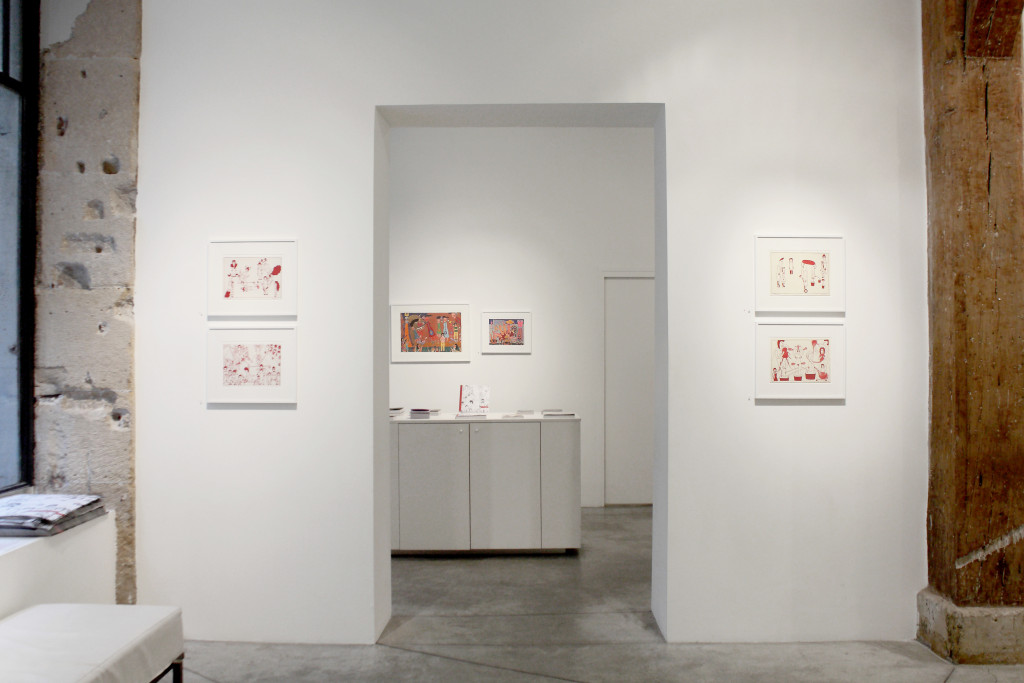 Marilena Pelosi's dark, unfettered lines and complex, sometimes highly colourful creations recount a cruel fairy tale full of symbols, in which meaning slips away, challenging understanding – including her own, even though, as she admits, "It's normal people who go mad. But since I've never been normal, I'm quite safe".
Born in 1957 in Rio de Janeiro, Marilena initially wanted to study Fine Art, but, as she says, "It's a good thing I didn't, because they'd have taught me to draw properly". She began producing art at the age of sixteen while convalescing after a serious illness, as a way of passing the time. She eventually had to leave Brazil to escape a forced marriage with a voodoo priest. This marked the beginning of a period of rootless drifting, during which she turned to art to help her get over two failed marriages.
Her drawings, in biro or felt pen on ordinary or tracing paper, often depicted women, sometimes undergoing torture, spurting tears: bodily fluids – water and blood – are omnipresent. A transgressive form of Marilena's native culture is also palpable in the works, the exuberant Catholicism and feverish Macumba of her homeland forming a mad whirl. Her untrammelled, disturbing art, oozing a sense of sharp suffering, throws the viewer into an illicit, intimate, sublime world.
Marilena Pelosi's art is now is held in major collections of Art Brut, while a number of articles and book-length studies have recently been devoted to her work.
At a very young age, Marilena Pelosi began to make drawings in which exuberant Catholicism and feverish Macumba, from her native Brazil, swirled to the point of delirium. The reminiscence of trance, eucharistic processions and carnivals are inextricably combined with much more intimate evocations. Now living in Normandy, she continues these same disturbing drawings, made with ballpoint pens, in which doll-women are both executioners and victims. Entering the BIC collection (France) in 2019, she is represented in major collections, including those of Hannah Rieger (Austria), Amr Shaker (Switzerland), and Dino Menozzi (Italy).
Catalog
Marilena Pelosi
catharsis
Preface : Laurent Quénéhen
Foreword : Christian Berst
Catalog published to mark the exhibition Marilena Pelosi : catharsis, from January 28th to February 25th, 2017.
marilena pelosi
Claire Margat, Artpress.
April 28, 2017
.
Les dessins de Marilena Pelosi à la galerie Berst : un carnaval cruel et comique
Thierry Hay, Blog France TV .
February 10, 2017
.
Heureusement que je ne suis pas allée aux Beaux-Arts, on m'y aurait peut-être appris à dessiner correctement
Bruno Dubreuil, Viens Voir.
February 9, 2017
.
marilena pelosi - catharsis
Bénédicte Philippe, Télérama.fr.
February 3, 2017
.
catharsis
Claire Margat, Art Press.
January 31, 2017
.
catharsis
Jessica Boucher Rétif, Paris Art.
January 27, 2017
.