Search
Close
christian berst
art brut
dominique théate
in the mood for love
Exhibition

From April 27 to June 3, 2017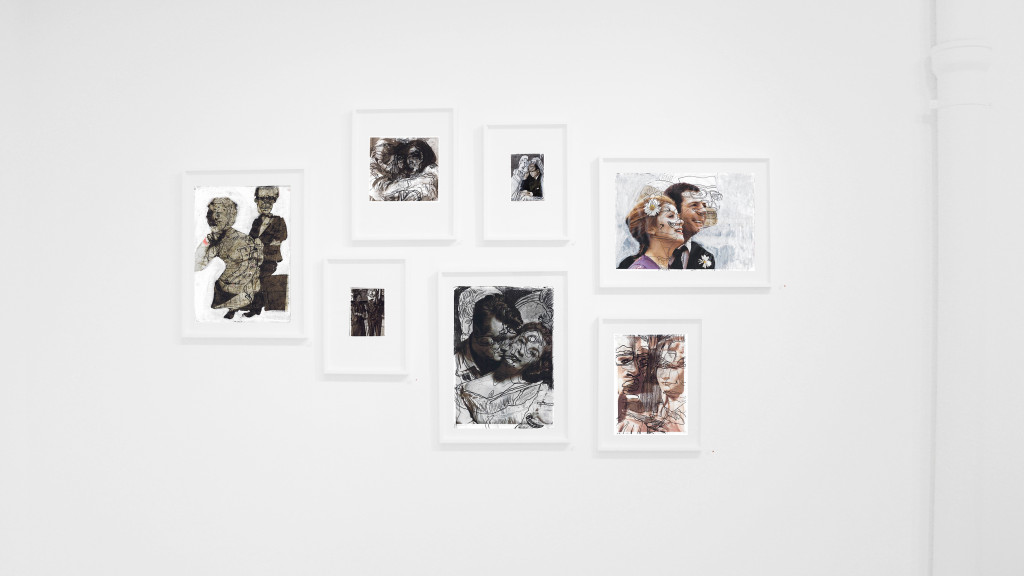 associated curator : Barnabé Mons
With the difference of one consonant, Dominique Théate has the perfect aptronym, so much does his work stage a dreamed life. This long young man born in Liège in 1968 dreamed of being an artist before a very bad motorcycle accident made him lose his wings. He was 18 years old.
Through his Digrams representing me (Shéma (sic) me représentant), as a driver of a big sedan, as an actor with the perfect appearance, as a delighted fiancé, as a young man well-off in every respect, Dominique Théate projects himself, tries to glue the pieces of himself that the accident fragmented back together. He calls the future witness, conjures it, invokes it, claims it; he embodies it through his votive process. He wants to pick up where he left off, force destiny; he has a plan for that; he has fixed the steps, the contours. He exists (etymologically: to come out of, to manifest oneself, show oneself).
Art is the end and the means to this recovery: everything comes together there, is regrouped, organized; the drawing forms the design. It is its accomplishment. On the sheet, Dominique is there, faced with himself, the perfect appearance. The words traced underneath dance and weave. They summon enchanted tomorrows. Speed, power, and love are like wishes whispered in the trail of a shooting star. Their twinkle lingers in our eyes. Dominique has a plan, a design, "a simplified and functional representation of an object, movement, or process" (Littré). A plan. Simple. Functional. An equation to say: "I live", to reclaim his share of happiness, his dose of love.
The messages interspersed in his drawings look like little wedding announcements. But Dominique – talkative yet discreet – prefers courtly love, brushing hands, the outline of a kiss, and the promise of a hug to passionate outpourings. He remains ready, available, absolutely enamored.
Catalog
Dominique Théate
in the mood for love
Preface : Barnabé Mons
Foreword : Christian Berst
Catalog published to mark the exhibition Dominique Théate : in the mood for love, from April 27th to June 3rd, 2017.
à l'avant garde : dominique théate
Dauphine De Cambre, The Artchemists.
May 31, 2017
.
dominique théate : in the mood for love
Anne Kerner, Paris Capitale.
May 12, 2017
.
dominique théate, in the mood for love
Claire Margat, Art Press.com.
May 11, 2017
.
It is not because you are, I love you because I do, par Dominique Théate, artiste singulier
Fabien Ribery, Le Blog De Fabien Ribery.
May 9, 2017
.
Dominique Theate in the mood for love