Recherche
Fermer
christian berst
art brut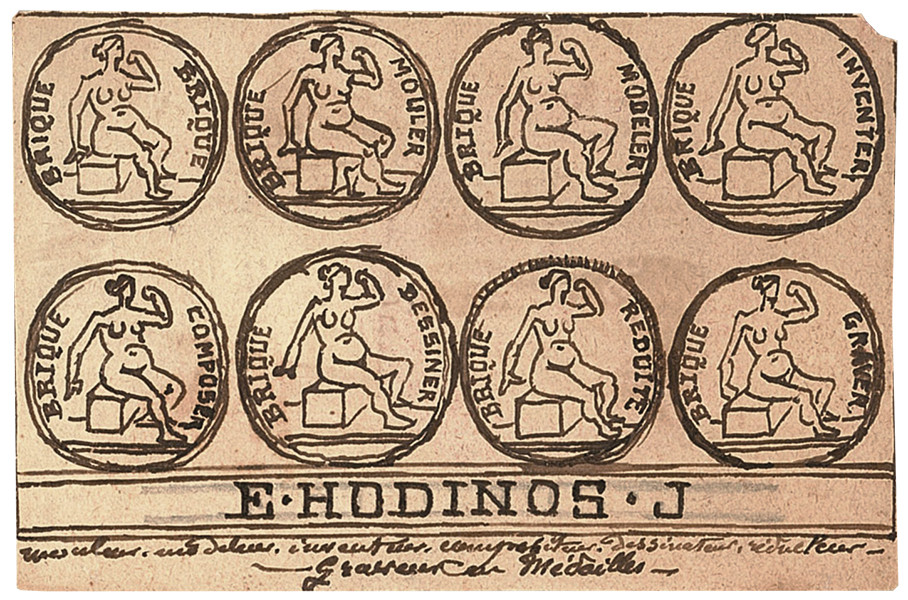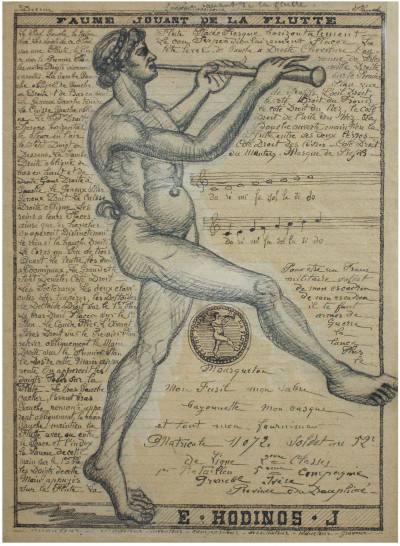 Joseph Ernest Ménétrier est né à Paris en 1853 de deux parents boulangers. A la mort de son père l'enfant de huit ans est placé en pension. Adolescent, il débute en 1869 un apprentissage à l'atelier Tasset, graveur officiel des médailles de la Troisième République. Il prend alors des cours de dessin et de modelage aux Beaux-Arts mais sept ans plus tard il doit mettre fin à toutes ses activités et est interné pour « excitation maniaque » à l'hôpital psychiatrique de Ville-Evrard où il demeura jusqu'à sa mort, en 1905.
C'est lors de son internement qu'il choisit de se faire appeler Emile Josome Hodinos, du grec hodinos 'fils de personne'. Après quelques années, il commence à dessiner à la mine de plomb et à l'encre de chine de minutieuses médailles où les détails sont aussi travaillés que les inscriptions manuscrites qui structurent ses medalia. Privé de ses outils de médailleur, Hodinos dessine au crayon sur des papiers d'emballage de biscuits et utilise des lanières de papier pour remplacer le compas.
La forme écrite et narrative est très présente dans le travail de Josome Hodinos qui lui donne un statut presque équivalent à celui d'un journal en encadrant ses médailles de contes personnels, relatant aussi bien son enfance que les conditions de vie à l'asile en passant par ses opinions artistiques et politiques. Cependant sa production littéraire s'étend au-delà de ses dessins puisque nous lui devons aussi  la rédaction de deux manuels : un dictionnaire politique et L'Histoire des Etats européens de 1453 à 1789.
Découvert par Jean Dubuffet, Emile Josome Hodinos est aujourd'hui considéré comme l'un des classiques de l'art brut et fait partie de grandes collections dont celle de  L'Art Brut de Lausanne. 
Œuvres
Pour découvrir les œuvres disponibles, merci de nous
contacter
.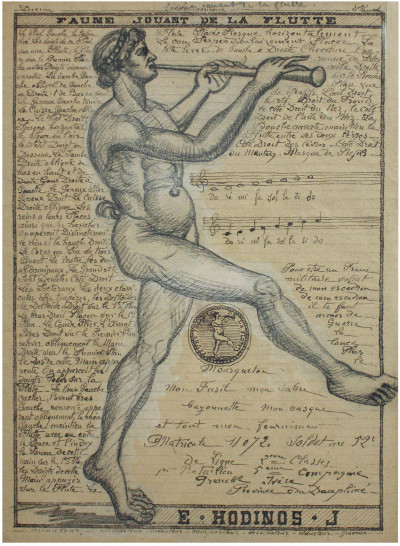 faune jouant de la flûte (sans titre), 1890
29 x 21 cm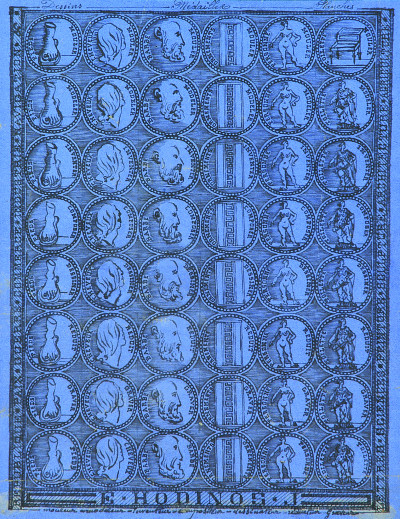 composition (sans titre), 1890
23 x 17.8 cm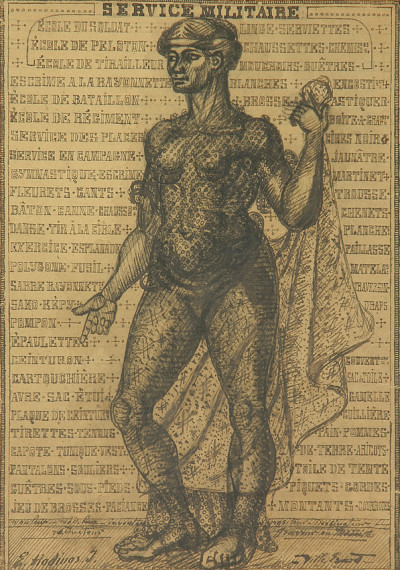 sans titre (service militaire), 1890
30 x 21 cm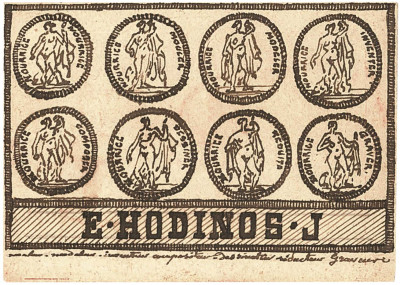 sans titre, 1890
8.2 x 5.9 cm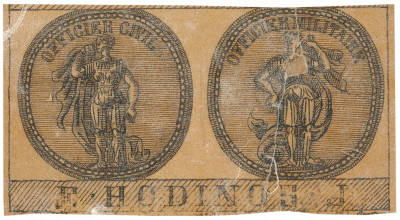 sans titre, 1890
12.1 x 6.5 cm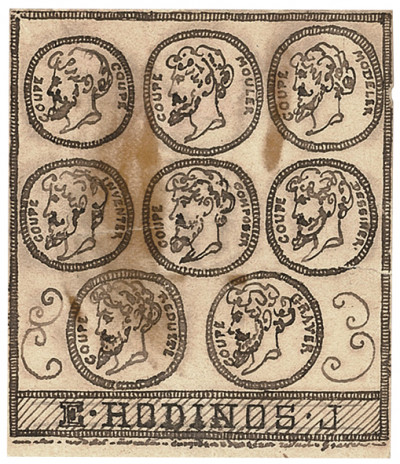 sans titre, 1890
5.9 x 6.9 cm
Catalogue
Do the write thing
read between the lines #2
Préface : Eric Dussert
Avant-propos : Christian Berst.
Publié à l'occasion de l'exposition Do the write thing : read between the lines #2, du 26 avril au 2 juin 2018.
Fiac
#47, annulé.
Du 21 au 25 octobre 2020
.
In the flesh
corps véritables, à la galerie.
Du 14 juin au 11 juillet 2020
.
4e Biennale de l'Art Brut
Théâtres, Collection de l'Art Brut, Lausanne.
Du 29 novembre 2019 au 30 août 2020
.
drawing now 2019
Carreau du Temple.
Du 27 au 30 mars 2019
.
danser brut
lam, (musée d'art moderne, d'art contemporain et d'art brut lille métropole).
Du 28 septembre 2018 au 6 janvier 2019
.
do the write thing 2
read between the lines, à la galerie.
Du 26 avril au 2 juin 2018
.
3e Biennale de l'Art Brut
Corps, Lausanne, Suisse .
Du 17 novembre 2017 au 29 avril 2018
.
La folie en tête
aux racines de l'art brut, Maison Victor Hugo, Paris.
Du 16 novembre 2017 au 18 mars 2018
.
Art brut
collection ABCD / Bruno Decharme, la Maison rouge, Paris.
Du 17 octobre 2014 au 18 janvier 2015
.
glossolalia: languages of drawing
MoMA, New York.
Du 26 mars 2008 au 7 juillet 2007
.
Ecriture en délire
Collection de l'art brut Lausanne.
Du 12 février au 26 septembre 2004
.