Search
Close
christian berst
art brut
Marguerite Burnat-Provins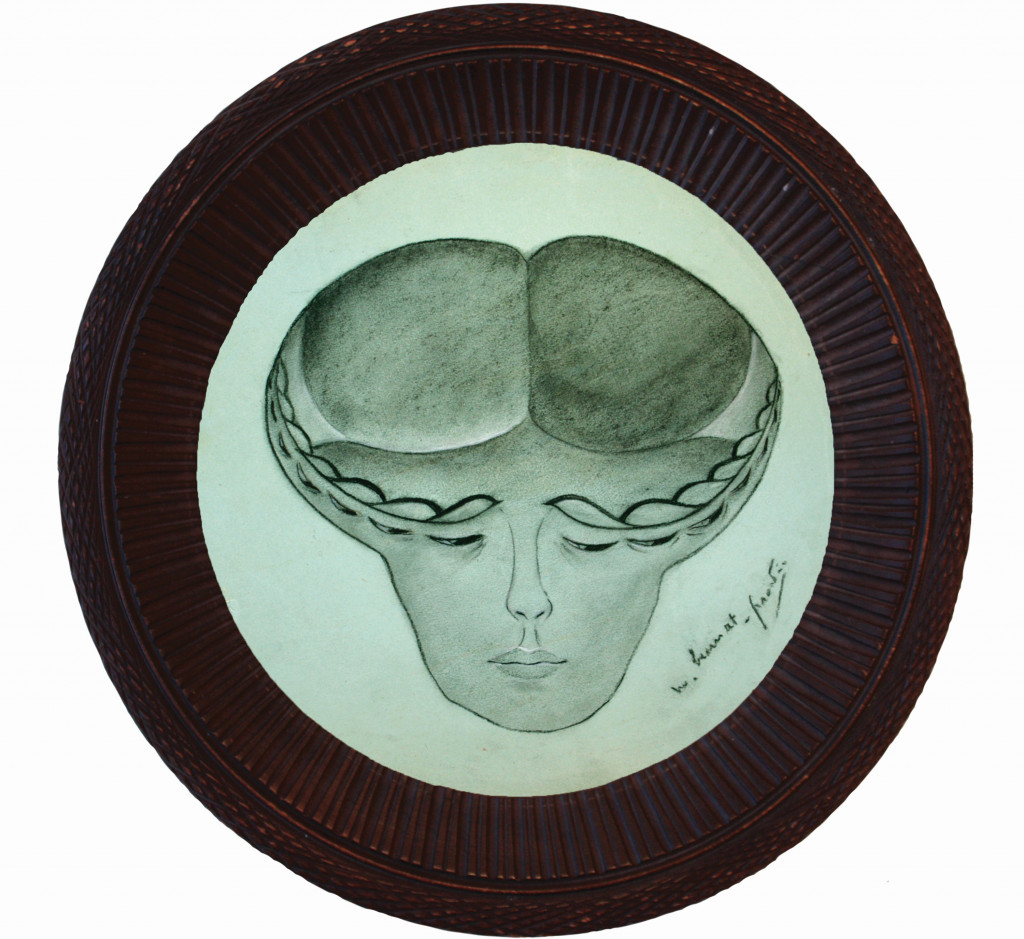 Marguerite Burnat-Provins, est née dans une famille aisée et cultivée. Encouragée par son père, l'enfant s'investit très tôt dans l'écriture et la peinture, et suit une formation artistique à Paris. Mariée à un architecte suisse, elle peint et écrit mais divorce en 1906 pour épouser un jeune ingénieur. Le couple est installé à Bayonne lorsque la Première Guerre mondiale éclate. De santé déjà fragile, le conflit provoque chez elle un choc qui la pousse à produire une série d'œuvres picturales inédites, intitulée « Ma ville ». Marguerite dessine et peint sous dictée, en proie à des hallucinations. « Je les subis, je les sens venir en courbant les épaules et je ne peux pas ne pas les dessiner. ». Ces compositions sont peuplées de personnages imaginaires, parfois hybrides mi-humains, mi-animaux. En 1945, Jean Dubuffet découvre son œuvre et intègre des dessins dans sa collection. En parallèle à la publication de nombreux livres, Marguerite Burnat-Provins poursuit sa création singulière jusqu'à son décès en 1952.
Artworks
Please
contact us
to inquire about the available works.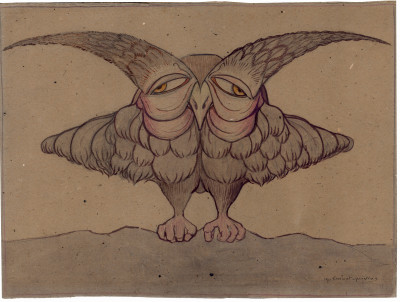 untitled, 1929
18.5 x 13.39 in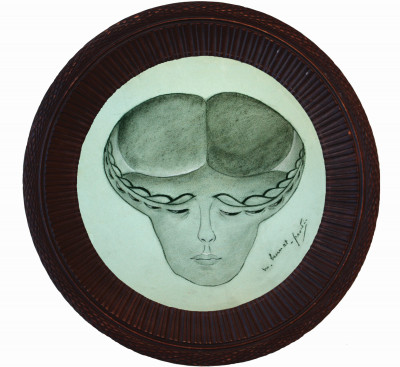 elfportrait, 1925
9.84 x 9.84 in
Marguerite Burnat-Provins
Musée Jenisch Vevey.
From October 30, 2020 to January 24, 2021
.
4th Biennale of Art Brut
Theatre, Collection de l'Art Brut, Lausanne.
From November 29, 2019 to August 30, 2020
.
Flying High
Women Artists of Art Brut, Kunstforum, Vienne.
From February 15 to June 23, 2019
.
Collecting Madness
Outsider Art from the Damman Collection Volume #2, Prinzhorn Collection, Allemagne .
From March 14 to April 14, 2014
.
Marguerite Burnat-Provins
Collection de l'Art Brut, Lausanne.
From May 22 to September 14, 2003
.
Art Spirite, Mediumnique, Visionnaire
Messages D'Outre-Monde, La Halle Saint Pierre, Paris.
From September 13, 1999 to February 27, 2000
.
Marguerite Burnat-Provins