Recherche
Fermer
christian berst
art brut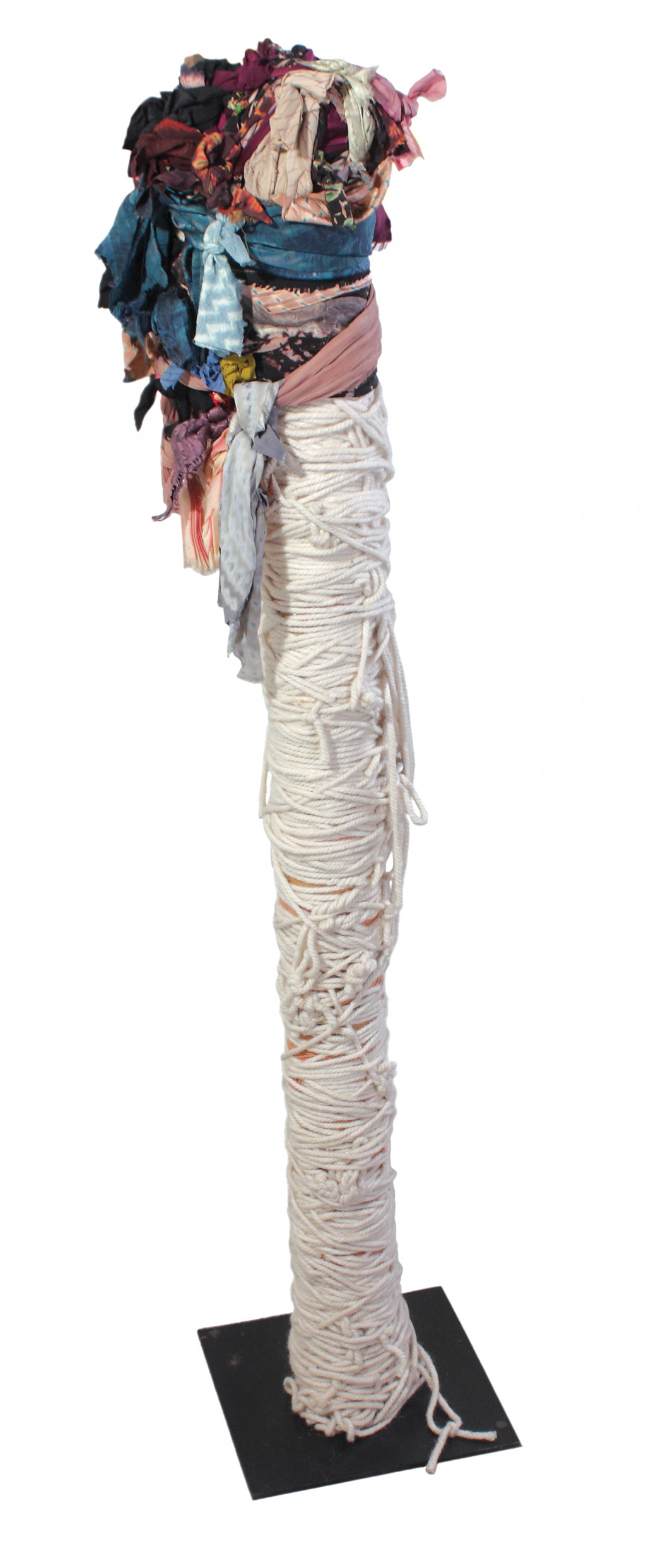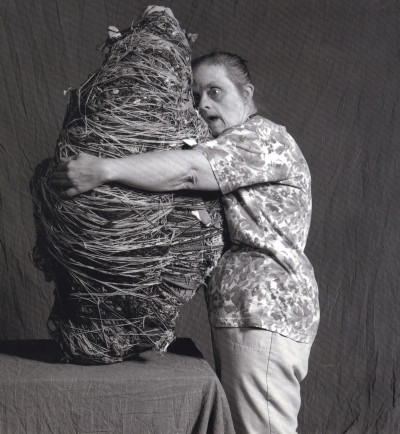 Judith Scott est née trisomique dans une famille modeste de l'Ohio aux Etats-Unis. Une scarlatine contractée dans la petit enfance la laisse sourde sans que cela soit détecté avant des années. Elle passe les 7 premières années de sa vie au sein de son foyer et auprès de sa sœur jumelle avant d'être envoyée dans une institution pour enfants handicapés.
Elle passera 35 ans séparée de sa famille jusqu'à ce qu'en 1986, sa sœur jumelle devienne sa tutrice légale et la déménage chez elle en Californie. Judith intégra alors l'atelier d'artistes du Creative Growth Art Center in Oakland où après deux années, elle commença à produire ses sculptures uniques en collectant des objets divers, de toutes tailles et de toutes formes qu'elle enveloppait, tissait, enlaçait de fils aux couleurs soigneusement choisies, jour après jour, pendant des mois parfois, jusqu'à former d'étranges cocons cachant des talismans connus d'elle seule.
Judith Scott est désormais présente dans un grand nombre de collections d'art contemporain et a bénéficié, en 2015, d'une exposition monographique au Brooklyn Museum.
Œuvre
Pour découvrir les œuvres disponibles, merci de nous
contacter
.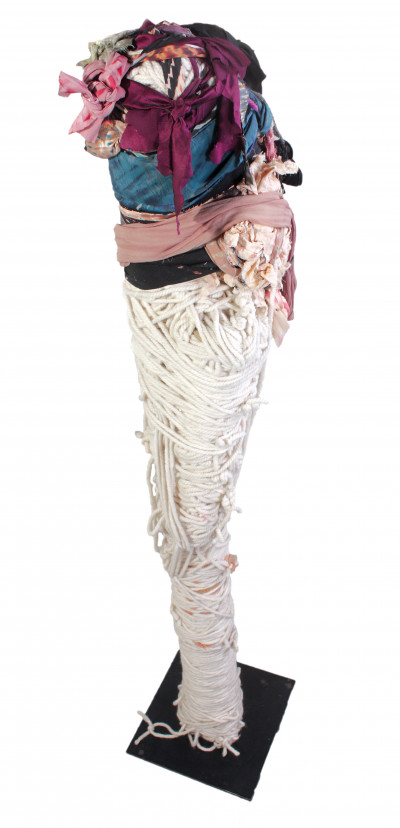 sans titre, 1992
20 x 126 cm
Préface : Jean-Hubert Martin
Avant-propos : Christian Berst.
Publié à l'occasion de l'exposition Sur le fil, du 9 avril au 22 mai 2016.
brut favorites.!
feilacher's choice, Museum Gugging.
Du 30 septembre 2022 au 5 mars 2023
.
L'énigme autodidacte,
commissaire : Charlotte Laubard, Musée d'art moderne et contemporain de Saint-Etienne Métropole.
Du 8 octobre 2021 au 3 avril 2022
.
de la ligne dans le fil
commissaire Baimba Kamara, the bridge by christian berst.
Du 17 juin au 18 juillet 2021
.
The museum of everything
Museum of Old and New Art, Tasmania.
Du 17 juin 2017 au 2 avril 2018
.
Viva Arte Viva
Biennale de Venise, Italie.
Du 14 avril au 26 novembre 2017
.
Sur le fil
par Jean-Hubert Martin, à la galerie.
Du 9 avril au 22 mai 2016
.
Judith Scott
Bound and Unbound, Brooklyn Museum, New York,.
Du 24 octobre au 29 mars 2015
.
Forget Me Not
Zuckerman Museum of Art, USA.
Du 22 août au 6 décembre 2015
.
A Rare Earth Magnet
Derek Eller Gallery, Los Angeles.
Du 16 juillet au 21 août 2015
.
The Heart is a Lonely Hunter
par Katy Grannan, Fraenkel Gallery, San Francisco.
Du 4 juin au 22 août 2015
.
Rosemarie Trockel
A cosmos, New Museum, New York.
Du 24 octobre au 1 janvier 2013
.
Creative Growth
Dan Miller et Judith Scott, KMAC, Louisville.
Du 6 septembre au 3 novembre 2013
.
Create
Boca Raton Museum of Art, Florida.
Du 27 juillet au 22 septembre 2013
.
Extreme Drawing
Aldrich Contemporary Art Museum, Ridgefield.
Du 24 mars au 25 août 2013
.
Create
partie #2, Cantor Art Gallery, Worcester.
Du 22 octobre au 8 décembre 2012
.
Unraveled
Creative Growth, Oakland.
Du 5 octobre au 9 novembre 2012
.
Everyday Abstract - Abstract Everyday
James Cohan Gallery, New York.
Du 1 juin au 1 août 2012
.
Judith Scott
Ricco Maresca Gallery, New York.
Du 1 mai au 1 juin 2012
.
B.Wurtz & Co
par Matthew Higgs, Richard Telles Fine Art, Los Angeles.
Du 17 mars au 21 avril 2012
.
Objets Secrets
Collège des Bernardins, Paris.
Du 12 octobre au 18 décembre 2011
.
Make
Visual Art Center, Texas University, USA.
Du 3 septembre 2011 au 10 janvier 2012
.
The Museum of Everything
#4, Selfridges, London.
Du 1 septembre au 25 octobre 2011
.
Create
University of California & Berkeley Art Museum, USA.
Du 11 mai au 25 septembre 2011
.
Make
Ricco Maresca Gallery, New York.
Du 27 avril au 27 mai 2009
.
Imagination
A Celebration of Arts and Disability, Kennedy Center, Washington.
Du 20 février au 17 mars 2009
.
World Transformers
The Art of the Outsiders, Schirn Kunsthalle, Frankfurt.
Du 24 septembre 2004 au 9 janvier 2009
.