Search
Close
christian berst
art brut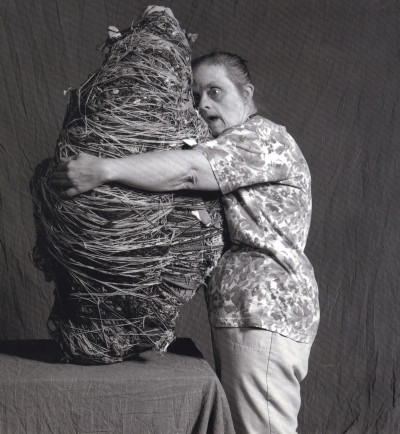 Judith Scott was born with a Down Syndrome into a middle-class family in Cincinnati, Ohio. Following an attack of Scarlet Fever in infancy, she lost her hearing, although this would not be recognized until many years later. She spent the first 7 years of her life in her home and with her twin sister before she was sent in an institution for handicap children. She lived 35 years separated from her family, until in 1986, her twin sister became her legal tutor and moved with her in California.
Judith got into the Creative Growth Art Center in Oakland, where after two years, she starts producing original sculptures by collecting diverse objects, from all size and shape. She would wrap them, weave them, interlace them with color yarns, meticulously chosen, day after day, during months sometimes, until it forms strange cocoons, hiding talismans known by her only.
Artwork
Please
contact us
to inquire about the available works.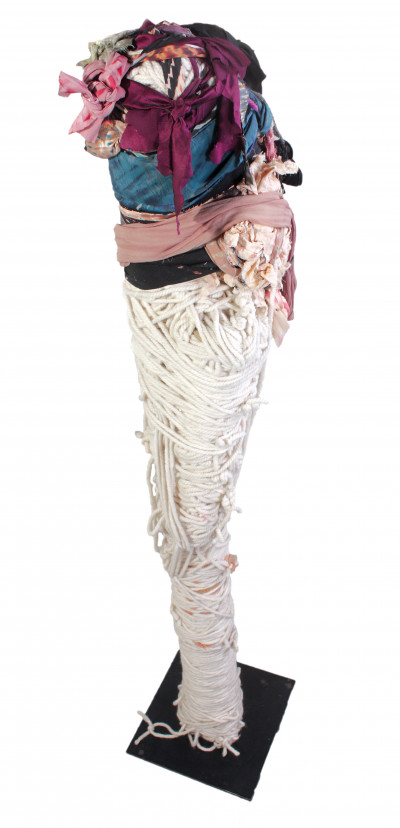 untitled, 1992
7.87 x 49.61 in
Preface : Jean-Hubert Martin
Foreword : Christian Berst
Catalog published to mark the exhibition On the wire, from April 9th to May 22nd, 2016.
brut favorites.!
feilacher's choice, Museum Gugging.
From September 30, 2022 to March 5, 2023
.
L'énigme autodidacte,
curator : Charlotte Laubard, Musée d'art moderne et contemporain de Saint-Etienne Métropole.
From October 8, 2021 to April 3, 2022
.
the line within the thread
curator Baimba Kamara, the bridge by christian berst.
From June 17 to July 18, 2021
.
The Museum of everything
Museum of Old and New Art, Tasmania.
From June 17, 2017 to April 2, 2018
.
Viva Arte Viva
Venice Biennale, Italie.
From April 14 to November 26, 2017
.
On The Wire
by Jean-Hubert Martin, at the gallery.
From April 9 to May 22, 2016
.
Judith Scott
Bound and Unbound, Brooklyn Museum, New York,.
From October 24 to March 29, 2015
.
Forget Me Not
Zuckerman Museum of Art, USA.
From August 22 to December 6, 2015
.
A Rare Earth Magnet
Derek Eller Gallery, Los Angeles.
From July 16 to August 21, 2015
.
The Heart is a Lonely Hunter
by Katy Grannan, Fraenkel Gallery, San Francisco.
From June 4 to August 22, 2015
.
Rosemarie Trockel
A cosmos, New Museum, New York.
From October 24 to January 1, 2013
.
Creative Growth
Dan Miller and Judith Scott, KMAC, Louisville.
From September 6 to November 3, 2013
.
Create
Boca Raton Museum of Art, Florida.
From July 27 to September 22, 2013
.
Extreme Drawing
Aldrich Contemporary Art Museum, Ridgefield.
From March 24 to August 25, 2013
.
Create
part #2, Cantor Art Gallery, Worcester.
From October 22 to December 8, 2012
.
Unraveled
Creative Growth, Oakland.
From October 5 to November 9, 2012
.
Everyday Abstract - Abstract Everyday
James Cohan Gallery, New York.
From June 1 to August 1, 2012
.
Judith Scott
Ricco Maresca Gallery, New York.
From May 1 to June 1, 2012
.
B.Wurtz & Co
by Matthew Higgs, Richard Telles Fine Art, Los Angeles.
From March 17 to April 21, 2012
.
Secret Objects
Collège des Bernardins, Paris.
From October 12 to December 18, 2011
.
Make
Visual Art Center, Texas University, USA.
From September 3, 2011 to January 10, 2012
.
The Museum of Everything
#4, Selfridges, London.
From September 1 to October 25, 2011
.
Create
University of California & Berkeley Art Museum, USA.
From May 11 to September 25, 2011
.
Make
Ricco Maresca Gallery, New York.
From April 27 to May 27, 2009
.
Imagination
A Celebration of Arts and Disability, Kennedy Center, Washington.
From February 20 to March 17, 2009
.
World Transformers
The Art of the Outsiders, Schirn Kunsthalle, Frankfurt.
From September 24, 2004 to January 9, 2009
.
Agenda des vernissages de la semaine du 17 juin
La Rédaction, Toute La Culture..
June 17, 2021
.
Au Centre Pompidou, l'art brut trouve sa place dans les collections du musée
Clémentine Mercier, Libération.
June 11, 2021
.
La collection de Bruno Decharme, un trésor d'art brut
Philippe Dagen, Le Monde.
June 10, 2021
.
Sur le fil
Claire Margat, Art Press N°434.
May 20, 2016
.