Search
Close
christian berst
art brut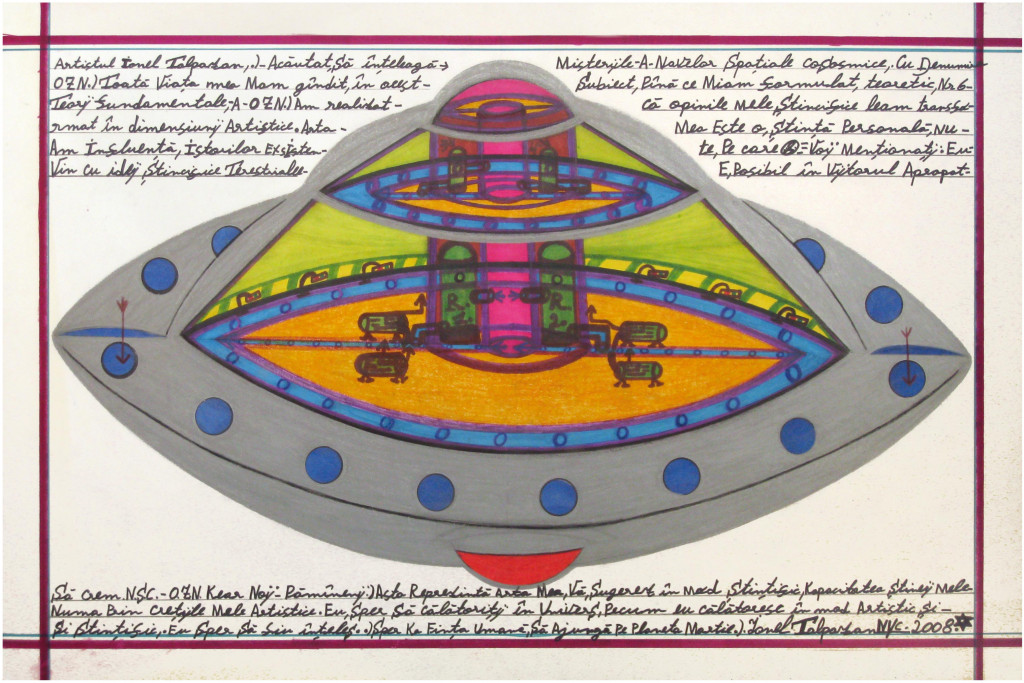 According to Ionel Talpazan, his drawings and sculpture of flying saucers contain secret information about the propulsion systems of UFO's that could interest NASA.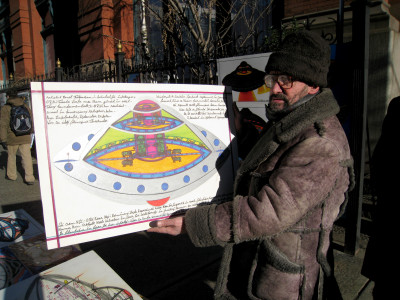 What is sure is that his admirable, colorful creations, the ensemble of which constitutes a veritable inter-galactic space station, project us into the unique universe of this man who, as a child, saw an "extraterrestrial" blue light, the source of his work.
Ionel had a turbulent childhood: born in 1955 near Bucharest (Romania), he lost his twin brother shortly after their birth. His parents, at odds with each other, left him with his grandfather before he was sent, at the age of six, to a foster family whose mother turned out to be a violent alcoholic. At the age of eight, while hiding in the bushes after escaping from the house, he saw the strange blue light moving without a sound: four years later, he drew his first UFO.
As an adult, he fled his country by swimming across the Danube; recognized as a political refugee, he established himself in New York. From then on, Ionel dedicated himself to his creation, his apartment barely large enough to store his impressive production. 
His work, shown in multiple galleries in the United States and at the exhibition Chalet Society - The Museum of Everything, boulevard Raspail in Paris in 2012-2013, is part of several major collections of art brut. 
Artworks
Please
contact us
to inquire about the available works.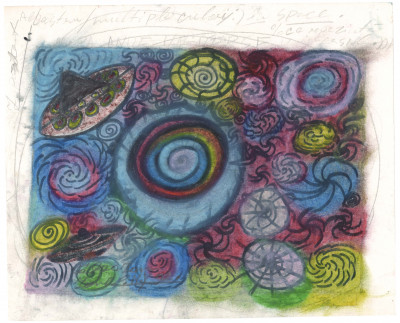 untitled, 1993
13.39 x 11.02 in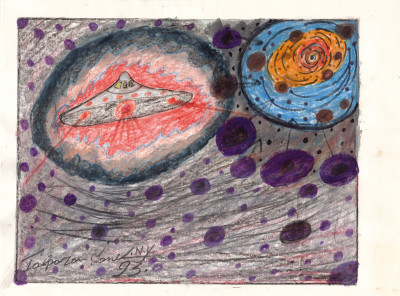 untitled, 1993
15.75 x 11.81 in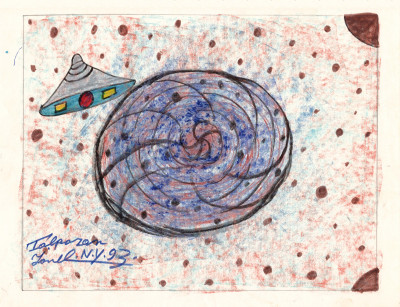 untitled, 1993
15.35 x 11.81 in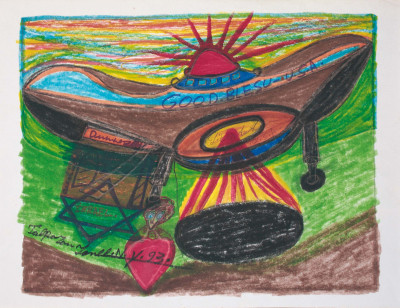 untitled, 1993
15.35 x 11.81 in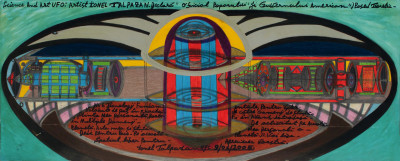 untitled (science and art UFO), 2005
39.76 x 16.14 in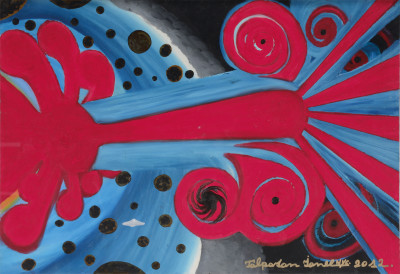 untitled (cosmic blast), 2012
27.95 x 19.29 in
Catalog
Beyond
on the edge of the visible and the invisible
Preface : Philippe Baudouin
Foreword : Christian Berst.
Catalog published to mark the exhibition Beyond : on the edge of the visible and the invisible, from March 6th to April 13th, 2019.
Eureka !
Centro de arte Oliva, Portugal.
From July 23, 2021 to January 23, 2022
.
beyond
on the edge of the visible and the invisible, at the gallery.
From March 7 to April 13, 2019
.
L'envol
Maison Rouge, Paris.
From June 16 to October 28, 2018
.
do the write thing 2
read between the lines, at the gallery.
From April 26 to June 2, 2018
.
The Museum of everything
Museum of Old and New Art, Tasmania.
From June 17, 2017 to April 2, 2018
.
Brut Now
art brut in the technological era, Belfort Museums .
From October 29, 2016 to January 16, 2017
.
On The Wire
by Jean-Hubert Martin, at the gallery.
From April 9 to May 22, 2016
.
PreTENse
at the Gallery.
From September 12 to October 10, 2015
.
on the horizon
at the gallery.
From January 28 to March 1, 2014
.
An Alternative Guide to the Universe
Hayward Gallery, Londres .
August 28, 2013
.
evasion
Les transports de l'art brut, at the gallery.
From June 6 to July 19, 2008
.
Brut Now L'art brut au temps des nouvelles technologies