Search
Close
christian berst
art brut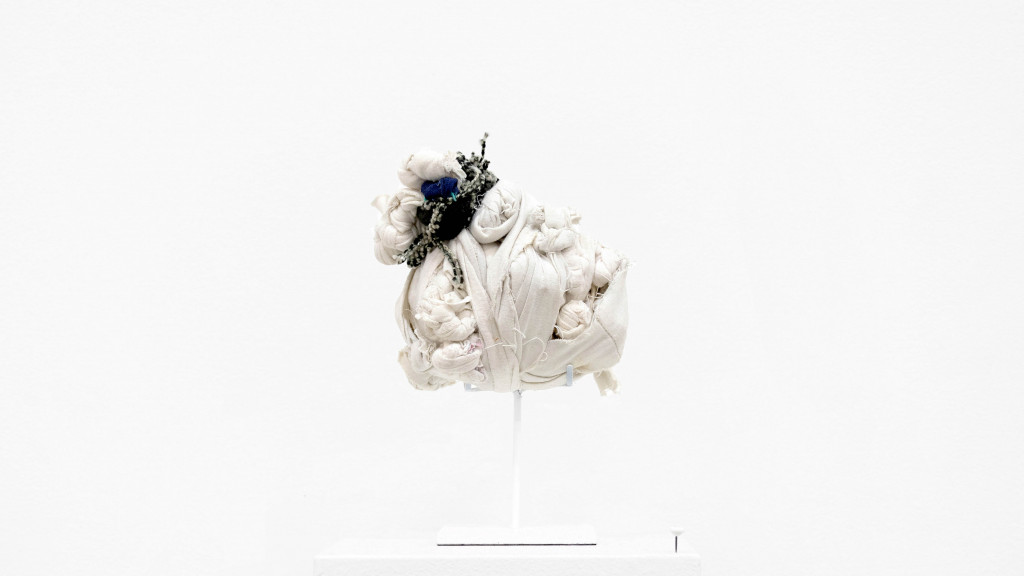 For more than thirty years, Pascal Tassini has been frequenting the Workshop of Créahm (Belgium), where he created his own house of objects attached to each other by rosaries of cloth knots. As with Schwitters, Tassini's Merzbau is protean and evolutionary. This "hidden husband of Annette Messenger" (says Léa Chauvel-Lévy) produces, with a similar process, the various elements necessary for the sumptuous wedding he dreams of, from the wedding dress to the buttonholes. Presented in 2019 in the exhibition "Extravaganza" of the Treger Saint Silvestre collection, Pascal Tassini is also part of the collections of the Madmusée (Belgium) and the Hervé Lancelin Pinacotheque (Luxembourg).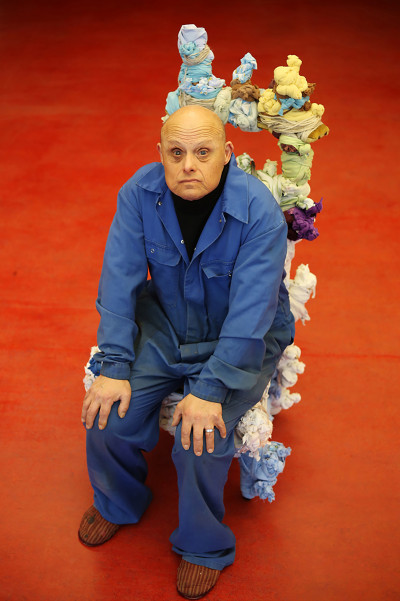 Pascal Tassini was born in Belgium in 1955 into a family of three children. He lived with his parents until they died, when one of his brothers took responsibility for him and sent him to the Créahm workshops in Liège in 1986.
Tassini, who tidies obsessively, initially contented himself with neatening the studio until he stumbled upon the reproduction of a sculpture in a catalogue of an exhibition of African art. He then began working with clay before trying his hand at drawing and painting. At the same time, he began stealing chairs and other material which he used to build a hut within the studio. Its structure changed constantly with the objects he was given as gifts and those he hunted around for. They were bound by a tangle of fabrics (his studio companions' work clothes) all tied together. Teresa Maranzano compares this private space to Kurt Schwitters' Merzbau. He welcomes visitors to his den on condition that they undergo a medical check-up. Presenting himself as Doctor Tassini and wearing a white coat, he takes their pulses and cures all ills.
For the past ten years, Tassini has worked only with textiles, switching between the clothes he makes, like brides' dresses and headdresses, the decoration of his hut, and wrapping for objects such as those Judith Scott made. He intertwines scraps of material to make a webbing with numerous outgrowths, and writes letters consisting of the same letter of the alphabet repeated over and over. He signs with two interlinked rings.
Artworks
Please
contact us
to inquire about the available works.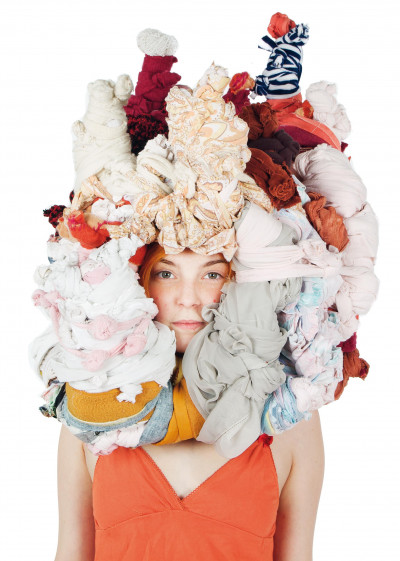 untitled, 2007
22.83 x 24.8 in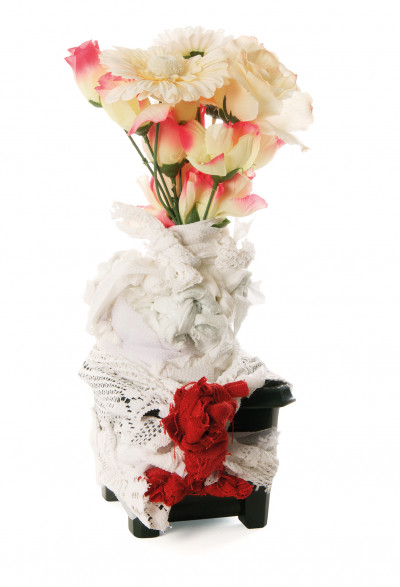 untitled (nuptial bunch), 2011
5.91 x 15.75 in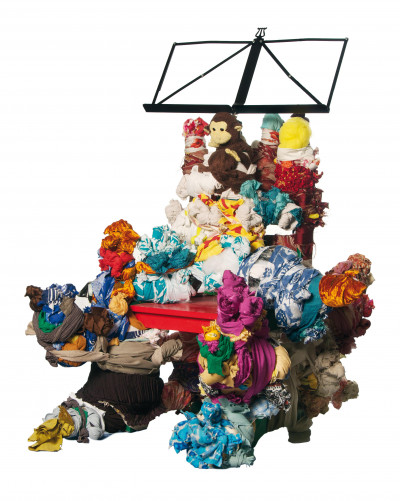 untitled (lectern) , 2015
27.17 x 34.65 in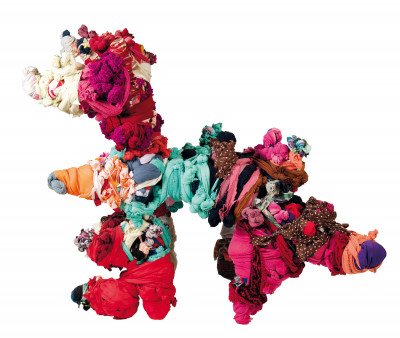 untitled, 2013
19.69 x 35.43 in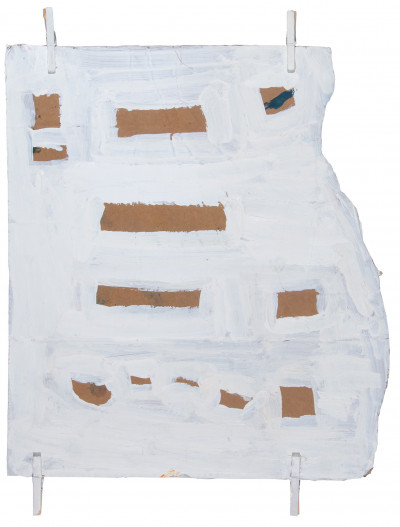 untitled, 2011
19.29 x 25.2 in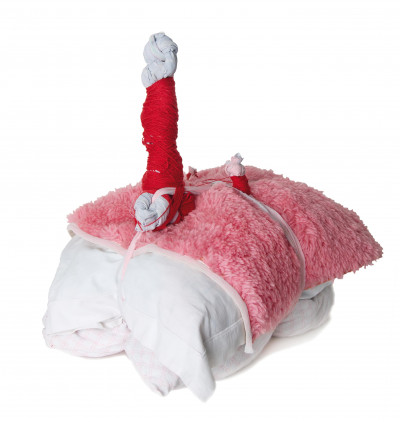 untitled, 2008
13.78 x 18.5 in
Preface : Léa Chauvel Lévy
Foreword : Christian Berst
Catalog published to mark the exhibition Pascal Tassini : nexus, from November 2nd to December 2nd, 2017.
mirror mirror
Musée du Dr. Guislain & MoMu, Belgium.
From October 1, 2022 to February 26, 2023
.
débordement #1: the pathfinders
by anaël pigeat & yvannoé krüger, the bridge + main gallery.
From November 25, 2021 to January 16, 2022
.
Emportés par la foule…
with works by Pascal Tassini , Trinkhall Museum, Liège.
From September 24, 2021 to February 13, 2022
.
in abstracto #2
at the gallery.
From March 5 to June 6, 2020
.
Extravaganza
Treger Saint-Silvestre Collection, Centro de Arte Oliva, Portugal.
From April 13 to September 15, 2019
.
do the write thing 2
read between the lines, at the gallery.
From April 26 to June 2, 2018
.
pascal tassini
nexus, at the gallery.
From November 2 to December 2, 2017
.
Inextricabilia
la Maison rouge, Paris.
From June 23 to September 17, 2017
.
Seuls&accompagnés
Art)&(Marges museum, Brussels.
From June 23 to September 17, 2017
.
in abstracto
at the gallery.
From June 8 to July 15, 2017
.
galeristes
salon des galeries et des collectionneurs engagés , carreau du temple.
From December 8 to 11, 2016
.
MONsens
Outsider Art Past and Present & Interaction, Mons, Belgique.
From June 20 to September 6, 2015
.
Pascal Tassini
Collection de l'Art Brut, Lausanne.
From February 13 to May 10, 2015
.
Material Conceptualism
The Comfort of Things, Aanant & Zoo Gallery, Berlin .
From September 7 to October 19, 2013
.
art paris - art fair 2013
Grand Palais.
From March 28 to April 1, 2013
.
Pascal Tassini
MaD Musée, Liege.
From December 3 to February 25, 2012
.
beyond the boundaries season 2012
discoveries and recent acquisitions.
From September 8 to October 13, 2012
.
Textil
Kunsthaus Kannen, Münster.
From June 5 to September 25, 2011
.
The Wedding of Dr. Tassini
International Design Biennial, Chapelle Saint-Roche, Liege.
From October 13 to 24, 2010
.
Madmusée Collection Paris
la Maison des métallos, Paris.
From April 16 to 30, 2010
.
In_Out
Musée de l'Art Wallon, Liege.
From September 12 to November 9, 2008
.
the Mad at the Mamac
musée d'art moderne et d'art contemporain, Liège.
From June 8 to July 8, 2007
.
Special connections
Musée d'art moderne et d'art contemporain, Liege.
From May 6 to June 20, 1999
.
trailer - débordement #1 : les révélateurs / the pathfinders
video - the exhibition presented by the curators