Search
Close
christian berst
art brut
This artist seems as if straight out of Hemingway's Moveable Feast. An accordionist in bal musettes, France's old-fashioned popular dances, he worked the rest of the time in a factory. In the 1960s, when he settled in the Pyrenees, he began to draw his recurring motifs with coloured pencils: boats, cars, fish, hearts, etc. Keeping his drawings piled up at home, Joseph Vignes was finally discovered by the painter Claude Massé, who devoted an article to him in Fascicules de l'Art Brut in 1982. His work now appears in the collections of the LaM (Lille), Art Brut (Lausanne) and the Musgrave Kinley Outsider Art Collection (Manchester).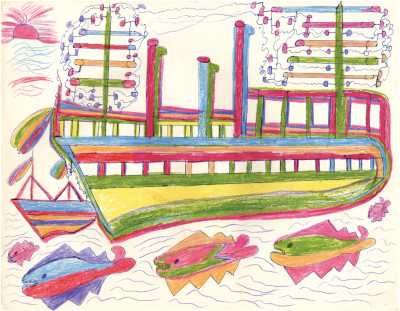 Joseph Vignes, called Pepe Vignes, was born in november 1920 in Paris. He is the second of a five children family headed by a cooper father. He was successively accordion in popular dances, singer, and then cooper, moving a lot he eventually settled in Elne (West-Pyrenees) where he lived until his death.
In 1960, when he was 40 years, he started to draw for fun, with ball point pen and color pens. His favorite themes are flowers, boats, fishes, cars, planes, trains, rugby balls and hearts shapes that we can find in almost all his drawings. As he has a myopic view he draws with his face very close to the sheet. He also uses cardboards and brown paper that he decorates with felt pen in a way to not losing time at sharping his pencils. 
Discovered by Claude Massé in 1974 – who dedicated an article to Pepe in the Fascicule de l'art brut n°11 -, Pepe Vignes pile up his drawings in closets, under beds and cabinets. From 1971 to 1980, he produced 3000 "good points" addressed to those he loves. The highly personal universe that he created is full of poetry and strangeness, like the Primitive painters.    
Artworks
Please
contact us
to inquire about the available works.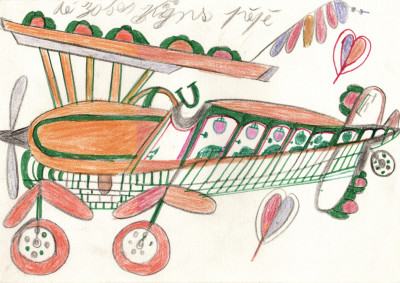 untitled, 1975
11.42 x 8.27 in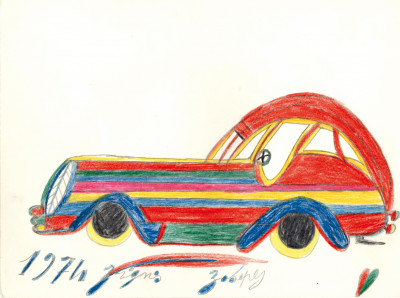 untitled, 1974
12.6 x 9.45 in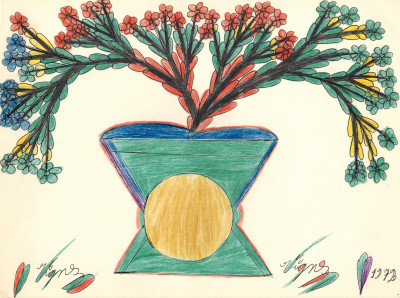 untitled, 1972
12.6 x 9.45 in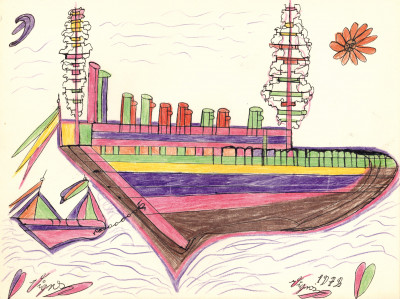 untitled, 1972
12.6 x 9.45 in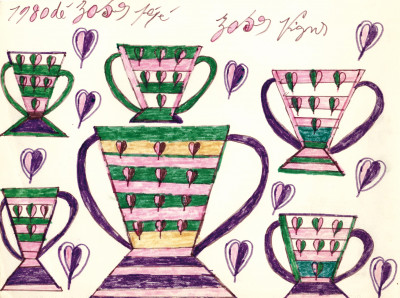 untitled, 1980
12.6 x 9.45 in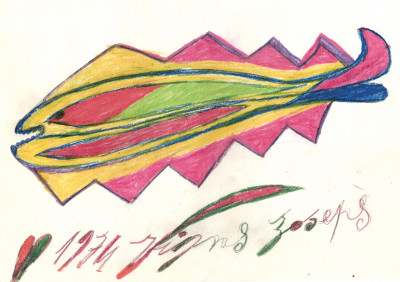 untitled, 1974
11.42 x 7.87 in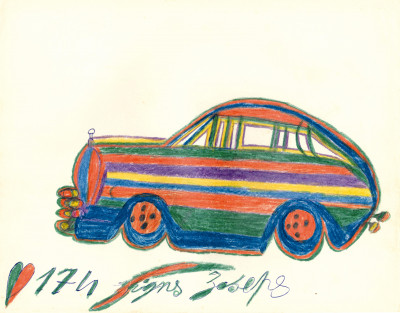 untitled, 1974
12.2 x 9.45 in
untitled, 1976
12.6 x 9.45 in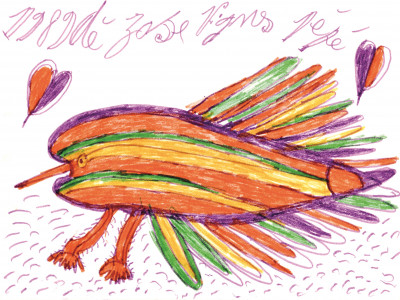 untitled, 1989
12.6 x 9.45 in
Catalog
Heterotopia
architectural dwellings
Preface : Matali Crasset
Foreword : Christian Berst
Catalog published to mark the exhibition Heterotopias : architectural dwellings, from December 9th, 2017 to January 20th, 2018.
Hey !
the drawing, Halle Saint-Pierre, Paris.
From January 22 to December 31, 2022
.
Eureka !
Centro de arte Oliva, Portugal.
From July 23, 2021 to August 27, 2022
.
Yes or notes
curated by Charlélie Couture, the bridge by christian berst.
From April 9 to June 13, 2021
.
Sereno variavel
curated by Antonia Gaeta, Centro de Arte Oliva, São João da Madeira.
From October 31, 2020 to May 2, 2021
.
heterotopias
architectural dwellings, at the gallery.
From December 9, 2017 to January 20, 2018
.
Art Brut
A Story of Individual Mythologies, Treger Saint Silvestre Collection, Portugal.
From January 1 to February 26, 2017
.
Vehicles
Collection de l'art brut, Lausanne.
From November 8, 2013 to April 27, 2014
.