Search
Close
christian berst
art brut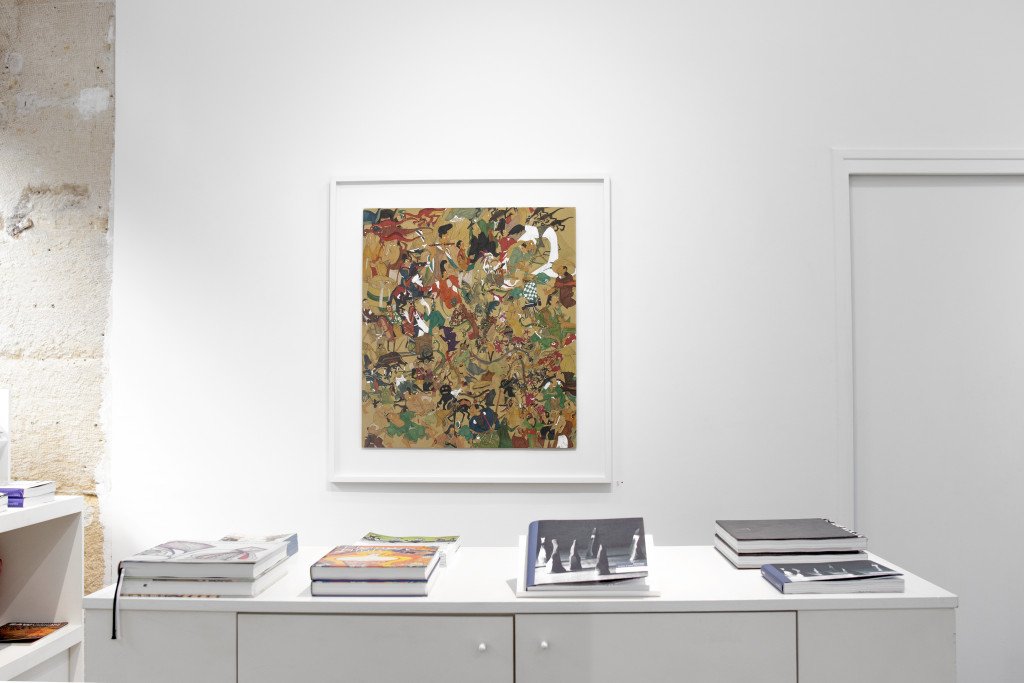 Yuichiro Ukai, a member of the renowned Yamanami workshop in Japan, is a passionate illustrator: he strives to draw, from memory, characters from the manga world, etchings, and from encyclopedic works on Reptiliomorpha. These serials or polyptych drawings, often overloaded and of a breathtaking precision, are singularly reminiscent of the triptychs of the Flemish primitive, Jérôme Bosch. Exhibited for the first time in France at the gallery in 2019, his work is now very popular, especially as its rarity only sharpens this appeal.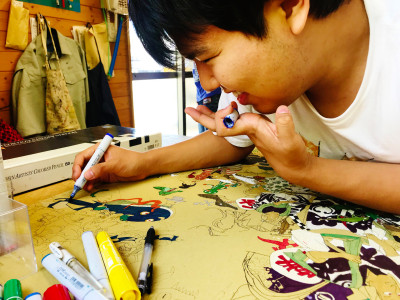 Upon graduating from high school, Yuichiro joined Atelier Yamanami in 2014 and involved in cleaning parks and train stations in the community. During recess, he looks at his favorite field guides and draws pictures. He likes animal guides, insect guides, dinosaur guides, anime character guides, and recently Japanese monster guides, and these creatures are lively depicted in his drawings. Yuichiro's drawing method is unique. He draws one motif, a dinosaur or a skeleton, for example, and then draws dinosaur or skeleton one after another as they make a chain. The movement and expression of each object are subtly different from each other, forming a herd, and they appear to move across time and space. As he repeatedly draws motifs, the drawing acquires depth and time, and it often continues over multiple papers.
Not only drawings, Yuichiro also ventures out to three-dimensional arts, molding miniature dinosaurs and skeletons. Just like the Japanese candy arts, he stretches limbs and tails from a lump of clay, meticulously shaping the object.
It seems that Yuichiro loves these strange creatures and tries to give life to them. Then, we wonder if the boy who sometimes appears in the picture is Yuichiro himself. Yuichiro Ukai gleefully draws fantastic scenes in which dinosaurs, skeletons, ancient Japanese warriors, and monsters rampantly roam at will. 
Artwork
Please
contact us
to inquire about the available works.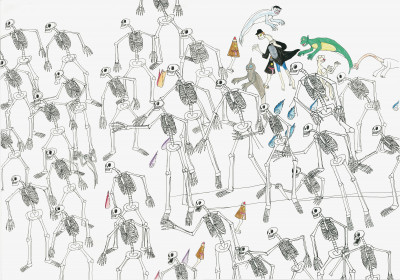 untitled, 2012
21.26 x 14.96 in
Catalog
Japan Brut
the moon, the sun, yamanami
Preface : Yukiko Koide & Raphaël Koenig
Foreword : Christian Berst.
Catalog published to mark the exhibition Japan Brut : the moon, the sun, yamanami, from August 31st to October 5th, 2019.