Search
Close
christian berst
art brut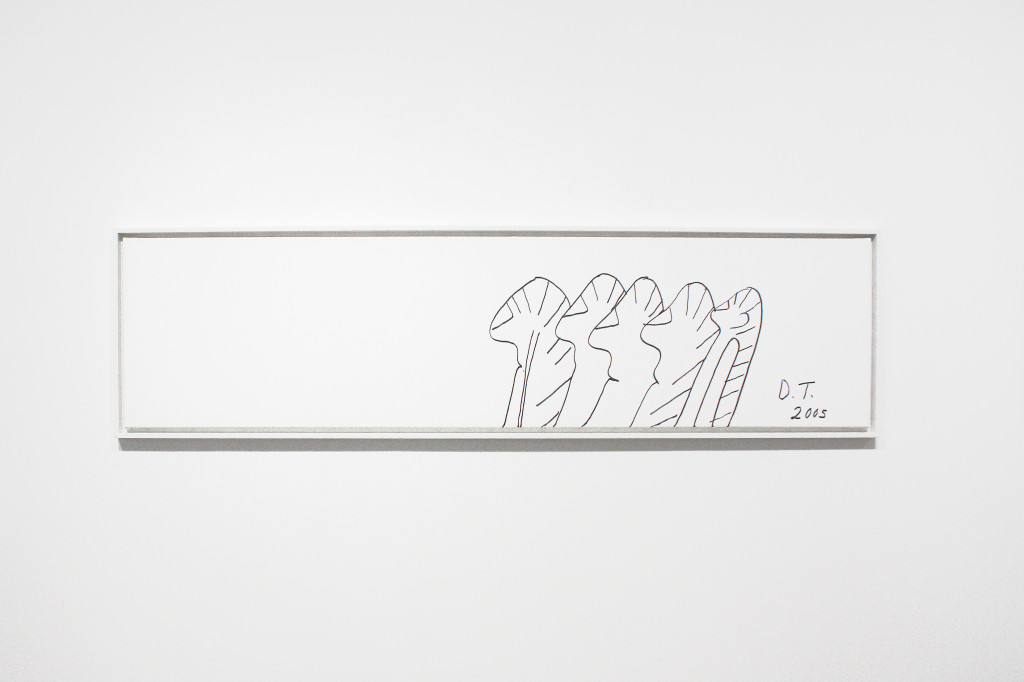 O.T. - as he signed - was an emblematic artist of the Gugging hospital, where he was interned because of the psychosis he began to suffer upon returning from the siege of Stalingrad. His drawings, antitheses of the horror vacui, are characterized by their minimalism, the purity, the economy of means and effects, the sense of balance and space. Admired by Michel Thévoz, who devoted several feature articles to him, he also fascinated David Bowie and Brian Eno, who met and collected him. His works can be found in countless collections, such as those of Arnulf Rainer (Austria), abcd/Bruno Decharme (France) or the Pinacothèque Hervé Lancelin (Luxembourg).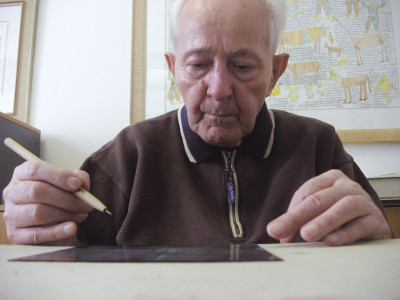 O. T., as Tschirtner used to sign his works, lived a very introverted life, really attached only to his bible. His life is reflected in his artistic oeuvre. Tschirtner's "people" are devoid of all attire; no garments or genders can be made out in those humanoids, his "cephalopods". When he tackles other subjects, the artist becomes even more frugal in his portrayal of shapes. A "landscape" may cross the paper in a single line, an animal appear as a mere dot; inversely, "peace" can adopt any shape.
Occasionally Tschirtner also coloured his drawings – using one colour, rarely two, never more. The elaborate focus placed on his themes, combined with the radical simplification, speaks of a deep inner message.
Artworks
Please
contact us
to inquire about the available works.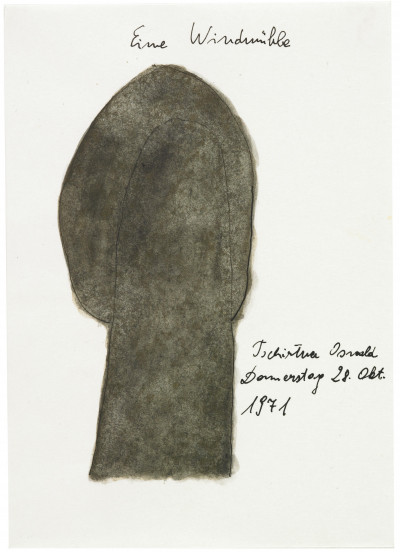 A windmill, 1971
3.94 x 5.51 in
Peace is, 2004
5.51 x 7.87 in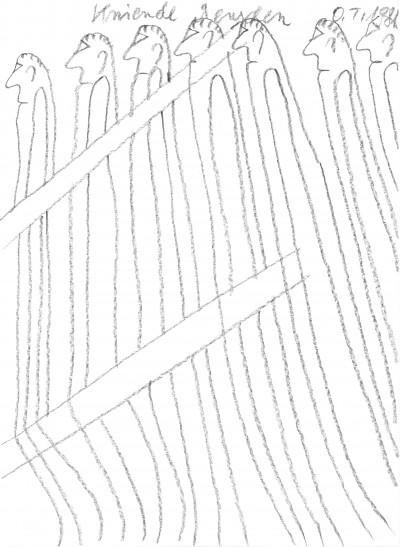 Kniende Menschen, 1981
8.66 x 11.81 in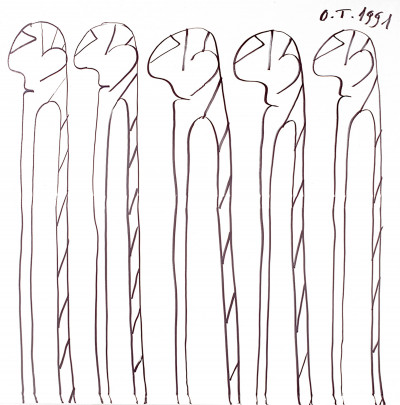 humans, 1991
62.99 x 62.99 in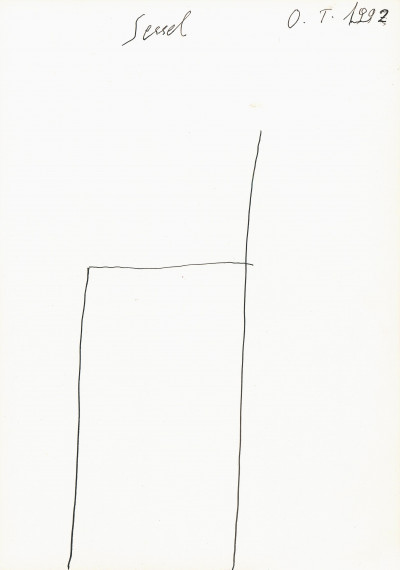 Armchair, 1992
5.51 x 8.27 in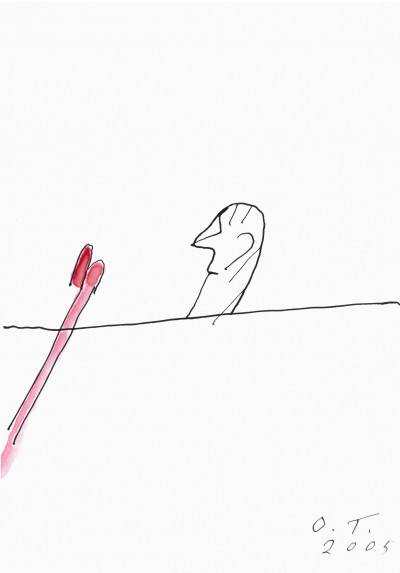 Human and flower, 2005
5.51 x 7.87 in
Catalog
Gugging
the crazed in the hot zone
Foreword : Christian Berst
Catalog published to mark the exhibition Gugging : the crazed in the hot zone, from Septembre 2nd to October 22th, 2017.
the chobot collection :
art brut at the albertina museum, the albertina museum, Paris.
From July 14 to September 18, 2022
.
Mellitius !
august walla: food passion, galerie gugging, Autriche.
From March 10 to June 12, 2022
.
otherworldly :
where words end and eternity begins …, galerie Gugging, Autriche.
From November 18, 2021 to February 27, 2022
.
ladies brut
Galerie Gugging.
From September 17 to November 8, 2020
.
In the flesh
real bodies, at the gallery.
From June 14 to July 11, 2020
.
Powerful Female - Delicate Male
Misleidys and Tschirtner , Galerie Gugging, Vienne.
From March 12 to September 6, 2020
.
in abstracto #2
at the gallery.
From March 5 to June 6, 2020
.
The Dagmar and Manfred Chobot Collection
a donation to the Albertina Museum, Albertina Museum, Vienna.
From December 13, 2019 to February 23, 2020
.
Flora & Fauna brut
Gugging Gallery.
From May 15 to August 30, 2019
.
ART BRUT
La Pinacothèque, Luxembourg.
From January 26 to June 15, 2019
.
danser brut
lam, (musée d'art moderne, d'art contemporain et d'art brut lille métropole).
From September 28, 2018 to January 6, 2019
.
Leben in art brut
coll. Hannah Rieger, Bildraum, Vienna.
From July 14 to August 16, 2018
.
L'envol
Maison Rouge, Paris.
From June 16 to October 28, 2018
.
heterotopias
architectural dwellings, at the gallery.
From December 9, 2017 to January 20, 2018
.
Oswald Tschirner & Johann Hauser
mit strich und farbe, Gugging Galerie, Vienna.
From December 1 to February 8, 2017
.
Living in art brut
123 works from the Hannah Rieger Collection, Musuem Krems an der Donau.
From September 8 to October 26, 2017
.
gugging !
the crazed in the hot zone, at the gallery.
From September 2 to October 21, 2017
.
Du nombril au cosmos
autour de la collection abcd/ Bruno Decharme, Art et Marges museum, Bruxelles.
From September 25, 2015 to January 24, 2016
.
Collecting Madness
Outsider Art from the Damman Collection Volume #2, Prinzhorn Collection, Allemagne .
From March 14 to April 14, 2014
.
Gugging
A home for Art Brut, at the gallery.
From April 7 to May 27, 2006
.
Inner Worlds Outside
Fundacion La Caixa, Madrid ; Whitechapel gallery, London ; Irish Museum of Modern Art, Dublin.
From January 18 to December 30, 2006
.
The crowd
Collection de l'art brut, Lausanne.
From February 27 to August 25, 2002
.
quatrième tour des galeries post-confinement
La Rédaction, Connaissance Des Arts.
June 20, 2020
.
gallery diary - galerie gugging, misleidys castillo pedroso & oswald tschirtner
La Rédaction, Parnass Kunstmagazin .
March 31, 2020
.
hétérotopies architectures habitées
Chris Cyrille, Artpress.
January 8, 2018
.
hétérotopies architectures habitées
Chris Cyrille, Point Contemporain.
January 8, 2018
.
l'envolée de l'art brut
éric Tariant, Le Temps.
November 13, 2017
.
gugging !
Aurélie Romanacce, L'oeil.
September 29, 2017
.
Annonce de l'exposition : Gugging, un foyer pour l'art brut
Animula Vagula.
April 5, 2006
.
Gugging the crazed in the hot zone