Search
Close
christian berst
art brut
L'énigme autodidacte,
curator : Charlotte Laubard
Event

From October 8, 2021 to April 3, 2022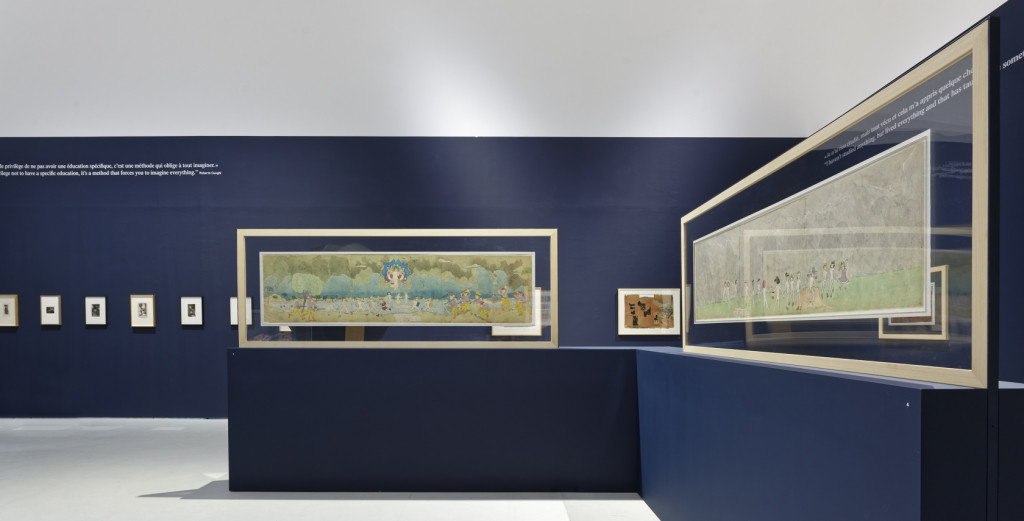 Artworks by Judith Scott, Adolf Wölfli, George Widener, Henry Darger, Miroslav Tichý, Frédéric Bruly Bouabré and Horst Ademeit are currently on view in L'énigme autodidacte at the Musée d'art moderne et contemporain de Saint-Etienne Métropole.
What motivates the decision to create art? From what, from whom and how do we learn? What is the role of the context in which the person lives, their daily acts and experiences? Drawing on recent theoretical contributions from the educational sciences, the exhibition sheds new light on the role of autodidacticism, in French "autodidaxie", that is to say "the action of learning without a master", in an artistic journey. It focuses on the creative process and the sometimes heterodox methods and practices adopted by artists who learn by themselves.
Video (french) : L'exposition "L'Énigme autodidacte" au MAMC+ Saint Étienne Métropole
With artworks by : Georges Adéagbo, Horst Ademeit, Raymonde Arcier, Marcel Bascoulard, Ben, Adelhyd van Bender, Guillaume Bijl, Irma Blank, Alighiero Boetti, Christian Boltanski, Marcel Broodthaers, Frédéric Bruly-Bouabré, Sophie Calle, Maurizio Cattelan, Ferdinand Cheval, Roberto Cuoghi, Henry Darger, Justine Emard, Robert Filliou, Richard Greaves, Chauncey Hare, Seydou Keïta, Bodys Isek Kingelez, Yves Klein, Emma Kunz, Jean Le Gac, Gianni Motti, Tania Mouraud, Arnold Odermatt, Francis Palanc, Présence Panchounette, Gianni Piacentino, Carol Rama, Jean-Pierre Raynaud, Carole Roussopoulos, Jean-Michel Sanéjouand, Judith Scott, Ceija Stojka, Miroslav Tichý, Jeanne Tripier, Wendy Vainity, Galaxia Wang, George Widener, Adolf Wölfli.