Search
Close
christian berst
art brut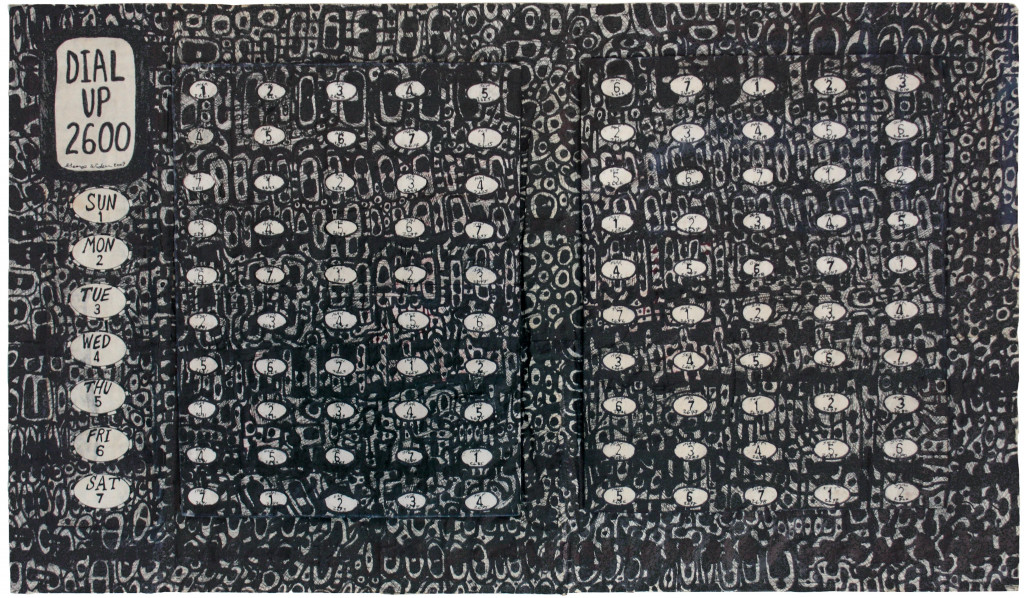 A former U.S. Air Force technician, chronically depressed and antisocial, it is only when he reached his thirties that he was diagnosed with Asperger's syndrome. His syndrome is characterized by an eidetic memory that allows him to insert in his works a lot of data, especially encrypted, relating to his favorite subjects. Time, magic squares, the Titanic, and fictional megalopolises are among the recurring themes of his drawings. Present, among others, in the collections of the Smithsonian (Washington), his art has been shown at the Palais de Tokyo, in Paris, in the cult exhibition Le Bord des Mondes or in Alternative Guide to the Universe at the Hayward Gallery in London.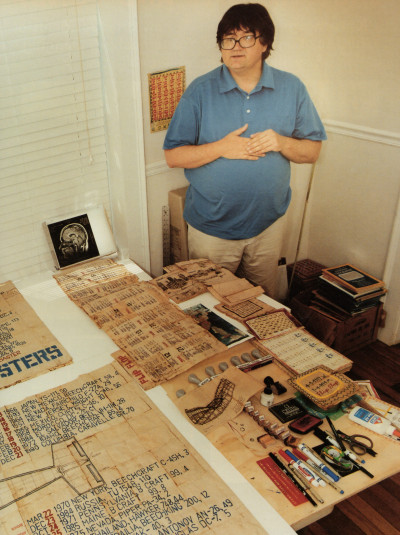 The inconceivably omniscient knowledge of George Widener's calendars and the exalted and unbridled creativity both stun and interest scientists and art critics to the highest degree.
After a childhood marked by explosions of violence and anger, Widener, born in 1962, became first a technician for the US Air Force, then a painter in construction, and finally a regular at psychiatric institutions and homeless shelters. At the age of 32, it was discovered that he had Asperger's Syndrome (or a high level of autism). If he is given a date, he knows the major events related to it by heart. His weakness: the sinking of the Titanic, which reappears as a leitmotif of his creation. 
Presented at the exhibitions World Transformers at the Kunsthalle of Frankfurt in 2010 and The Alternative Guide to the Universe, organized by the Hayward Gallery in London in 2013 or at the Chalet Society - The Museum of Everything, boulevard Raspail in Paris in 2012-2013, his work already figures among the most important collections of art brut. 
 
Artworks
Please
contact us
to inquire about the available works.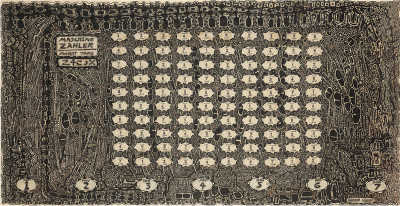 type writter, 2011
55.51 x 27.95 in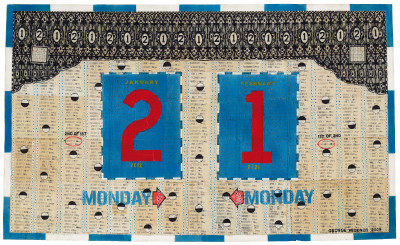 untitled, 2009
53.94 x 32.28 in

Time Machine, 2011
22.83 x 63.78 in
Foreword : Christian Berst
Catalog published to mark the exhibition On the horizon, from january 28th to march 1st, 2014.
Culturas Paralelas:
works from the treger saint silvestre collection, Faculdade de Belas Artes da Universidade do Porto, Portugal.
From February 17 to April 22, 2023
.
31553580 (obsessie/obsession) :
numbers and schedules, museum van de geest, Haarlem.
From September 21 to December 21, 2022
.
Power(less)
DOX centre d'art contemporain, Prague.
June 3, 2022
.
otherworldly :
where words end and eternity begins …, galerie Gugging, Autriche.
From November 18, 2021 to February 27, 2022
.
L'énigme autodidacte,
curator : Charlotte Laubard, Musée d'art moderne et contemporain de Saint-Etienne Métropole.
From October 8, 2021 to April 3, 2022
.
Within a Fold
of Time, Art et marges museum, Bruxelles.
From October 7, 2021 to March 13, 2022
.
POCORART
World Exhibition, 3331 Arts Chiyoda, Tokyo.
From July 16 to September 5, 2021
.
fiac
online viewing rooms, online.
From March 4 to 7, 2021
.
visionary architecture
oliva creative factory.
From May 14 to June 15, 2019
.
Travel memories
Antoine de Galbert collection, musée de Grenoble.
From April 27 to July 28, 2019
.
galeristes #3
art fair, Le Carreau du Temple.
From November 30 to December 2, 2018
.
L'envol
Maison Rouge, Paris.
From June 16 to October 28, 2018
.
The Museum of everything
Museum of Old and New Art, Tasmania.
From June 17, 2017 to April 2, 2018
.
The Golden Ratio Laws
Oliva Creative Factory, Portugal.
From April 29 to September 30, 2017
.
Art Brut
A Story of Individual Mythologies, Treger Saint Silvestre Collection, Portugal.
From January 1 to February 26, 2017
.
Save the World ?
Art & Marges museum.
From September 30, 2016 to January 29, 2017
.
Architectures
Collection de l'Art Brut, Lausanne.
From November 13, 2015 to April 17, 2016
.
Elevations, Bruno Decharme & Antoine de Galbert Collections
Hommage à Joseph Ferdinand Cheval, Château de Hauterives .
From April 30 to 27, 2015
.
Art brut live
DOX centre for contemporary art, Praha.
From March 27 to August 17, 2015
.
System and vision
David Zwirner gallery, New York.
From February 28 to April 18, 2015
.
Le Bord des Mondes
Palais de Tokyo, Paris.
From February 18 to May 17, 2015
.
The Wall
Antoine de Galbert Collection , la Maison rouge, Paris.
From June 14 to September 21, 2014
.
Art brut: breaking the boundaries
curator Christian Berst, Oliva Creative Factory, Sao Joao da Madeira, Portugal.
From June 1 to September 11, 2014
.
on the horizon
at the gallery.
From January 28 to March 1, 2014
.
Vehicles
Collection de l'art brut, Lausanne.
From November 8, 2013 to April 27, 2014
.
Raw Vision
25 years of art brut, Halle Saint Pierre, Paris .
From September 18, 2013 to August 22, 2014
.
An Alternative Guide to the Universe
Hayward Gallery, Londres.
August 28, 2013
.
Great and mighty things
outsider art from the Jill and Sheldon Bonovitz collection, Philadelphia Museum of Art.
From March 3 to June 9, 2013
.
George Widener
secret universe IV, Hamburger Bahnof - Museum Für Gegenwart, Berlin.
From January 25 to June 16, 2013
.
The Museum of Everything
exhibition #1.1, Chalet Society, Paris.
From October 17 to December 16, 2012
.
World transformers
the art of outsiders, Schirn Kunsthalle .
From September 24, 2010 to January 9, 2011
.
Ce qui se cache sous le temps qui passe
Mylène Mistre-Schaal, Arts Hebdo Medias.
February 24, 2022
.
art exhibition / news - pocorart world exhibition
La Rédaction, Geijutsu Shincho.
September 1, 2021
.
La première FIAC en ligne s'installe dans le paysage
Alison Moss, Le Quotidien De L'art.
March 11, 2021
.
Découvertes, premières ventes et déceptions : nous avons visité la Fiac online 2021
Valérie Duponchelle, Béatrice De Rochebouët, Le Figaro.
March 5, 2021
.
Fiac Online viewing rooms : notre sélection
Alexandre Crochet, The Art Newspaper.
February 28, 2021
.
art and fiction: george widener's time machine
Françoise Stark-mornington, Lacanian Review Online.
April 10, 2019
.
galeristes une vision de la création
Alexia Lanta Maestrati, L'oeil.
December 4, 2018
.
L'art brut à contre courant
Aurelie Romanacce, Pascaline Vallee Et Patrick Le Fur, Arts Magazine.
August 29, 2014
.