Recherche
Fermer
christian berst
art brut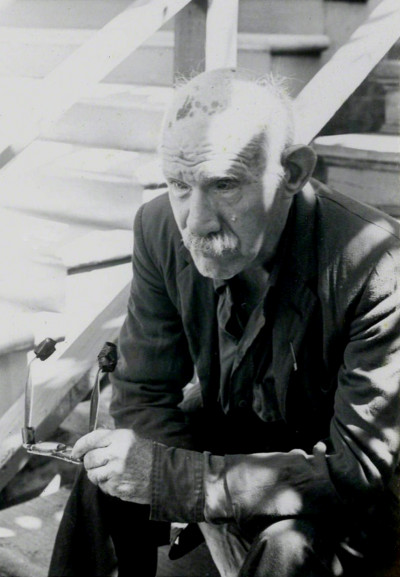 Henry Darger a 4 ans lorsque sa mère meurt en mettant au monde sa petite sœur qu'il ne verra jamais. A 7 ans, son père l'envoie dans un foyer où règnent violence et brimade, puis dans un asile pour enfants attardés dont il s'échappe. Au début des années vingt, il entre comme homme de ménage dans un hôpital de Chicago où il restera jusqu'à sa retraite, en 1963. A 19 ans, il commence la rédaction d'une saga de plus de quinze mille pages intitulée Royaumes de l'Irréel qui décrit la lutte des sœurs Vivian, aidées par le capitaine Henry Darger, contre les méchants adultes, les Glandeliniens. Il illustre cette épopée par d'immenses planches dessinées recto verso, agrémentées d'illustrations découpées dans les journaux, qui représentent des fillettes (certaines avec un sexe de petit garçon). Sa production fut découverte par Nathan Lerner, son propriétaire, après l'entrée de Darger dans une maison de retraite.
Photo Brut
Coll. Bruno Decharme & cie, American Folk Art Museum, New York.
Du 24 janvier au 6 juin 2021
.
Photo Brut
coll. Bruno Decharme & co, Rencontre d'Arles.
Du 1 juillet au 22 septembre 2019
.
Histoires de violence
un dialogue entre les oeuvres de la collection treger saint silvestre, Núcleo de arte da oliva, Portugal.
Du 14 avril 2018 au 28 février 2019
.
Vestiges & Verse
Notes from the Newfangled Epic, American Folk Art Museum, New York.
Du 21 janvier 2018 au 27 décembre 2017
.
Les Refuges du récit
Écritures, langues et mondes imaginaires à partir de l'art brut, LaM, Villeneuve d'Ascq.
Du 19 octobre 2017 au 28 mars 2018
.
The Museum Of Everything
Kunsthal, Rotterdam.
Du 5 mars au 22 mai 2016
.
Henry Darger
1892-1973, Musée d'Art Moderne de la Ville de Paris .
Du 29 mai au 11 octobre 2015
.
Art brut
collection ABCD / Bruno Decharme, la Maison rouge, Paris.
Du 17 octobre 2014 au 18 janvier 2015
.
Art brut: breaking the boundaries
commissaire Christian Berst, Oliva Creative Factory, Sao Joao da Madeira, Portugal.
Du 1 juin au 11 septembre 2014
.
Raw Vision
25 ans d'art brut, Halle Saint Pierre, Paris .
Du 18 septembre 2013 au 22 août 2014
.
Arte Bruta Terra Incognita
par Christian Berst, Collection Treger-Saint Silvestre, Lisbonne.
Du 20 avril au 13 septembre 2012
.
glossolalia: languages of drawing
MoMA, New York.
Du 26 mars 2008 au 7 juillet 2007
.
Inner Worlds Outside
Fundacion La Caixa, Madrid ; Whitechapel gallery, London ; Irish Museum of Modern Art, Dublin.
Du 18 janvier au 30 décembre 2006
.
OUTSIDER, l'incroyable histoire d'Henry Darger - EP2 : L'Art Brut, c'est quoi ? (Podcast)
Philippe Cohen Solal, Christian Berst, Youtube.
Le 17 février 2021
.
peut-on parler de photographie brute?
Claire Margat, Artpress.
Le 22 mai 2020
.
outsider art of the moment: 66 exhibitors, 7 countries, 1 fair
Holland Cotter, The New York Times.
Le 18 janvier 2020
.
L'art brut à contre courant
Aurelie Romanacce, Pascaline Vallee Et Patrick Le Fur, Arts Magazine.
Le 29 août 2014
.
La flambée de l'art brut
Emmanuelle Lequeux, Beaux Arts.
Le 29 août 2014
.
Arte bruta
Richard Treger, Raw Vision.
Le 11 avril 2014
.
OUTSIDER, l'incroyable histoire d'Henry Darger - EP2 : L'Art Brut, c'est quoi ? (Podcast)
Qu'est-ce qui fait d'Henry Darger un artiste d'art brut ? Ou encore un "outsider artist" comme on[…]