Recherche
Fermer
christian berst
art brut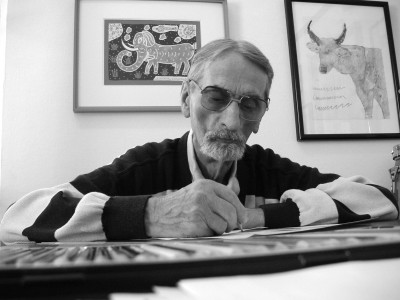 Pour s'exprimer, tous les moyens sont bons pour Johann Fischer : à l'écriture, il conjugue le dessin, des personnages, bien souvent de profil, aux couleurs vives et chaudes, s'activent dans la page, entre les lignes de texte, pour nous raconter une histoire. Né en 1919 à Eggendorf am Wagram (Basse-Autriche), Johann est apprenti maître-boulanger avant d'être mobilisé durant la seconde guerre mondiale et constitué prisonnier par les Américains. A sa libération, il prend la suite de son père à la tête du domaine agricole familial, néanmoins, souffrant dès 1957 de troubles hallucinatoires, il est interné en clinique psychiatrique.
En 1981, il intègre la Maison des Artistes et commence son impressionnante production. Fischer n'utilise que le crayon et les crayons de couleur. Sa palette, tout d'abord composée de tons de gris et de bruns, s'élargit considérablement à l'aube des années 90. Les sujets plutôt simples des débuts se complexifient progressivement pour aboutir à des histoires illustrées dans lesquelles le réel et l'imaginaire se côtoient constamment. Courtois, méthodique, Johann dessinait tous les matins et faisait suivre sa signature de sa qualité : Künstler ! (Artiste !).
Ses œuvres, désormais rares, ont atteint des records dans la récente vente de la collection de David Bowie par Christie's New-York.
Œuvres
Pour découvrir les œuvres disponibles, merci de nous
contacter
.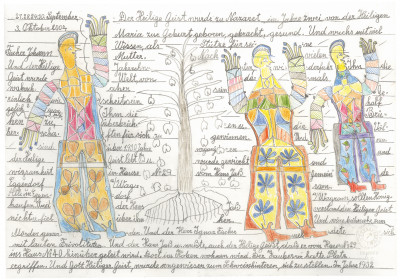 The holy ghost became to Nazaret, 2004
29.6 x 20.9 cm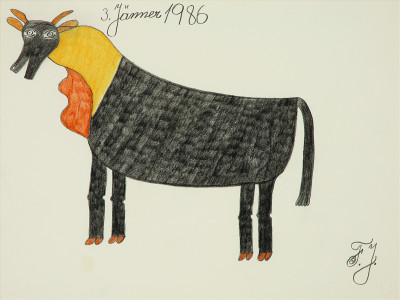 sans titre, 1986
40 x 30 cm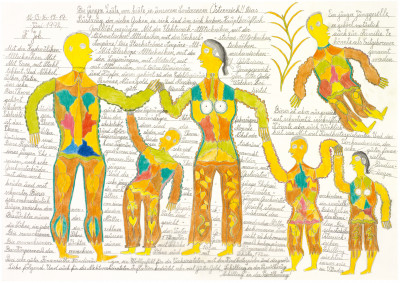 Today's young people…, 1992
62 x 43.8 cm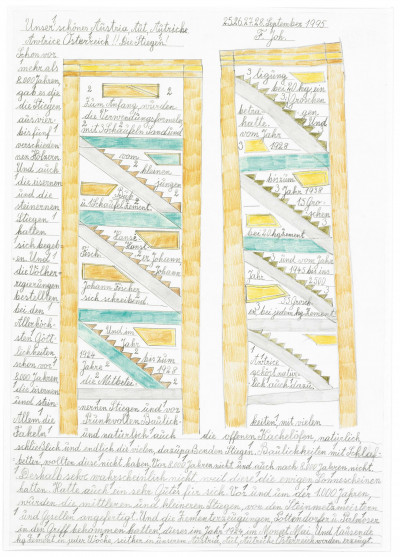 Our beautiful Austria, Aut, Autriche, 1995
30.8 x 44 cm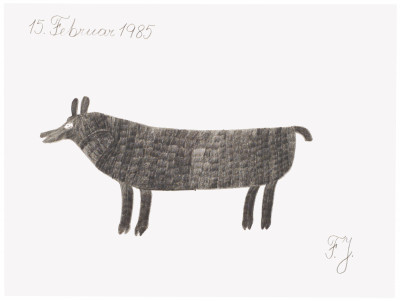 pig-boar, 1985
40 x 30 cm
sans titre (homme avec une marguerite jaune), 1986
30 x 39.9 cm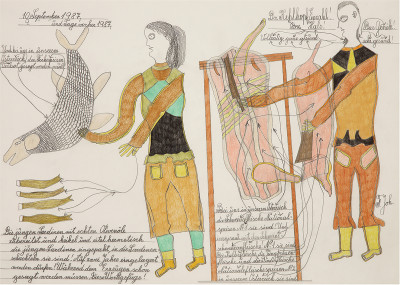 le larynx le singulier, 1987
62.5 x 44 cm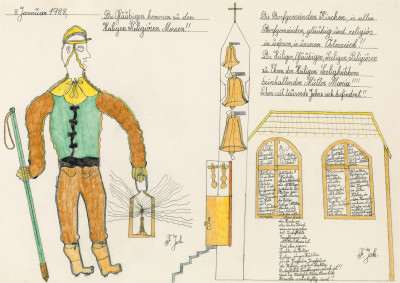 sans titre, 1988
62 x 44 cm
Catalogue
Gugging
the crazed in the hot zone
Avant-propos : Christian Berst.
Publié à l'occasion de l'exposition Gugging : the crazed in the hot zone, du 2 septembre au 22 octobre 2017.
Sereno variavel
curatée par Antonia Gaeta, Centro de Arte Oliva, São João da Madeira.
Du 31 octobre 2020 au 2 mai 2021
.
The Dagmar and Manfred Chobot Collection
a donation to the Albertina Museum, Albertina Museum, Vienna.
Du 13 décembre 2019 au 23 février 2020
.
Flora & Fauna brut
Gugging Gallery.
Du 15 mai au 30 août 2019
.
ART BRUT
La Pinacothèque, Luxembourg.
Du 26 janvier au 15 juin 2019
.
Leben in art brut
coll. Hannah Rieger, Bildraum, Vienna.
Du 14 juillet au 16 août 2018
.
do the write thing 2
read between the lines, à la galerie.
Du 26 avril au 2 juin 2018
.
hétérotopies
architectures habitées, à la galerie.
Du 9 décembre 2017 au 20 janvier 2018
.
Living in art brut
123 oeuvres de la collection Hannah Rieger, Musuem Krems an der Donau.
Du 8 septembre au 26 octobre 2017
.
gugging !
the crazed in the hot zone, à la galerie.
Du 2 septembre au 21 octobre 2017
.
Collecting Madness
Outsider Art from the Damman Collection Volume #2, Prinzhorn Collection, Allemagne .
Du 14 mars au 14 avril 2014
.
art paris 2010
le Grand Palais - Paris.
Du 18 au 22 mars 2010
.
Gugging
un foyer pour l'art brut, à la galerie.
Du 7 avril au 27 mai 2006
.
Gugging the crazed in the hot zone