Search
Close
christian berst
art brut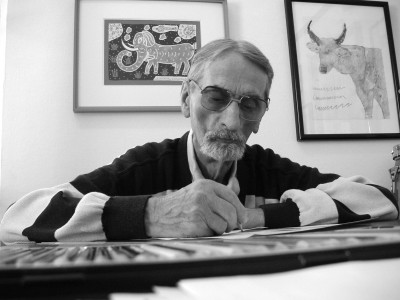 Born in 1919 in Eggendorf am Wagram (Lower Austria), Johann was the apprentice for a master-baker before being recruited during the Second World War and taken prisoner by the Americans. At his liberation, he followed in his father's footsteps at the head of the family farm, suffering, however, from hallucinations starting in 1957, he was committed to a psychiatric clinic. In 1981, he joined the Haus der Künstler and began his impressive production.
Fischer, who died in 2008, only used pencil and color pencils. His palette, at first composed of gray and brown tones, grew considerably at the beginning of the 1990s. The rather simple subjects of his beginnings became progressively complex, leading to illustrated stories in which the real and the imaginary constantly intermingle. Courteous, methodical, Johann drew every morning and followed his signature with his occupation: Künstler! (Artist!).
For many years, he was, with Walla, Hauser and Tschirtner, one of the four leading artists of the Gugging. With numerous articles dedicated to him, his creations appear in the world's greatest collections of Art Brut, including David Bowie's.
Artworks
Please
contact us
to inquire about the available works.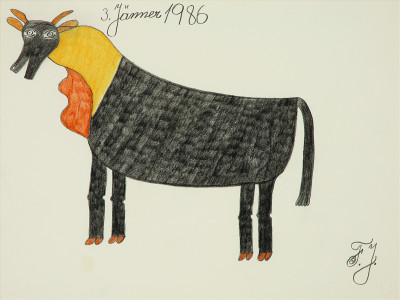 untitled, 1986
15.75 x 11.81 in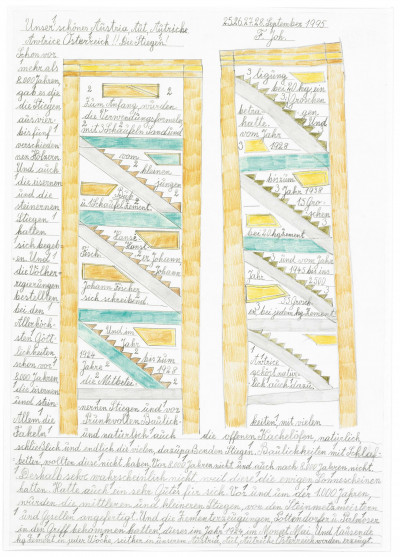 Our beautiful Austria, Aut, Autriche, 1995
11.81 x 17.32 in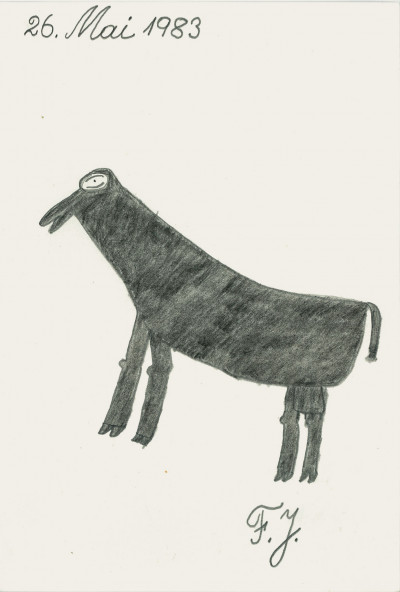 untitled, 1983
5.91 x 8.27 in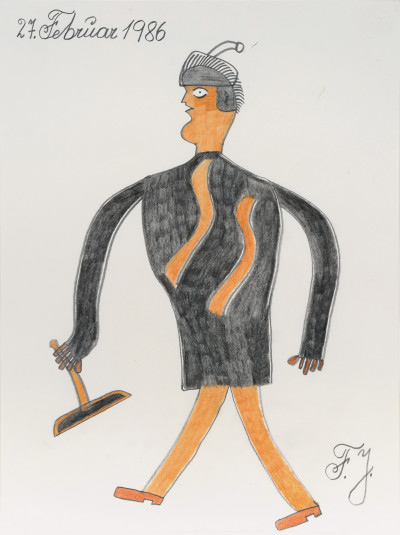 untitled (man with hammer), 1986
11.81 x 15.75 in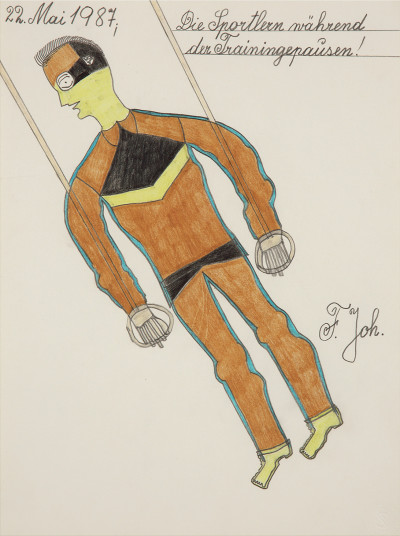 les sportifs pendant les pauses d'entraînement, 1987
11.81 x 15.75 in
Catalog
Gugging
the crazed in the hot zone
Foreword : Christian Berst
Catalog published to mark the exhibition Gugging : the crazed in the hot zone, from Septembre 2nd to October 22th, 2017.
the chobot collection :
art brut at the albertina museum, the albertina museum, Paris.
From July 14 to September 18, 2022
.
Sereno variavel
curated by Antonia Gaeta, Centro de Arte Oliva, São João da Madeira.
From October 31, 2020 to May 2, 2021
.
The Dagmar and Manfred Chobot Collection
a donation to the Albertina Museum, Albertina Museum, Vienna.
From December 13, 2019 to February 23, 2020
.
Flora & Fauna brut
Gugging Gallery.
From May 15 to August 30, 2019
.
ART BRUT
La Pinacothèque, Luxembourg.
From January 26 to June 15, 2019
.
Leben in art brut
coll. Hannah Rieger, Bildraum, Vienna.
From July 14 to August 16, 2018
.
do the write thing 2
read between the lines, at the gallery.
From April 26 to June 2, 2018
.
heterotopias
architectural dwellings, at the gallery.
From December 9, 2017 to January 20, 2018
.
Living in art brut
123 works from the Hannah Rieger Collection, Musuem Krems an der Donau.
From September 8 to October 26, 2017
.
gugging !
the crazed in the hot zone, at the gallery.
From September 2 to October 21, 2017
.
Collecting Madness
Outsider Art from the Damman Collection Volume #2, Prinzhorn Collection, Allemagne .
From March 14 to April 14, 2014
.
art paris 2010
From March 18 to 22, 2010
.
Gugging
A home for Art Brut, at the gallery.
From April 7 to May 27, 2006
.
Gugging the crazed in the hot zone