Search
Close
christian berst
art brut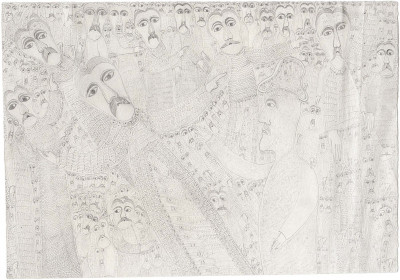 Born in Poland in 1897, Edmund Monsiel left school without a diploma and opened a small village store that the Germans took over in 1942. He took refuge at his brother's home in Wozuczyn, a small city in the Lubin province, convinced that the Nazis were after him, and remained hidden in the attic for 20 years, until his death. In 1943, at the peak of the war, he began to draw.
It was not until after his death that some 500 of his creations were found, "inspired" by traditional, popular and religious iconography. Myriads of faces cover the entirety of the page, obsessively repeated. The smallest ones are difficult to distinguish; sometimes, up to 3000 figures are represented in the same drawing.
Artworks
Please
contact us
to inquire about the available works.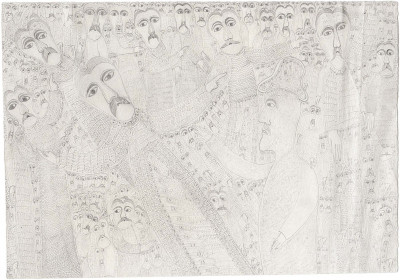 untitled (multiple faces), 1950
5.91 x 4.33 in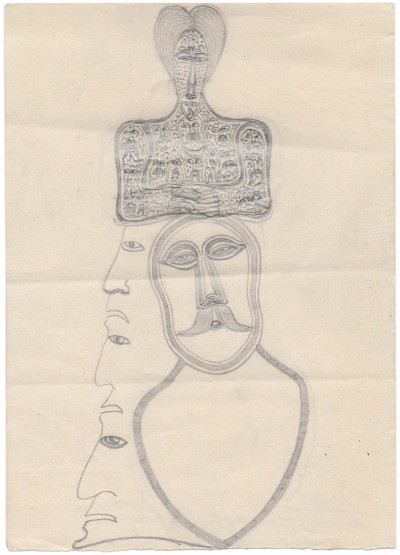 untitled (5 figures), 1950
4.33 x 5.51 in
untitled, 1962
3.94 x 6.3 in
Preface : Stéphane Corréard
Foreword : Christian Berst
Catalog published to mark the exhibition preTENse, from September 12th to October 10th, 2015.
Power(less)
DOX centre d'art contemporain, Prague.
June 3, 2022
.
5th art brut biennial :
beliefs, Collection de l'Art Brut, Lausanne.
From December 17, 2021 to May 1, 2022
.
Sereno variavel
curated by Antonia Gaeta, Centro de Arte Oliva, São João da Madeira.
From October 31, 2020 to May 2, 2021
.
The Museum Of Everything
Kunsthal, Rotterdam.
From March 5 to May 22, 2016
.
Du nombril au cosmos
autour de la collection abcd/ Bruno Decharme, Art et Marges museum, Bruxelles.
From September 25, 2015 to January 24, 2016
.
PreTENse
at the Gallery.
From September 12 to October 10, 2015
.
Art brut
ABCD Collection / Bruno Decharme, la Maison rouge, Paris.
From October 17, 2014 to January 18, 2015
.
Art brut: breaking the boundaries
curator Christian Berst, Oliva Creative Factory, Sao Joao da Madeira, Portugal.
From June 1 to September 11, 2014
.
De la lenteur avant toute chose…
abcd collection, Montreuil.
From September 25 to November 16, 2013
.
Raw Vision
25 years of art brut, Halle Saint Pierre, Paris .
From September 18, 2013 to August 22, 2014
.
Inner Worlds Outside
Fundacion La Caixa, Madrid ; Whitechapel gallery, London ; Irish Museum of Modern Art, Dublin.
From January 18 to December 30, 2006
.