Search
Close
christian berst
art brut
Giovanni Battista Podesta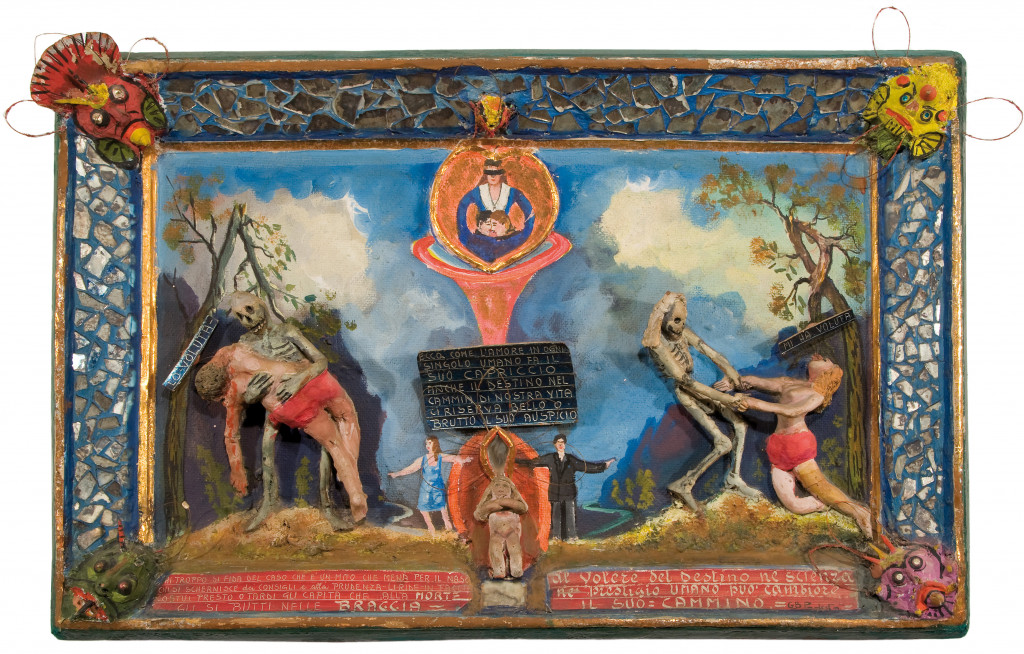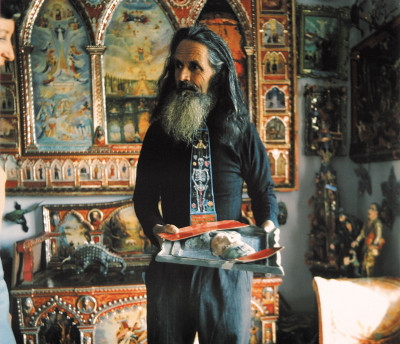 Giovanni Battista Podesta, born in 1895 in Torre Pallavicina (northern Italy), is the only son of a peasant family of thirteen children very poor, the father having died young, Giovanni environment is exclusively female. Its financial condition forced him to leave school at the age of ten in favor of aid work mason. Called to war, he knows his return and reintegration difficulties must resign himself to commit three years with the carabinieri. It is then sent to Laveno, a small village on the shores of Lake Maggiore, where he met his future wife whom he married after leaving his post to work in a ceramics factory. The couple has two children. Joint, Giovanni began his creative activity. He devoted himself first to painting in oil, focusing on religious subjects and landscapes, and it seeks to transform his apartment.  Finally, he made sculptures and bas-reliefs, and makes her special clothes with which he parades in Laveno. When his wife died in 1974, severely disrupted, it stops all creation and the following two years later.
Artwork
Please
contact us
to inquire about the available works.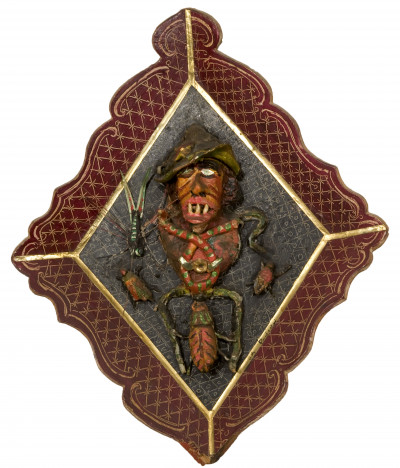 Sans titre, 1952
11.02 x 14.96 in
5th art brut biennial :
beliefs, Collection de l'Art Brut, Lausanne.
From December 17, 2021 to May 1, 2022
.
Eureka !
Centro de arte Oliva, Portugal.
From July 23, 2021 to August 27, 2022
.
Sereno variavel
curated by Antonia Gaeta, Centro de Arte Oliva, São João da Madeira.
From October 31, 2020 to May 2, 2021
.
Travel memories
Antoine de Galbert collection, musée de Grenoble.
From April 27 to July 28, 2019
.
Extravaganza
Treger Saint-Silvestre Collection, Centro de Arte Oliva, Portugal.
From April 13 to September 15, 2019
.
Save the World ?
Art & Marges museum.
From September 30, 2016 to January 29, 2017
.
Elevations, Bruno Decharme & Antoine de Galbert Collections
Hommage à Joseph Ferdinand Cheval, Château de Hauterives .
From April 30 to 27, 2015
.
Collecting Madness
Outsider Art from the Damman Collection Volume #2, Prinzhorn Collection, Allemagne .
From March 14 to April 14, 2014
.
Banditi dell'arte
La Halle Saint Pierre, Paris.
From March 23, 2012 to January 6, 2013
.
Podestà
Collection de l'Art Brut, Lausanne.
From September 11, 2003 to January 25, 2004
.
Giovanni Battista Podesta