Search
Close
christian berst
art brut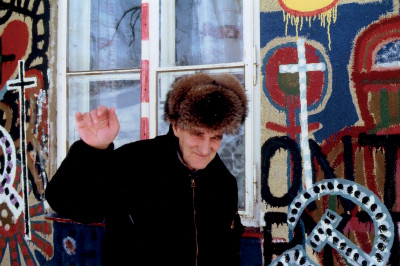 Johann Hauser lived in a displaced persons' camp with his mother until he was seventeen when he was hospitalized in a mental institution for the firt time. In 1947 he was transferred to the psychiatric hospital in Gugging, where he was diagnosed with schizophrenia. Initially, he did small farming jobs but soon he showed a taste for drawing.
Working primarily with colored pencils, Hauser saturated the paper and drew with a strong and lively palette - mostly women who assert their femininity and sex. There are fighters, "women-canons", warriors charged with eroticism. He also liked airplanes, helicopters and all sorts of everyday objects. Pr Navratil notes that the style of his drawings evolved closely with Hauser's state of mind. In his manic periods he tended to make the objects bigger, multiplied, accentuated, embelished, while in his depressive phases his drawings were simple and small, with a high degree of abstraction.
Artworks
Please
contact us
to inquire about the available works.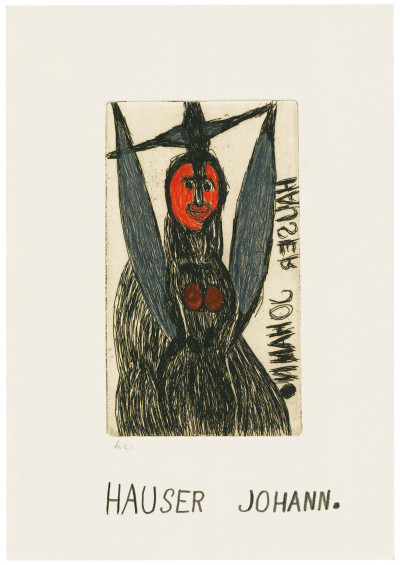 untitled, 1980
6.3 x 9.45 in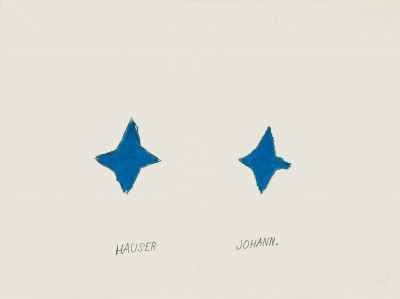 untitled, 1973
15.75 x 11.81 in
Preface : Raphaël Koenig.
Foreword : Christian Berst.
Catalog published to mark the exhibition In abstracto #2, from March 5th to May 30th, 2020.
the chobot collection :
art brut at the albertina museum, the albertina museum, Paris.
From July 14 to September 18, 2022
.
Eureka !
Centro de arte Oliva, Portugal.
From July 23, 2021 to August 27, 2022
.
Sereno variavel
curated by Antonia Gaeta, Centro de Arte Oliva, São João da Madeira.
From October 31, 2020 to May 2, 2021
.
ladies brut
Galerie Gugging.
From September 17 to November 8, 2020
.
In the flesh
real bodies, at the gallery.
From June 14 to July 11, 2020
.
in abstracto #2
at the gallery.
From March 5 to June 6, 2020
.
Flora & Fauna brut
Gugging Gallery.
From May 15 to August 30, 2019
.
Leben in art brut
coll. Hannah Rieger, Bildraum, Vienna.
From July 14 to August 16, 2018
.
Oswald Tschirner & Johann Hauser
mit strich und farbe, Gugging Galerie, Vienna.
From December 1 to February 8, 2017
.
Ver-rückt
art brut aus der Dammlung Dagmar und Manfred Chobot, Langenzersdorf Museum.
From November 8 to December 14, 2014
.
Art brut
ABCD Collection / Bruno Decharme, la Maison rouge, Paris.
From October 17, 2014 to January 18, 2015
.
Art brut: breaking the boundaries
curator Christian Berst, Oliva Creative Factory, Sao Joao da Madeira, Portugal.
From June 1 to September 11, 2014
.
Collecting Madness
Outsider Art from the Damman Collection Volume #2, Prinzhorn Collection, Allemagne .
From March 14 to April 14, 2014
.
Vehicles
Collection de l'art brut, Lausanne.
From November 8, 2013 to April 27, 2014
.
Raw Vision
25 years of art brut, Halle Saint Pierre, Paris .
From September 18, 2013 to August 22, 2014
.
Inner Worlds Outside
Fundacion La Caixa, Madrid ; Whitechapel gallery, London ; Irish Museum of Modern Art, Dublin.
From January 18 to December 30, 2006
.