Recherche
Fermer
christian berst
art brut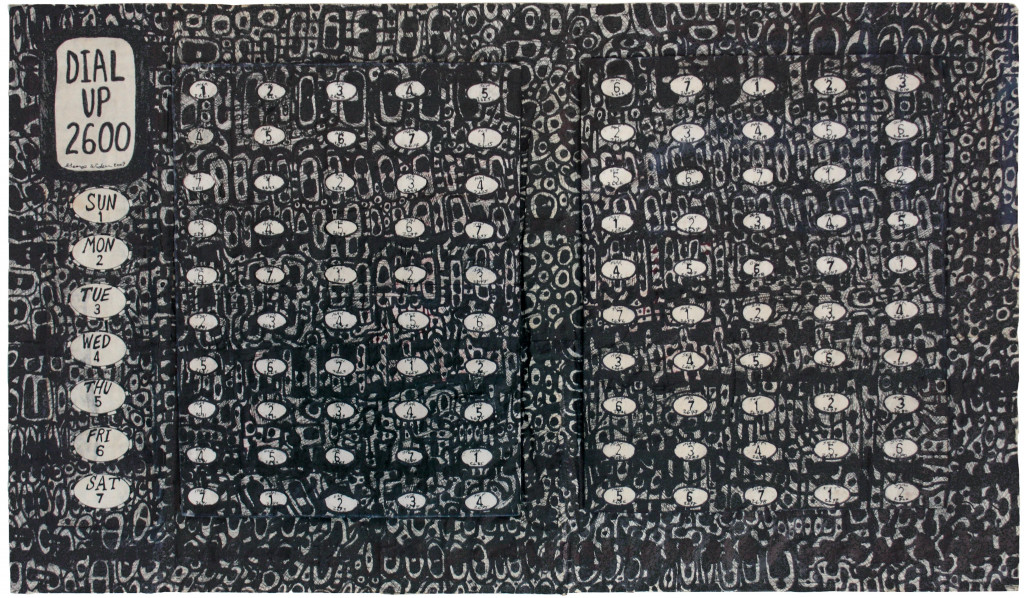 Ancien technicien de l'US Air Force, dépressif chronique et asocial, c'est vers la trentaine qu'on lui décèle le syndrome d'Asperger. Celui-ci se caractérise, chez lui, par une mémoire eidétique qui lui permet de faire resurgir dans ses œuvres quantité de données, notamment chiffrées, relatives à ses sujets de prédilection. Le temps, les carrés magiques, le Titanic, les mégalopoles fictives figurent parmi les thèmes récurrents de ses dessins. Présent, entre autres, dans les collections du Smithsonian (Washington), il a notamment été montré au Palais de Tokyo, à Paris, dans l'exposition culte Le Bord des mondes ou dans An Alternative Guide to the Universe à la Hayward Gallery, à Londres.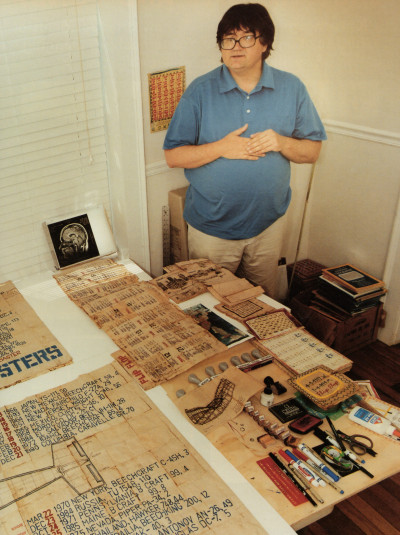 L'inconcevable connaissance omnisciente des calendriers qu'a Widener et la créativité exaltée et effrénée qui en émane sidèrent et intéressent au plus haut point scientifiques et critiques d'art.
Après une enfance marquée par des accès de violence et de colère, George est tour à tour technicien dans l'US Air Force, peintre en bâtiment, usager des institutions psychiatriques et des refuges de sans-abris. A 32 ans, l'on découvre qu'il est atteint du syndrome d'Asperger (ou autisme de haut niveau). Qu'on lui donne une date, il connaît par cœur les événements majeurs qui s'y rapportent ! Son faible : le naufrage du Titanic qui revient comme un leitmotiv de sa création.
Présenté à l'exposition World Transformers à la prestigieuse Kunsthalle de Francfort en 2010 et dans The Alternative Guide to the Universe, organisée par la Hayward Gallery à Londres en 2013 ou au Chalet Society - The Museum of Everything, boulevard Raspail à Paris la même année, cet œuvre figure déjà parmi les plus importantes collections d'art brut.
Œuvres
Pour découvrir les œuvres disponibles, merci de nous
contacter
.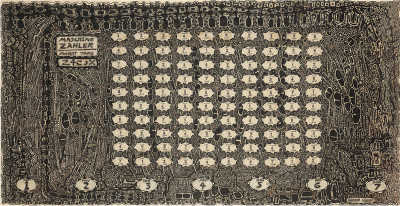 machine à écrire, 2011
141 x 71.5 cm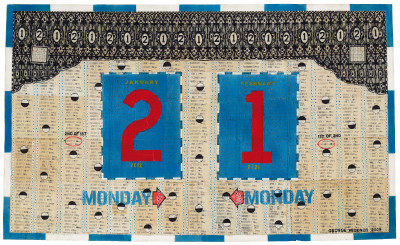 sans titre, 2009
137 x 82.5 cm

Time Machine, 2011
58 x 162.3 cm
Avant-propos : Christian Berst
Publié à l'occasion de l'exposition Le lointain, du 28 janvier au 1er mars 2014.
Rupture de stock.
Culturas Paralelas :
œuvres de la collection treger saint silvestre, Faculdade de Belas Artes da Universidade do Porto, Portugal.
Du 17 février au 22 avril 2023
.
31553580 (obsessie/obsession) :
numbers and schedules, museum van de geest, Haarlem.
Du 21 septembre au 21 décembre 2022
.
Power(less)
DOX centre d'art contemporain, Prague.
Le 3 juin 2022
.
otherworldly :
where words end and eternity begins …, galerie Gugging, Autriche.
Du 18 novembre 2021 au 27 février 2022
.
L'énigme autodidacte,
commissaire : Charlotte Laubard, Musée d'art moderne et contemporain de Saint-Etienne Métropole.
Du 8 octobre 2021 au 3 avril 2022
.
Dans un pli
du temps, Art et marges museum, Bruxelles.
Du 7 octobre 2021 au 13 mars 2022
.
POCORART
World Exhibition, 3331 Arts Chiyoda, Tokyo.
Du 16 juillet au 5 septembre 2021
.
fiac
online viewing rooms, en ligne.
Du 4 au 7 mars 2021
.
visionary architecture
oliva creative factory.
Du 14 mai au 15 juin 2019
.
Souvenirs de voyage
collection d'Antoine de Galbert, musée de Grenoble.
Du 27 avril au 28 juillet 2019
.
galeristes #3
art fair, Le Carreau du Temple.
Du 30 novembre au 2 décembre 2018
.
L'envol
ou le rêve de voler, Maison Rouge, Paris.
Du 16 juin au 28 octobre 2018
.
The museum of everything
Museum of Old and New Art, Tasmania.
Du 17 juin 2017 au 2 avril 2018
.
Les lois du nombre d'or
Oliva Creative Factory, Portugal.
Du 29 avril au 30 septembre 2017
.
Art Brut
A Story of Individual Mythologies, Collection Treger Saint Silvestre, Portugal.
Du 1 janvier au 26 février 2017
.
Sauver le Monde ?
Art & Marges museum.
Du 30 septembre 2016 au 29 janvier 2017
.
Architectures
Collection de l'Art Brut, Lausanne.
Du 13 novembre 2015 au 17 avril 2016
.
Elevations, collections Bruno Decharme & Antoine de Galbert
Hommage à Joseph Ferdinand Cheval, Château de Hauterives .
Du 30 au 27 avril 2015
.
Art brut live
DOX centre for contemporary art, Praha.
Du 27 mars au 17 août 2015
.
System and vision
David Zwirner gallery, New York.
Du 28 février au 18 avril 2015
.
Le Bord des Mondes
Palais de Tokyo, Paris.
Du 18 février au 17 mai 2015
.
Le mur
collection Antoine de Galbert, la Maison rouge, Paris.
Du 14 juin au 21 septembre 2014
.
Art brut: breaking the boundaries
commissaire Christian Berst, Oliva Creative Factory, Sao Joao da Madeira, Portugal.
Du 1 juin au 11 septembre 2014
.
le lointain
à la galerie.
Du 28 janvier au 1 mars 2014
.
Véhicules
Collection de l'art brut, Lausanne.
Du 8 novembre 2013 au 27 avril 2014
.
Raw Vision
25 ans d'art brut, Halle Saint Pierre, Paris .
Du 18 septembre 2013 au 22 août 2014
.
An Alternative Guide to the Universe
Hayward Gallery, Londres.
Le 28 août 2013
.
Great and mighty things
outsider art from the Jill and Sheldon Bonovitz collection, Philadelphia Museum of Art.
Du 3 mars au 9 juin 2013
.
George Widener
secret universe IV, Hamburger Bahnof - Museum Für Gegenwart, Berlin.
Du 25 janvier au 16 juin 2013
.
The Museum of Everything
exhibition #1.1, Chalet Society, Paris.
Du 17 octobre au 16 décembre 2012
.
World transformers
the art of outsiders, Schirn Kunsthalle .
Du 24 septembre 2010 au 9 janvier 2011
.
Ce qui se cache sous le temps qui passe
Mylène Mistre-Schaal, Arts Hebdo Medias.
Le 24 février 2022
.
art exhibition / news - pocorart world exhibition
La Rédaction, Geijutsu Shincho.
Le 1 septembre 2021
.
La première FIAC en ligne s'installe dans le paysage
Alison Moss, Le Quotidien De L'art.
Le 11 mars 2021
.
Découvertes, premières ventes et déceptions : nous avons visité la Fiac online 2021
Valérie Duponchelle, Béatrice De Rochebouët, Le Figaro.
Le 5 mars 2021
.
Fiac Online viewing rooms : notre sélection
Alexandre Crochet, The Art Newspaper.
Le 28 février 2021
.
art and fiction: george widener's time machine
Françoise Stark-mornington, Lacanian Review Online.
Le 10 avril 2019
.
galeristes une vision de la création
Alexia Lanta Maestrati, L'oeil.
Le 4 décembre 2018
.
L'art brut à contre courant
Aurelie Romanacce, Pascaline Vallee Et Patrick Le Fur, Arts Magazine.
Le 29 août 2014
.