Search
Close
christian berst
art brut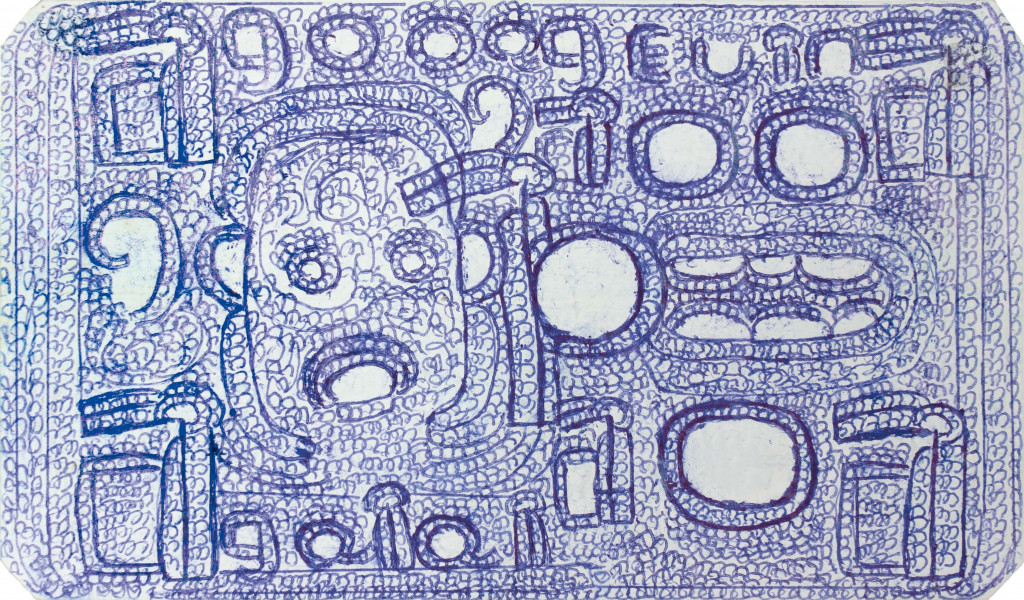 In a reminiscent of his past financial difficulties, Raimundo Camilo, a modest Brazilian worker interned in a psychiatric hospital, began drawing imaginary banknotes. Made of makeshift materials, such as wrapping papers and prints from the administration, he offered them to hospital staff, especially women. The artist who claimed not to make art, but simply "his duty" is today in the museum collections of LaM (France), at the Museu Oscar Niemeyer (Brazil) where he was exhibited with Bispo do Rosario, and in the private collection of the artist Arnulf Rainer (Austria).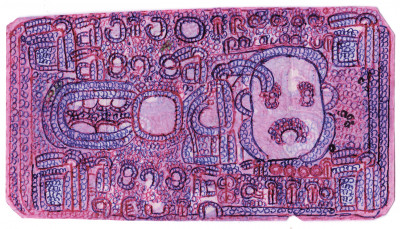 Raimundo Camilo was born in the state of Ceará in north-eastern Brazil in 1939 or 1943, depending on the source. He left his home region at an early age to work in Rio as a "slave", as the Brazilian expression has it, taking menial jobs on building sites, in kitchens, and so on. He broke off from his old life as a result of one of these jobs, when one of his employers failed to pay him his due, forcing him to begin eking out a precarious existence on the streets of Rio. He ended up in the Colonia Juliano Moreira psychiatric hospital in 1964, and never left.
One of his fellow patients, Arturo Bispo do Rosario, later became the leading representative of Art Brut in Brazil. Haunted by his past difficulties, Raimundo began kneeling by his bed to draw his own bank notes. He uses whatever media came to hand, from paper packaging to administrative forms, and makes his own colours using materials such as coffee. The head on the front of the bank notes represents either a king or a cangaceiro bandit. He willingly shares the notes with his favourite members of hospital staff, particularly women. He claims not to be producing art, but rather doing his job.
The Brazilian cultural authorities have become increasingly aware of the significance of his creations in recent years, and they have been featured in several exhibitions and a catalogue. His works have recently been acquired by the Lille Métropole Museum of Modern, Contemporary and Outsider Art and were exhibited in 2005 at the museum Oscar Niemeyer (Brésil). He was first shown in Europe at Christian Berst's gallery "objet trouvé" in 2008.
Artworks
Please
contact us
to inquire about the available works.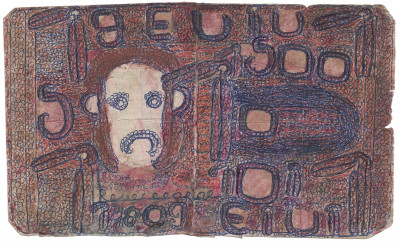 untitled, 2000
5.91 x 3.54 in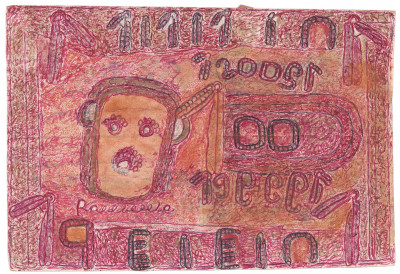 untitled, 2000
5.51 x 3.54 in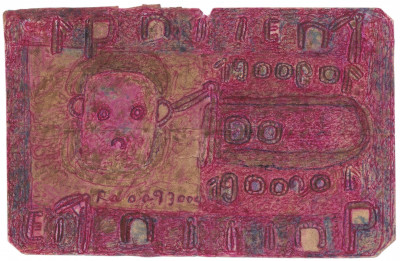 untitled, 2000
5.51 x 3.54 in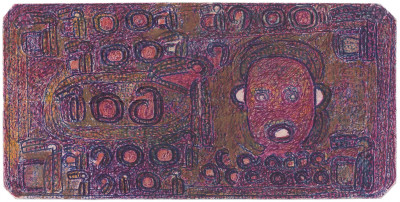 untitled, 2000
5.91 x 2.76 in
untitled, 2000
5.91 x 3.15 in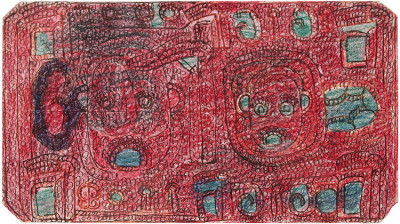 untitled, 2000
7.09 x 3.94 in
Preface : Stéphane Corréard
Foreword : Christian Berst
Catalog published to mark the exhibition preTENse, from September 12th to October 10th, 2015.
Sereno variavel
curated by Antonia Gaeta, Centro de Arte Oliva, São João da Madeira.
From October 31, 2020 to May 2, 2021
.
Lusofolia
A Beleza Insensata, Treger Saint-Silvestre collection, Portugal.
From November 9, 2019 to March 15, 2020
.
Ojo electrico
Casa Encendida, Madrid.
September 24, 2019
.
Potencia e adversidade
arte da america latina nas coleçoes em portugal, Galerias Municipais et Museu de Lisboa.
From November 12, 2017 to January 7, 2018
.
Living in art brut
123 works from the Hannah Rieger Collection, Musuem Krems an der Donau.
From September 8 to October 26, 2017
.
The Museum of everything
Museum of Old and New Art, Tasmania.
From June 17, 2017 to April 2, 2018
.
Art Brut
A Story of Individual Mythologies, Treger Saint Silvestre Collection, Portugal.
From January 1 to February 26, 2017
.
Du nombril au cosmos
autour de la collection abcd/ Bruno Decharme, Art et Marges museum, Bruxelles.
From September 25, 2015 to January 24, 2016
.
PreTENse
at the Gallery.
From September 12 to October 10, 2015
.
Art brut live
DOX centre for contemporary art, Praha.
From March 27 to August 17, 2015
.
Art brut
ABCD Collection / Bruno Decharme, la Maison rouge, Paris.
From October 17, 2014 to January 18, 2015
.
beyond the boundaries season 2012
discoveries and recent acquisitions.
From September 8 to October 13, 2012
.
salon du dessin contemporain 2011
drawing now, caroussel du louvre.
From March 25 to 28, 2011
.
outsider art fair
From February 11 to 13, 2011
.
beyond the boundaries season 2009
discoveries and recent acquisitions, at the gallery.
From September 11 to October 17, 2009
.
salon du dessin contemporain 2009
From March 19 to 24, 2009
.