Search
Close
christian berst
art brut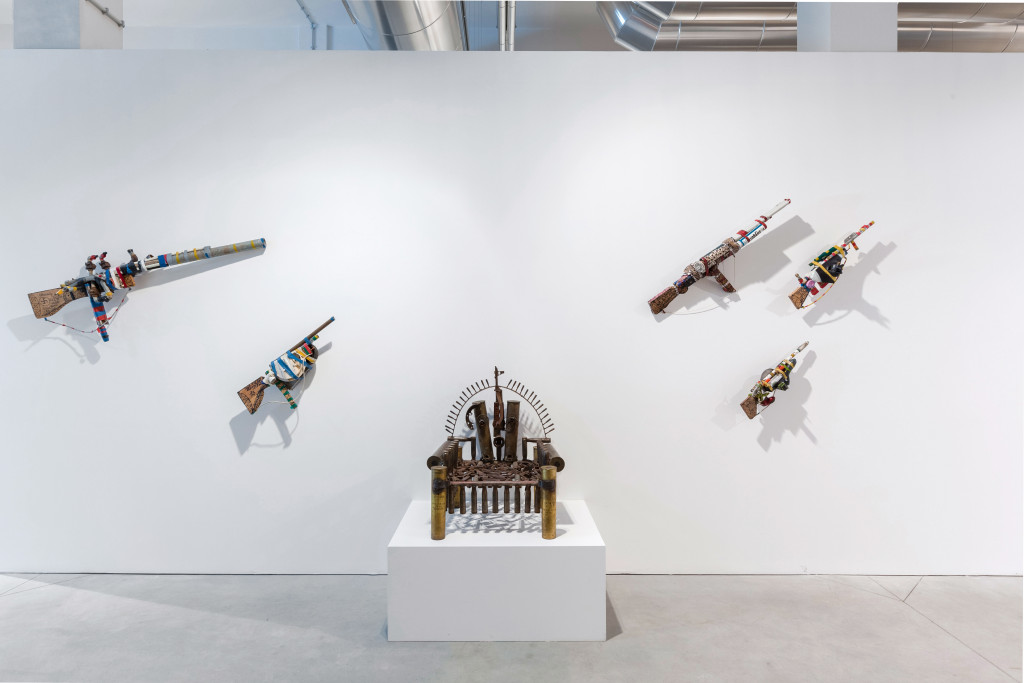 Interned since his teens, André Robillard has built his life within the hospital. It was around the age of 30 that this French artist began to create rifles with materials found here and there. Discovered by Jean Dubuffet and encouraged by Michel Thévoz (then director of the Art Brut collection), he continues to create hybrid objects, from machine guns to Sputnik. André Robillard's incredible story has participated to his international recognition. Present in the collections of the LaM (France), Whitworth (UK) or MAC's (Belgium), he was particularly celebrated in the closing exhibition of la maison rouge (Paris) in 2018. A significant number of his works was donated to the Centre Pompidou in 2021.
When showing his works, André Robillard repeats: "Can you imagine, can you imagine…" Obviously, he is still amazed to have created these magnificent rifles, rockets and animals with his own hands. Confronted with this unique work, we gladly share his astonishment.
Born in 1931, the son of a forest ranger, André Robillard is hospitalized for mental disorders while still a teenager. After several attempts at being released, all of which are unsuccessful, he is recruited as an assistant to take care of the hospital's sewage treatment plant, which gives him a real social status and a certain autonomy. That same year, at the age of thirty-three, he made his first rifle, which an enlightened aficionado sends to Jean Dubuffet who carefully preserves it in the collection of his Compagnie de l'Art Brut. Ten years later, Michel Thévoz, then curator of the very new art brut museum in Lausanne, fascinated by this rifle, invites Robillard to continue his work, which he does with a lot of enthusiasm.
André's main source of inspiration is television. Nevertheless, after a visit to Lausanne during which he was deeply impressed by Auguste Forestier's work, he broadens the range of his favorite subjects (guns, machine guns, spacecraft…) and creates a series of fantastic animals and characters. For his constructions, he uses everything he can get his hands on: old pipes, strings, cartridges, boxes, light bulbs, electric tubes, fabrics, and plastic, which he assembles with nails, adhesive tape and iron wire. Until very recently, he used to dispose of a large workshop shed, where he accumulated recycling materials. There, he used to live surrounded by animals (guinea pigs, birds, cats, pigeons) and showed great pride in his work, although never considering himself an artist.
Robillard's creations are now part of several major art brut collections, including the Collection de l'Art Brut in Lausanne and the LaM (Lille Métropole Museum of Modern, Contemporary and Art brut) in Villeneuve-d'Ascq. They are notably exhibited in the exhibition of the Museum of Everything at the MONA (Museum of Old and New Art) in Tasmania as well as in L'envol ou le rêve de voler at the Maison rouge in Paris.
Artworks
Please
contact us
to inquire about the available works.

U.S.A. Shotgun -rapide 2305-VRASTONE 56-A.W.S.N.REVL U.S.AIR FORCE, 2000
27.17 x 7.87 in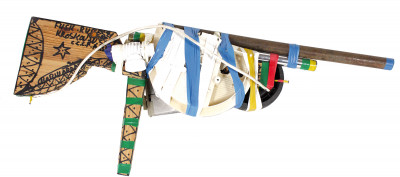 Fusil Russes 21, 2006
32.28 x 13.78 in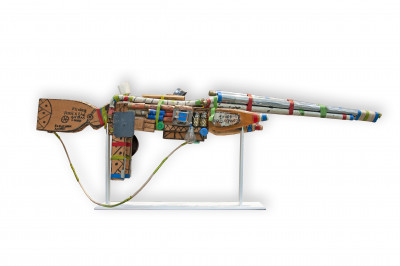 untitled (Fucked Fusil x 246 Anglais), 1985
57.48 x 18.5 in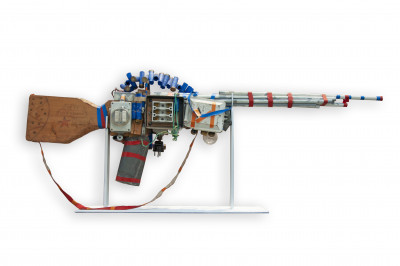 untitled (Fusil Chinois), 1985
54.72 x 18.11 in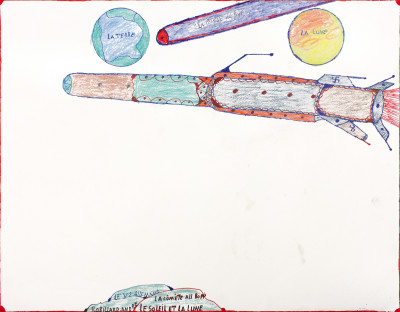 La comète all bopp, le soleil et la lune, 2008
25.2 x 19.29 in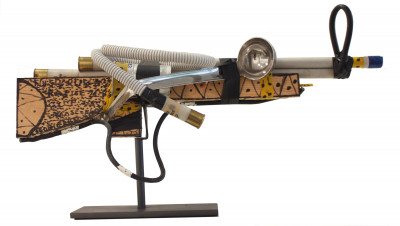 sans titre (fusil russe rapide 260), 2005
21.65 x 7.48 in
Preface : Stéphane Corréard
Foreword : Christian Berst
Catalog published to mark the exhibition preTENse, from September 12th to October 10th, 2015.
André Robillard
Musée art et déchirure, centre hospitalier du Rouvray, à Sotteville-lès-Rouen (Seine-Maritime).
From March 25 to September 24, 2023
.
Power(less)
DOX centre d'art contemporain, Prague.
June 3, 2022
.
artgenève
2022, Palexpo, Geneva.
From March 3 to 6, 2022
.
Eureka !
Centro de arte Oliva, Portugal.
From July 23, 2021 to August 27, 2022
.
POCORART
World Exhibition, 3331 Arts Chiyoda, Tokyo.
From July 16 to September 5, 2021
.
danser brut
lam, (musée d'art moderne, d'art contemporain et d'art brut lille métropole).
From September 28, 2018 to January 6, 2019
.
Leben in art brut
coll. Hannah Rieger, Bildraum, Vienna.
From July 14 to August 16, 2018
.
L'envol
Maison Rouge, Paris.
From June 16 to October 28, 2018
.
Histories of violence
a dialogue between the works of the treger saint silvestre collection, Núcleo de arte da oliva, Portugal.
From April 14, 2018 to February 28, 2019
.
André Robillard
Théâtre National La criée, Marseille.
From March 14 to April 14, 2018
.
Living in art brut
123 works from the Hannah Rieger Collection, Musuem Krems an der Donau.
From September 8 to October 26, 2017
.
The Museum of everything
Museum of Old and New Art, Tasmania.
From June 17, 2017 to April 2, 2018
.
Art Brut
A Story of Individual Mythologies, Treger Saint Silvestre Collection, Portugal.
From January 1 to February 26, 2017
.
Save the World ?
Art & Marges museum.
From September 30, 2016 to January 29, 2017
.
The Museum Of Everything
Kunsthal, Rotterdam.
From March 5 to May 22, 2016
.
PreTENse
at the Gallery.
From September 12 to October 10, 2015
.
Art brut
ABCD Collection / Bruno Decharme, la Maison rouge, Paris.
From October 17, 2014 to January 18, 2015
.
Art brut: breaking the boundaries
curator Christian Berst, Oliva Creative Factory, Sao Joao da Madeira, Portugal.
From June 1 to September 11, 2014
.
Vehicles
Collection de l'art brut, Lausanne.
From November 8, 2013 to April 27, 2014
.
art paris - art fair 2013
Grand Palais.
From March 28 to April 1, 2013
.
slick art fair paris
paris.
From October 17 to 21, 2012
.
evasion
Les transports de l'art brut, at the gallery.
From June 6 to July 19, 2008
.
Musée Art et déchirure, une exposition au cœur d'un asile psychiatrique
Harry Bellet, Le Monde.
September 3, 2023
.
Au fil du faire avec Michel Nedjar et cie
Vincent Delaury, Le Journal Des Arts.
November 23, 2021
.
Voyage mystique à Chamarande avec Michel Nedjar
Guy Boyer, Connaissance Des Arts.
September 29, 2021
.
Au Centre Pompidou, l'art brut trouve sa place dans les collections du musée
Clémentine Mercier, Libération.
June 11, 2021
.
Blistène achève son mandat avec une énorme donation d'art brut
Rafael Pic, Le Quotidien De L'Art.
June 10, 2021
.
Photo / Brut - Flammarion
Alain Vollerin, Blog Des Arts.
July 13, 2019
.
« André Robillard, en compagnie » : portrait de l'artiste en patient
Thomas Sotinel, Le Monde.
November 14, 2018
.
malade et artiste, andré robillard, figure majeure de l'art brut se confie à henri-françois imbert
Tewfik Hakem, Le Réveil Culturel, France Culture.
November 14, 2018
.
andré robillard : le bon, le brut et le troublant
Marcos Uzal, Libération.
November 13, 2018
.
captivants imaginaires de la violence
Colin Cyvoct, L'oeil.
September 20, 2018
.
André Robillard, figure de l'art brut, crée des armes pour "tuer la misère"
G. Cazassus, R. Gasiorowski, D. Vador, France Info Culture.
October 2, 2015
.
La folle histoire d'André Robillard, artiste brut au talent carabiné
Sophie Cachon, Télérama.
December 13, 2014
.
5 clefs art brut le singulier en question(s)
Colin Cyvoct, L'oeil.
October 18, 2013
.
D'art et d'actu : L'art brut