Search
Close
christian berst
art brut
Friedrich Schröder-Sonnenstern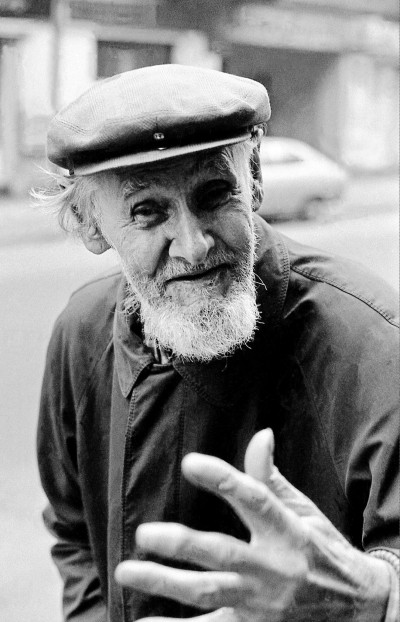 Friedrich Schröder-Sonnenstern was born on the German-Russian border and received little education. As a child, accusations of theft and subsequent threatening behavior led to his being sent to a series of reform schools and ultimately to an asylum. These experiences gave him a lifelong hatred of authority. After a number of menial jobs, including time spent in the army, in a circus and as a fortune-teller, Schröder-Sonnenstern became ill, and eventually became bed-ridden. He turned to painting and drawing, having been introduced to art during a short spell in prison at an earlier period in his life.
Using coloured pencil over thin washes of paint to achieve depth, Schröder-Sonnenstern depicted a colourful series of grotesque caricatures, flat distorted figures and partly recognizable monsters and animals, all drawn with a crisp fine line. An overwhelming feeling of menace and sadistic subversion characterizes all of Schröder-Sonnenstern's work: the grotesques inhabit a sinister and sexually charged mythical world. There is a sense of authority being undermined. In the 1960s Schröder-Sonnenstern exhibited his work and gained some notoriety as an artist. 
Artworks
Please
contact us
to inquire about the available works.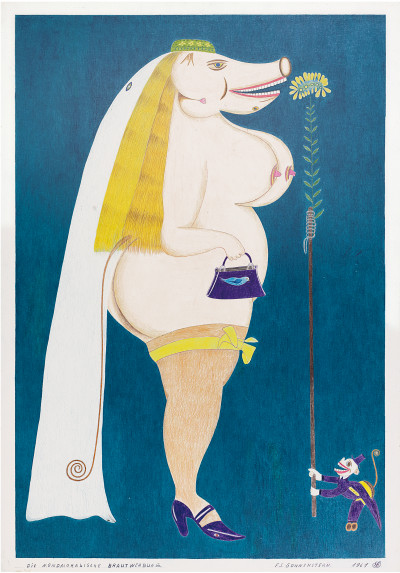 untitled, 1961
20.08 x 28.74 in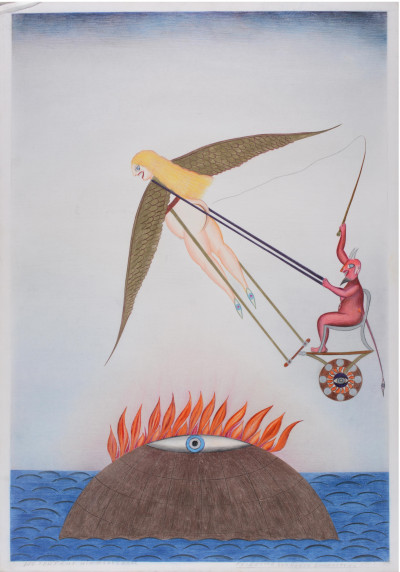 Ascension of the Devil, 1959
19.69 x 28.35 in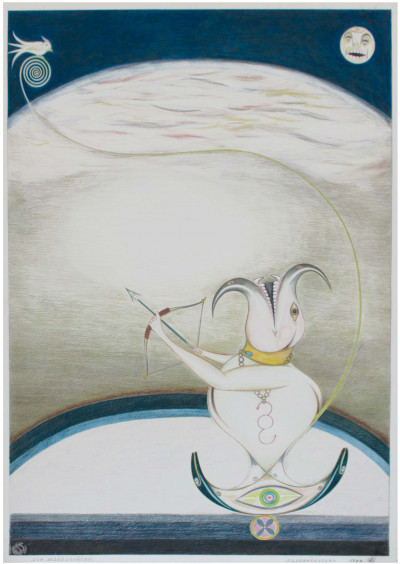 untitled, 1958
19.69 x 28.74 in
Preface : Stéphane Corréard
Foreword : Christian Berst
Catalog published to mark the exhibition preTENse, from September 12th to October 10th, 2015.
Culturas Paralelas:
works from the treger saint silvestre collection, Faculdade de Belas Artes da Universidade do Porto, Portugal.
From February 17 to April 22, 2023
.
Double
Art Brut in the Giacosa-Ferraiuolo collection, Rome.
From September 25, 2021 to January 30, 2022
.
Sereno variavel
curated by Antonia Gaeta, Centro de Arte Oliva, São João da Madeira.
From October 31, 2020 to May 2, 2021
.
Sexual Personae
curated by Alison M. Gingeras, Hôtel Drouot, Paris.
From October 21 to 29, 2020
.
À deux
by Gustavo Giacosa, galerie Zola, Aix-en-Provence.
From January 17 to March 7, 2020
.
Travel memories
Antoine de Galbert collection, musée de Grenoble.
From April 27 to July 28, 2019
.
Extravaganza
Treger Saint-Silvestre Collection, Centro de Arte Oliva, Portugal.
From April 13 to September 15, 2019
.
L'envol
Maison Rouge, Paris.
From June 16 to October 28, 2018
.
Histories of violence
a dialogue between the works of the treger saint silvestre collection, Núcleo de arte da oliva, Portugal.
From April 14, 2018 to February 28, 2019
.
3rd Biennale de l'Art Brut
Bodies, Lausanne, Suisse .
From November 17, 2017 to April 29, 2018
.
Art Brut
A Story of Individual Mythologies, Treger Saint Silvestre Collection, Portugal.
From January 1 to February 26, 2017
.
Carambolages
by Jean-Hubert Martin, Grand Palais, Paris.
From March 2 to July 4, 2016
.
PreTENse
at the Gallery.
From September 12 to October 10, 2015
.
I'm a Beautiful monster
works from Treger-Saint Silvestre collection, Oliva Creative Factory, Portugal.
From July 17 to August 28, 2015
.
art brut masterpieces and discoveries
carte blanche à bruno decharme, at the gallery.
From October 21 to November 29, 2014
.
Art brut: breaking the boundaries
curator Christian Berst, Oliva Creative Factory, Sao Joao da Madeira, Portugal.
From June 1 to September 11, 2014
.
il palazzo enciclopedico, Venice Bienale #55
curator Massimiliano Gioni, Arsenale.
From May 29 to July 28, 2013
.
Amicalement brut
Collection Eternod & Mermod, Musée d'Art Contemporain et d'Art Brut, Lille.
From April 9 to August 28, 2011
.
art paris 2010
From March 18 to 22, 2010
.
Friedrich Schröder-Sonnenstern