Search
Close
christian berst
art brut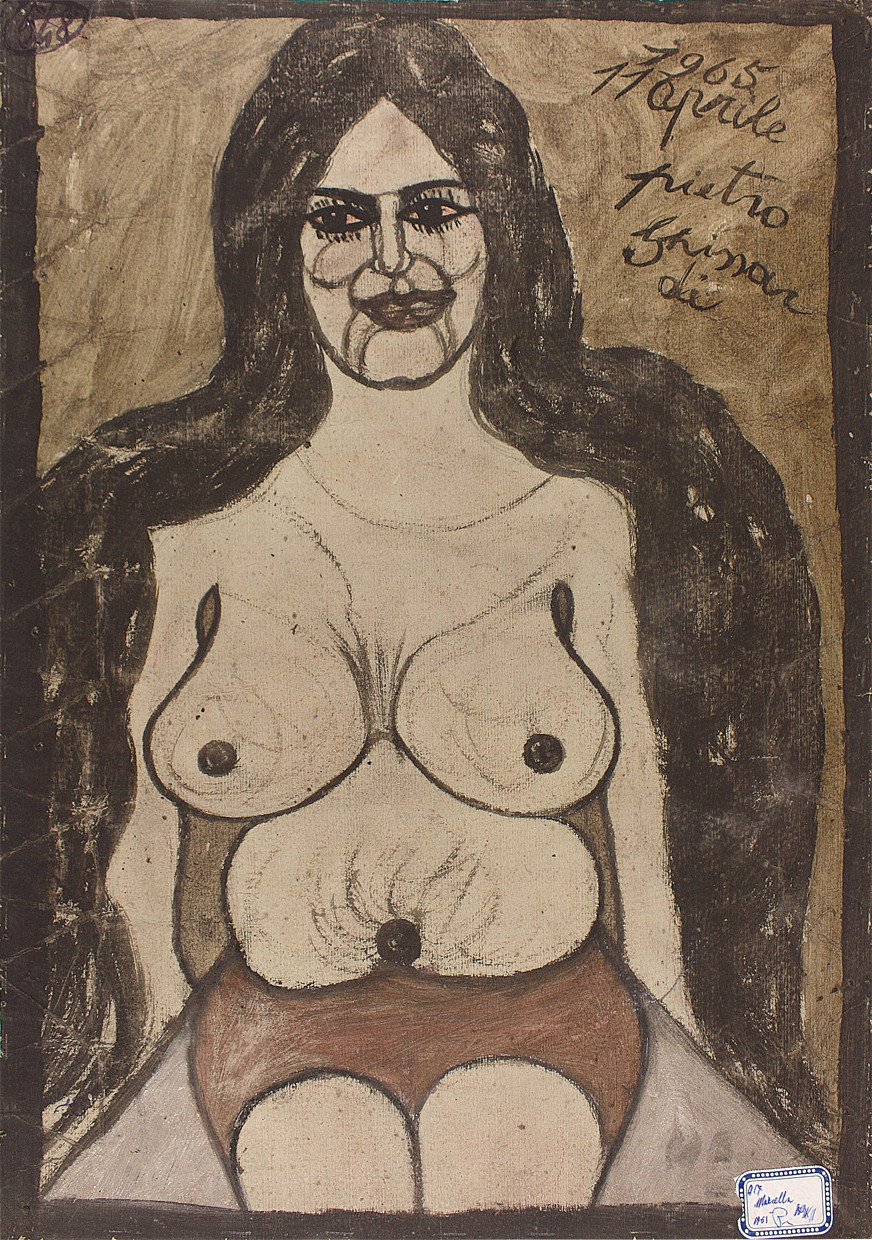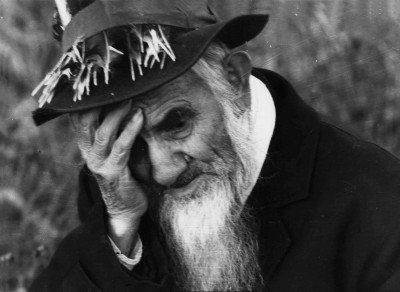 Pietro Ghizzardi had a deep-rooted love of the land and of traditional rural values. He drew, painted, sculpted, sang, played the harmonica, and told stories. The uniquely expressive figures he depicts are steeped in the age-old traditions that Pietro clung to in an age dominated by the need to maximise productivity and the use of time. Pietro was born in 1906 to a family of farmers living in the Mantua region of northern Italy. As day labourers, his parents were constantly on the move, and his childhood was one of deprivation. He was also a sickly child and, as a result, his schooling was patchy. The Ghizzardi family only put down roots in 1931, when they settled in Boretto. The River Po burst its banks in a great flood twenty years later, marking a turning point in Pietro's life: he decided to devote himself fully to art and to write the story of his life. His autobiography is highly inventive, with a somewhat unorthodox approach to spelling and syntax – Pietro spells his own surname Ghissardi, for example – and a total disregard for punctuation. Similarly, he used unconventional materials for his drawings and paintings, working with coal, grass, wine, blood, blackberry juice, brick dust, and soot, on scraps of old cardboard.
Pietro painted portraits of his immediate family, saints, wild animals, and above all women, some inspired by film stars. His female figures are depicted as fertility goddesses, marked by a tracery of wrinkles that highlights the planes of their bodies and brings them vehemently, dancingly alive. Pietro's untutored, primitive lines give his creations a rare degree of authenticity.
Pietro died in 1986. He enjoyed the recognition of the Italian art establishment for the last fifteen years of his life, and a large number of studies have been devoted to his work.
Artworks
Please
contact us
to inquire about the available works.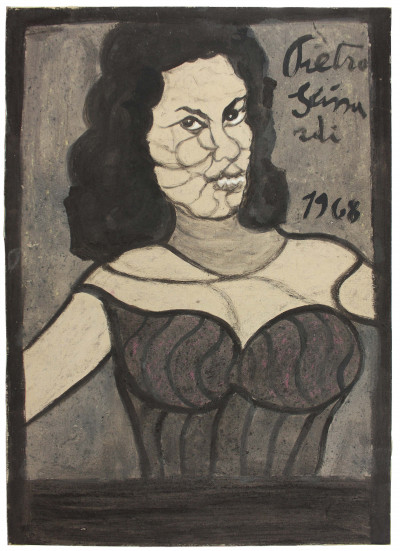 Untitled, 1968
19.69 x 27.56 in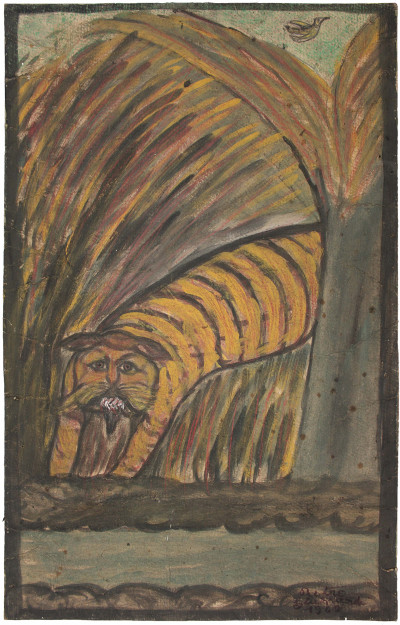 Untitled, 1965
19.69 x 31.5 in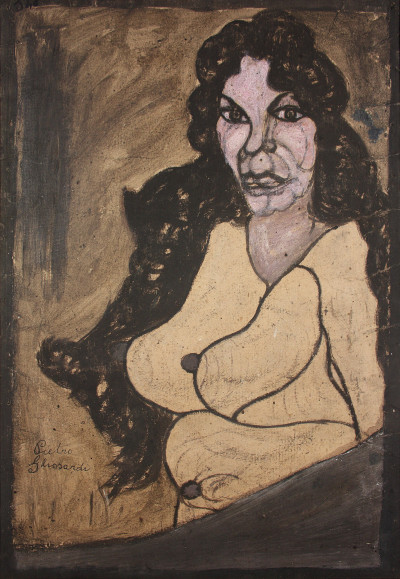 Untitled, 1965
21.65 x 31.5 in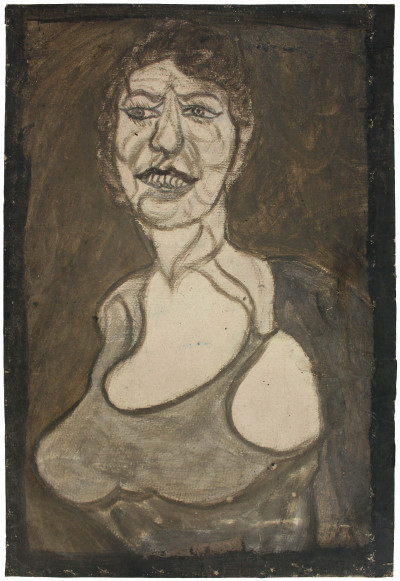 Untitled, 1963
21.26 x 30.71 in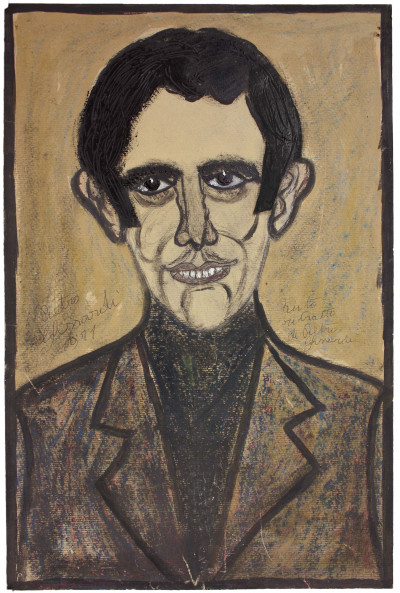 Autoportrait, 1971
18.11 x 27.56 in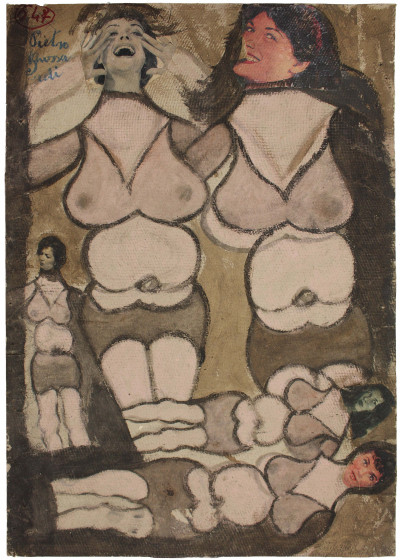 Untitled, 1958
21.65 x 31.5 in
Catalog
Pietro Ghizzardi
glowing coals
Preface : Dino Menozzi
Foreword : Christian Berst
Catalog published to mark the exhibition Pietro Ghizzardi : charbons ardents, from october 14th to november 19th, 2011.
Portreto de la animo
collection Treger Saint-Silvestre, Museu Nacional Soares dos Reis.
From July 13 to November 12, 2023
.
Pietro Ghizzardi :
The sea and a beautiful woman to kiss, Galleria Maroncelli 12, Milan.
From November 11, 2021 to February 25, 2022
.
fiac
online viewing rooms, online.
From March 4 to 7, 2021
.
Photo Brut
Coll. Bruno Decharme & cie, American Folk Art Museum, New York.
From January 24 to June 6, 2021
.
Sereno variavel
curated by Antonia Gaeta, Centro de Arte Oliva, São João da Madeira.
From October 31, 2020 to May 2, 2021
.
Sexual Personae
curated by Alison M. Gingeras, Hôtel Drouot, Paris.
From October 21 to 29, 2020
.
À deux
by Gustavo Giacosa, galerie Zola, Aix-en-Provence.
From January 17 to March 7, 2020
.
Photo Brut
coll. Bruno Decharme & cie, Rencontre d'Arles.
From July 1 to September 22, 2019
.
Extravaganza
Treger Saint-Silvestre Collection, Centro de Arte Oliva, Portugal.
From April 13 to September 15, 2019
.
The Museum of everything
Museum of Old and New Art, Tasmania.
From June 17, 2017 to April 2, 2018
.
I'm a Beautiful monster
works from Treger-Saint Silvestre collection, Oliva Creative Factory, Portugal.
From July 17 to August 28, 2015
.
La Forza Espressiva dell'Arte Originale
Palazzo Ducale, Sabbioneta.
From April 24 to June 7, 2015
.
Art brut
ABCD Collection / Bruno Decharme, la Maison rouge, Paris.
From October 17, 2014 to January 18, 2015
.
Art brut: breaking the boundaries
curator Christian Berst, Oliva Creative Factory, Sao Joao da Madeira, Portugal.
From June 1 to September 11, 2014
.
Raw Vision
25 years of art brut, Halle Saint Pierre, Paris .
From September 18, 2013 to August 22, 2014
.
Banditi dell'arte
La Halle Saint Pierre, Paris.
From March 23, 2012 to January 6, 2013
.
pietro ghizzardi
glowing coals, at the gallery.
From October 14 to November 19, 2011
.
Today's drawings
Skyscraper , Musée Rignault, France.
From April 24 to May 24, 2009
.
susi brunner: gallerista, collezionista, pioniera intervista a jörg furrer
Eva Di Stefano, Rivista Osservatorio Outsidersart N°24.
September 23, 2022
.
Fiac Online viewing rooms : notre sélection
Alexandre Crochet, The Art Newspaper.
February 28, 2021
.
Through a glass, darkly and brightly
Elizabeth Pochoda, The Magazine Antiques.
January 18, 2021
.
is there such a thing as outsider photography?
Claire Margat, Artpress.
May 22, 2020
.
Arles 6 : Photographie brute, vers un peu de cohérence
Marc Lenot, Amateur D'art, Par Lunettes Rouges.
September 4, 2019
.
Artpress à Arles. épisode 3
Charles-Arthur Boyer, Artpress.
July 18, 2019
.
galerie christian berst, charbons ardents
Marie-Jeanne Caprasse, PARISArt.
November 2, 2011
.
Galerie Christian Berst: a new exhibition of outsider art
Art Media Agency (AMA).
October 11, 2011
.
Rude semaine pour les Animuliens
Animula Vagula.
October 9, 2011
.