Search
Close
christian berst
art brut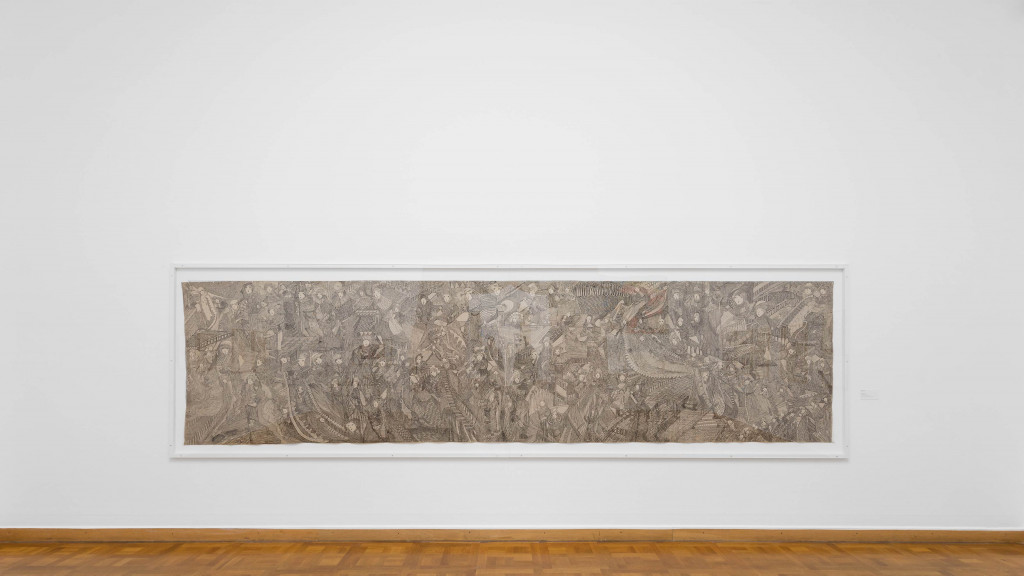 A spiritualist artist from the mid-20th century, collected by Jean Dubuffet, it was only after her death that all of her work was discovered. Guided by a spirit and in a trance, Madge Gill drew in ink, on the smallest roller formats to those of more than a hundred meters. Today considered a key figure in spirit art, her works can be found in the greatest European and North American collections: American Folk Art Museum (New York, USA), the Museum of Everything (UK), Arnulf Rainer collection (Austria), Damman (Switzerland), abcd/Bruno Decharme (France)…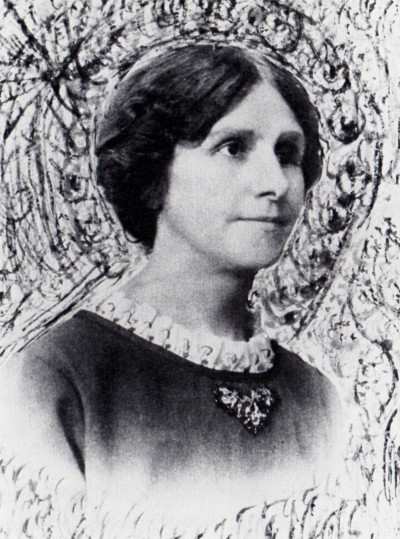 The drawings Madge Gill produces in the darkness of her attic tirelessly represent a female figure, always similar, magnified, sumptuously dressed, evolving in an unreal world with grandiose and maze-like, improbable architecture. Time and space appear to have been abolished, as if suspended, and yet, an insistent vitality powerfully animates the black ink, transcends paper and fabric, and tells us a story.
An illegitimate child, Madge Gill, born in 1882 in London, is first hidden by her mother and aunt, then placed in an orphanage at the age of nine. Sent to Canada to work on a farm, she returns to Great Britain at the age of nineteen, becomes a nurse and marries her cousin, of whom she has three sons. The second son dies and the following year, in 1919, she gives birth to a stillborn baby girl. These trials plunge Gill into a long illness resulting in her losing the sight of her left eye. As her aunt initiates her into spiritualism, she devotes herself to painting.
Working very quickly, for whole nights, by candlelight, in a state close to trance, this hypersensitive and reserved woman refuses to sell her works, which she believes belong to her guiding spirit Myrninerest (my innerest, "my most intimate"). Her drawings range from banners reaching dozens of meters to postcards and intermediate formats, all worked with pen and black ink with a few rare chromatic deviations.
It is only after her death in 1961 that hundreds of drawings are found in her home, stacked in closets or under the beds.
A key figure in art brut fascinating Jean Dubuffet, Roger Cardinal, Michel Thévoz and many others, Madge Gill's masterful work is represented in the world's most important collections of art but.
Artworks
Please
contact us
to inquire about the available works.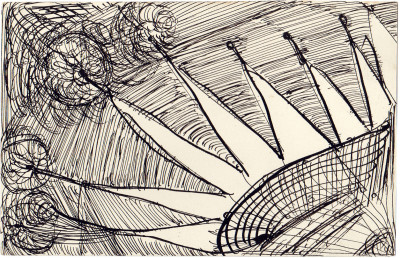 untitled, 1940
5.51 x 3.15 in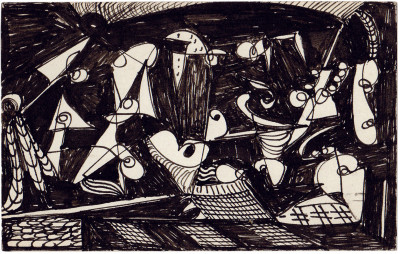 untitled, 1950
5.51 x 3.15 in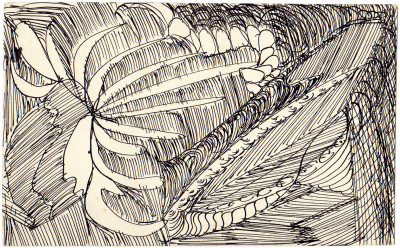 untitled, 1940
5.51 x 3.15 in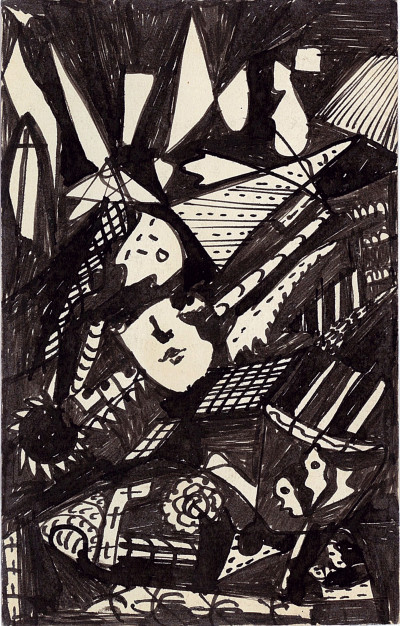 untitled, 1942
3.15 x 5.12 in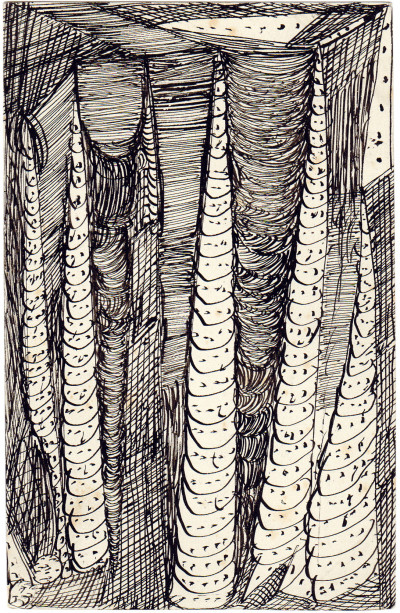 untitled, 1950
5.51 x 3.15 in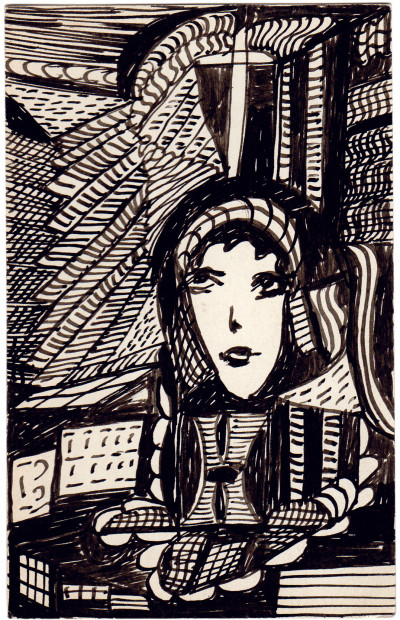 untitled, 1940
5.51 x 3.15 in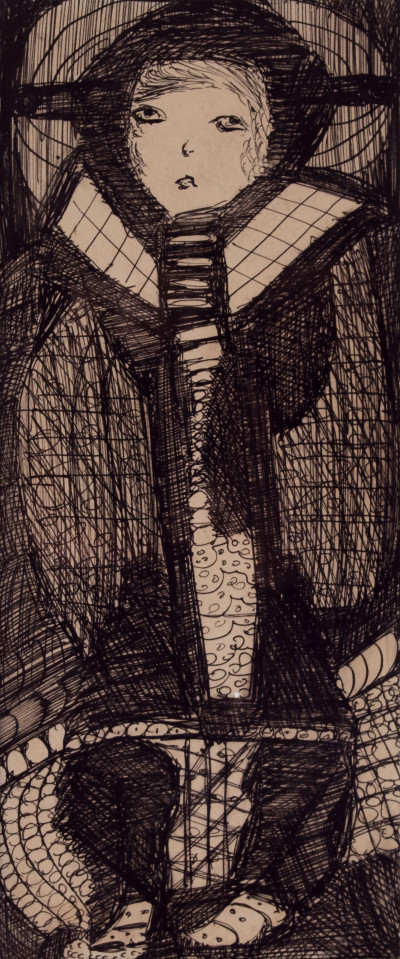 untitled, 1945
4.72 x 11.81 in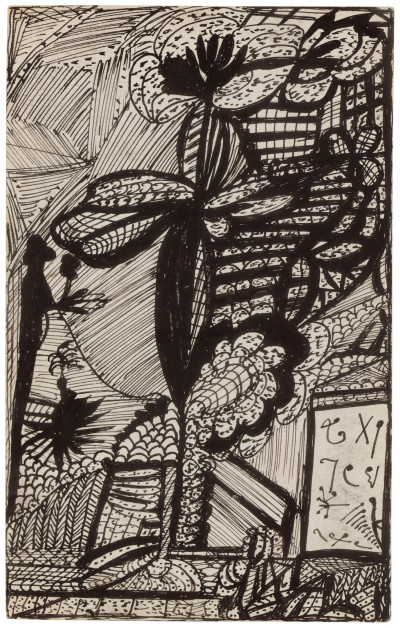 untitled, 1940
5.51 x 3.15 in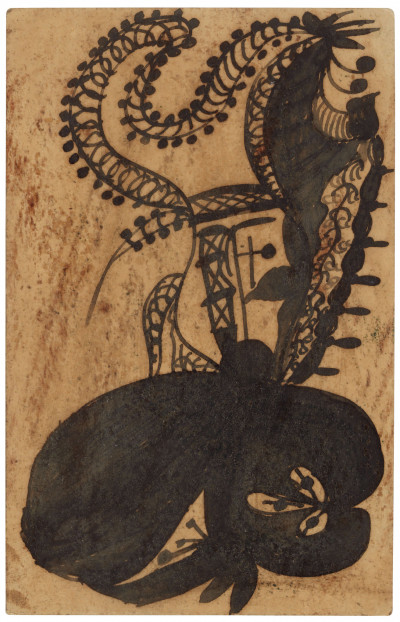 untitled, 1940
3.15 x 5.12 in
Preface : Raphaël Koenig.
Foreword : Christian Berst.
Catalog published to mark the exhibition In abstracto #2, from March 5th to May 30th, 2020.
Death salon 2
curated by Laurent Quénéhen, the bridge.
From February 13 to March 19, 2021
.
Sexual Personae
curated by Alison M. Gingeras, Hôtel Drouot, Paris.
From October 21 to 29, 2020
.
Fiac
#47, cancelled.
From October 21 to 25, 2020
.
ladies brut
Galerie Gugging.
From September 17 to November 8, 2020
.
Spirit, are you there?
The Painters of the Beyond, Musée Maillol, Paris.
From June 10 to November 1, 2020
.
in abstracto #2
at the gallery.
From March 5 to June 6, 2020
.
Other Transmissions
conversations with outsider art, The Whitworth, Manchester, UK.
From February 14 to June 14, 2020
.
4th Biennale of Art Brut
Theatre, Collection de l'Art Brut, Lausanne.
From November 29, 2019 to August 30, 2020
.
Ojo electrico
Casa Encendida, Madrid.
September 24, 2019
.
Floral Fantasies
Between Symbolism and Outsider Art, Wilhelm-Hack-Museum.
From March 31 to August 4, 2019
.
drawing now 2019
Carreau du Temple.
From March 27 to 30, 2019
.
beyond
on the edge of the visible and the invisible, at the gallery.
From March 7 to April 13, 2019
.
Flying High
Women Artists of Art Brut, Kunstforum, Vienne.
From February 15 to June 23, 2019
.
Alma
mediums and visionaires, Musée d'art moderne et contemporain, Palma.
From February 15 to June 2, 2019
.
Leben in art brut
coll. Hannah Rieger, Bildraum, Vienna.
From July 14 to August 16, 2018
.
Living in art brut
123 works from the Hannah Rieger Collection, Musuem Krems an der Donau.
From September 8 to October 26, 2017
.
The Museum of everything
Museum of Old and New Art, Tasmania.
From June 17, 2017 to April 2, 2018
.
The Golden Ratio Laws
Oliva Creative Factory, Portugal.
From April 29 to September 30, 2017
.
Art Brut
A Story of Individual Mythologies , Treger Saint Silvestre Collection, Portugal .
From January 1 to February 26, 2017
.
Architectures
Collection de l'Art Brut, Lausanne.
From November 13, 2015 to April 17, 2016
.
PreTENse
at the Gallery.
From September 12 to October 10, 2015
.
Elevations, Bruno Decharme & Antoine de Galbert Collections
Hommage à Joseph Ferdinand Cheval, Château de Hauterives .
From April 30 to 27, 2015
.
art brut masterpieces and discoveries
carte blanche à bruno decharme, at the gallery.
From October 21 to November 29, 2014
.
Art brut
ABCD Collection / Bruno Decharme, la Maison rouge, Paris.
From October 17, 2014 to January 18, 2015
.
Collecting Madness
Outsider Art from the Damman Collection Volume #2, Prinzhorn Collection, Allemagne .
From March 14 to April 14, 2014
.
Arte Bruta Terra Incognita
by Christian Berst, Collection Treger-Saint Silvestre, Lisbonne.
From April 20 to September 13, 2012
.
Inner Worlds Outside
Fundacion La Caixa, Madrid ; Whitechapel gallery, London ; Irish Museum of Modern Art, Dublin.
From January 18 to December 30, 2006
.
Art Spirite, Mediumnique, Visionnaire
Messages D'Outre-Monde, La Halle Saint Pierre, Paris.
From September 13, 1999 to February 27, 2000
.
Berst = Brut
Frédéric Bosser, Les Arts Dessinés.
October 12, 2021
.
L'art brut adapté en bande dessinée
Natacha Wolinski, The Art Newspaper.
October 8, 2021
.
Au Centre Pompidou, l'art brut trouve sa place dans les collections du musée
Clémentine Mercier, Libération.
June 11, 2021
.
L'art brut prend ses quartiers à Beaubourg
Roxana Azimi, Le Monde.
June 10, 2021
.
déconfinement : 7 expositions à voir à paris en mai 2020
La Rédaction, Télérama Sortir.
May 18, 2020
.
Les femmes de l'art brut sortent de l'ombre
Florence Millioud-henriques, 24 Heures.
April 30, 2019
.