Recherche
Fermer
christian berst
art brut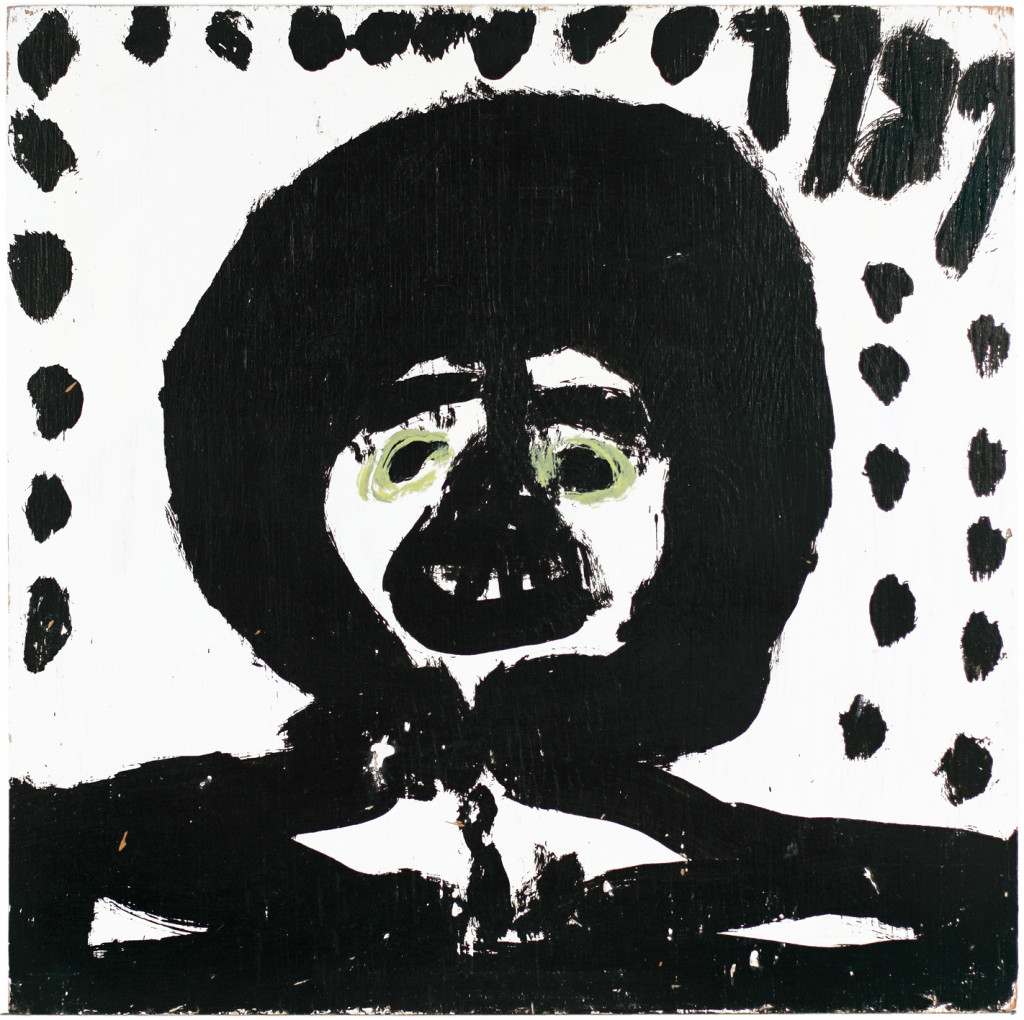 Enfant pauvre du Mississippi condamnée aux labeurs les plus durs, cette afro-américaine a entamé, au soir de sa vie, un œuvre qui s'apparente à un véritable blues graphique. Mary T Smith donnait corps à sa cosmologie personnelle en peignant sur des tôles et panneaux de bois disposés autour de sa maison. Son « esthétique solaire » - dixit Daniel Soutif – et ses modes de représentation puissamment élémentaires ont fait forte impression sur Basquiat. Aujourd'hui considérée comme une figure emblématique de l'art brut américain, ses œuvres sont entrées au Metropolitan Museum of Art (New York), au Smithsonian Museum of American Art (Washington) ou encore au High Museum of Art (Atlanta).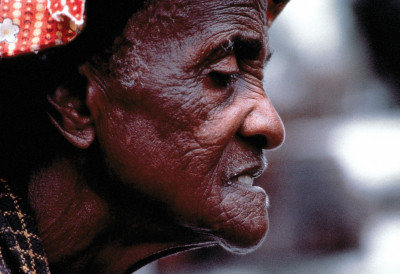 Mary Tillman Smith est née en 1904 dans le sud du Mississippi, troisième de 13 enfants d'une famille de métayers. Elle a travaillé la majeure partie de sa vie dans des fermes et comme cuisinière. Souffrant d'une déficience auditive importante, cette afro-américaine communiquait peu avec son entourage. Enfant, elle ne se mêlait pas aux autres mais traçait des dessins dans la poussière.
Mariée et divorcée à deux reprises, elle a un fils qu'elle élève seule. Vers 1978, après une vie de misère et de souffrance que rien ne prédisposait à la création, Mary Smith prend sa retraite et commence à aménager la cour de sa maison en de nombreux espaces tous décorés de motifs, transcendant ainsi sa condition en établissant un rapport particulier au monde où l'art devient l'intercesseur par excellence de forces qui la dépassent et lui fait retrouver sa dignité. Utilisant des planches de bois ou des tôles comme support, elle peint son quotidien : portraits d'amis, de voisins, figures allégoriques ou animaux de la ferme, la plupart en une ou deux couleurs. Elle ajoute parfois des signes ou des slogans qui marquent sa croyance et son amour de Dieu. Au-dessus de sa maison, elle place des panneaux diffusant des messages aux automobilistes.
Lorsqu'elle décède en 1995, à l'âge de 91 ans, elle laisse un œuvre d'une force élémentaire unique constitué de quelques centaines de peintures. Des peintures de Mary T. Smith ont été montrées, dès 1988, dans l'exposition Outside the Mainstream : Folk Art in Our Time organisée par le High Museum of Art d'Atlanta. Elle a récemment intégré la collection du Metropolitan Museum of Art de New York.
Œuvres
Pour découvrir les œuvres disponibles, merci de nous
contacter
.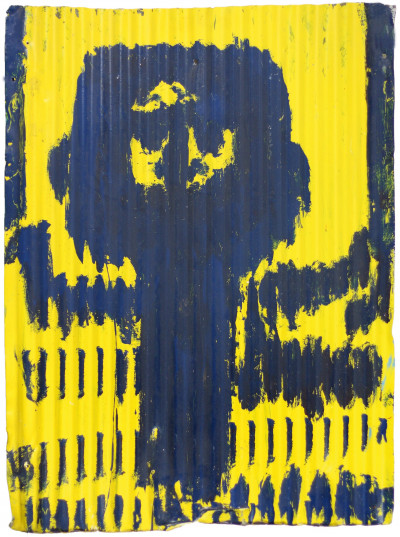 Sans titre (blue figure), 1980
66 x 91 cm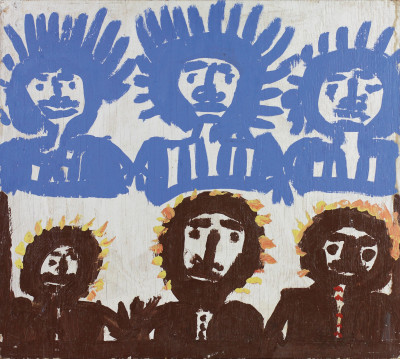 sans titre (six figures), 1987
61 x 55 cm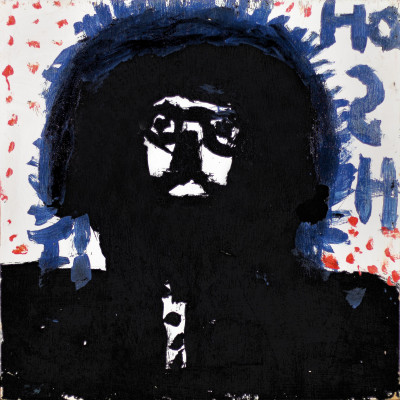 Sans titre (black figure with blue writing), 1987
61 x 61 cm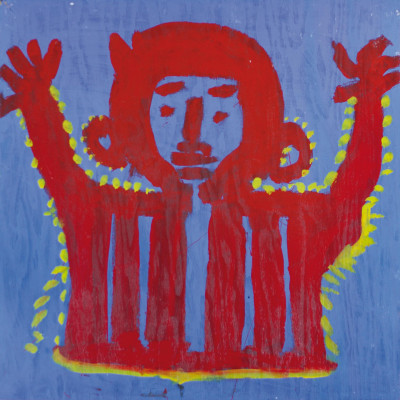 Sans titre (red figure), 1988
61 x 61 cm

sans titre , 1980
38 x 140 cm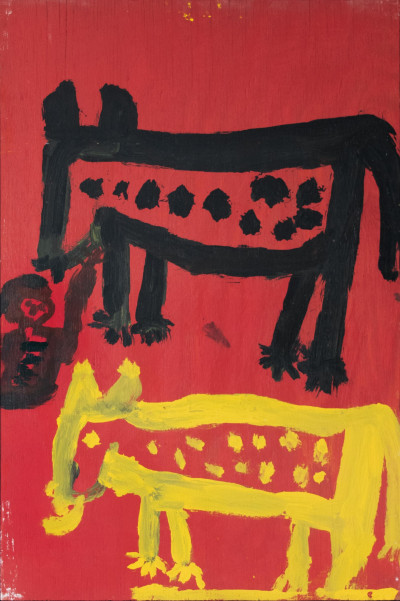 sans titre, 1985
61 x 91.5 cm
Catalogue
Mary T. Smith
Mississipi shouting
Préfaces : Daniel Soutif et William Arnett
Avant-propos : Christian Berst
Publié à l'occasion de l'exposition Mary T. Smith : Mississipi shouting, du 22 janvier 2012 au 3 mars 2013.
Mary T. Smith
Mississipi shouting #2.
Du 14 octobre au 21 novembre 2021
.
Inaugural Exhibition
Pre-Renovation Potluck, March, New-York.
Du 15 mai au 30 juin 2021
.
Sereno variavel
curatée par Antonia Gaeta, Centro de Arte Oliva, São João da Madeira.
Du 31 octobre 2020 au 2 mai 2021
.
A Different Mountain
selected works from the Arnett collection, marlborough gallery, London.
Du 21 novembre 2019 au 18 janvier 2020
.
Alvaro Barrington: Artists I Steal From
Galerie Thaddaeus Ropac London.
Du 5 juin au 9 août 2019
.
Flying High
Women Artists of Art Brut, Kunstforum, Vienne.
Du 15 février au 23 juin 2019
.
Leben in art brut
coll. Hannah Rieger, Bildraum, Vienna.
Du 14 juillet au 16 août 2018
.
In and out of Africa
Oliva Creative Factory, Portugal.
Du 7 octobre 2017 au 7 avril 2018
.
Living in art brut
123 oeuvres de la collection Hannah Rieger, Musuem Krems an der Donau.
Du 8 septembre au 26 octobre 2017
.
The museum of everything
Museum of Old and New Art, Tasmania.
Du 17 juin 2017 au 2 avril 2018
.
Révélations
art from the African American south, fine Arts Museum de San Francisco, USA.
Du 3 juin 2017 au 1 avril 2018
.
galeristes
salon des galeries et des collectionneurs engagés , carreau du temple.
Du 8 au 11 décembre 2016
.
The Color Line
Musée du Quai Branly, Paris.
Du 4 octobre 2016 au 15 janvier 2017
.
Art brut live
DOX centre for contemporary art, Praha.
Du 27 mars au 17 août 2015
.
Art brut
collection ABCD / Bruno Decharme, la Maison rouge, Paris.
Du 17 octobre 2014 au 18 janvier 2015
.
mary t. smith
mississippi shouting, à la galerie.
Du 22 janvier au 3 mars 2013
.
american outsiders
the black south, à la galerie.
Du 19 juin au 18 juillet 2009
.
Inner Worlds Outside
Fundacion La Caixa, Madrid ; Whitechapel gallery, London ; Irish Museum of Modern Art, Dublin.
Du 18 janvier au 30 décembre 2006
.
Treasures to go
exposition itinérante, Smithsonian American Art Museum, Washington .
Du 2 janvier 2000 au 2 mai 2003
.
Outside the mainstream
folk art in our time, High Museum of Art, Atlanta.
Du 19 mai au 12 août 1988
.
Christian Berst : « L'art brut est au cœur et non à la marge »
Marie-Laure Desjardins, Art Hebdo Médias.
Le 22 octobre 2020
.
The Bold, Blessed Paintings of a Sharecropper's Daughter
Edward M. Gómez, Hyperallergic.
Le 8 juin 2019
.
Ruée vers l'art brut
Noémie Barré, Photos Nathalie Baetens, Coté Paris N°29.
Le 15 octobre 2013
.
composition in black and white
Paige Williams, The New Yorker.
Le 5 août 2013
.
L'étoile du sud
Séverine Kodjo-Grandvaux, Jeune Afrique.
Le 24 février 2013
.
Mary T. Smith Mississipi shouting
Bénédicte Phillipe, Télérama Sortir.
Le 20 février 2013
.
Le quotidien sans artifices de Mary T. Smith
Sonia Desprez, A Nous Paris.
Le 18 février 2013
.
Un cri passage du Mississipi
Animula Vagula.
Le 16 février 2013
.
Black art folk esthétique solaire
Eric Tariant, Le Journal Des Arts.
Le 15 février 2013
.
Mary Tillman Smith, Mississipi Shouting
Philippe Godin, ParisArt.com.
Le 11 février 2013
.
Sacré art brut
Version Femina.
Le 10 février 2013
.
Rencontre avec Christian Berst : l'art brut, une esthétique de l'altérité ?
Delphine Neimon, The Artchemists.
Le 3 février 2013
.
L'art brut afro américain
Séphanie Pioda, La Gazette De Drouot.
Le 1 février 2013
.
Mary T. Smith à la galerie Christian Berst
Sophie Lesort, Toutelaculture.com.
Le 31 janvier 2013
.
Mary T Smith peint le blues
Dominique Poiret, Liberation Next.
Le 31 janvier 2013
.
Pourquoi l'art brut suscite-t-il autant d'intérêt ?
Roxana Azimi, Le Quotidien De L'Art.
Le 15 janvier 2013
.
Mary T. Smith Mississippi Shouting
L'officiel Galeries & Musée.
Le 8 janvier 2013
.
American outsiders - The Black South
Télérama Sortir.
Le 15 juillet 2009
.