Search
Close
christian berst
art brut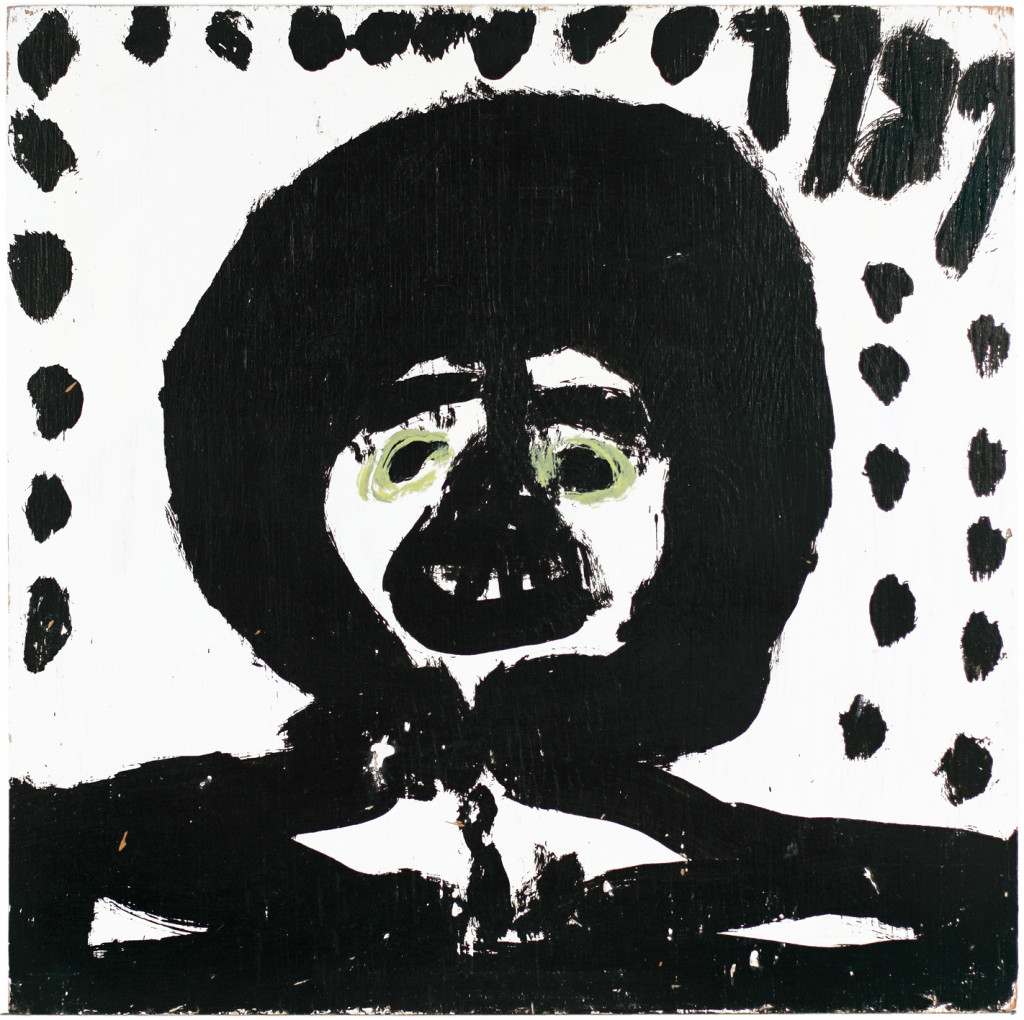 A poor child of Mississippi condemned to the hardest work, this African-American woman began, in the evening of her life, a work that resembles a real graphic blues. Mary T Smith gave shape to her personal cosmology by painting on sheets of corrugated iron and wooden panels arranged around her house. Her "solar aesthetic" - says Daniel Soutif - and her powerfully elementary modes of representation made a strong impression on Basquiat. Now considered an emblematic figure of American art brut, her works have been added to the Metropolitan Museum of Art (New York), the Smithsonian Museum of American Art (Washington) and the High Museum of Art (Atlanta).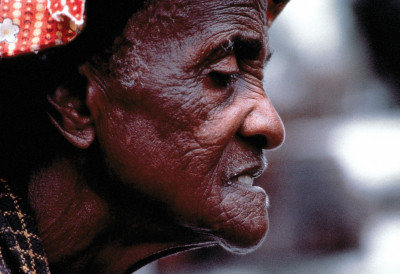 Mary Tillman Smith was born in 1904 in southern Mississippi, the third of thirteen children born to an African-American sharecropping family. She worked on the land and as a cook for most of her life; since she was extremely hard of hearing, her ability to communicate with people around her was limited. As a child, she preferred to stay apart from her siblings and draw in the dust on her own.
She brought her only son up alone following her second divorce. She retired in around 1978, after a lifetime of poverty and suffering that could so easily have crushed any aspiration to creativity, and immediately set about dividing her yard into a series of spaces decorated with patterns. This enabled her to rise above her modest circumstances to create a unique vision of the world where art became the supreme interpreter of forces that were greater than her, lending her new dignity. She painted what she saw around her on planks of wood or sheets of corrugated iron – portraits of friends and neighbours, allegorical figures, and farm animals, mainly using just one or two colours. She occasionally added signs or slogans reflecting her deep, abiding love for her God. On the roof of her house she placed boards with messages for drivers passing in their cars.
Mary T. Smith died in 1995 aged 91, leaving a several hundred paintings of unique, elemental power. Her work was featured in the exhibition Outside the Mainstream: Folk Art in Our Time at the High Museum of Art in Atlanta in 1988 and at the gallery christian berst in the exhibition mary t. smith : mississippi shouting. She recently has been acquired by The Metropolitan Museum of Art, NYC.
Artworks
Please
contact us
to inquire about the available works.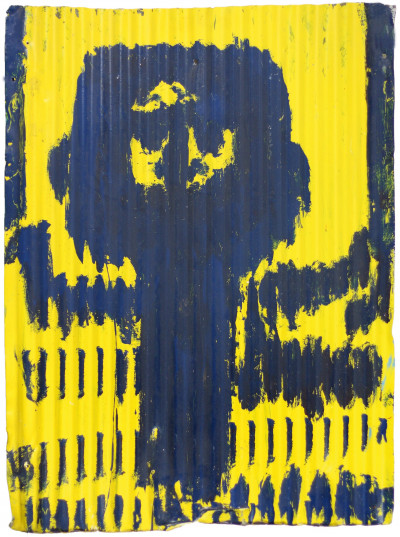 Untitled (blue figure), 1980
25.98 x 35.83 in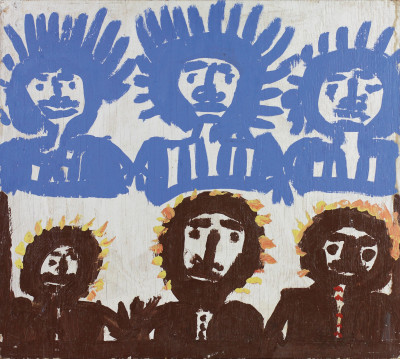 untitled (six figures), 1987
24.02 x 21.65 in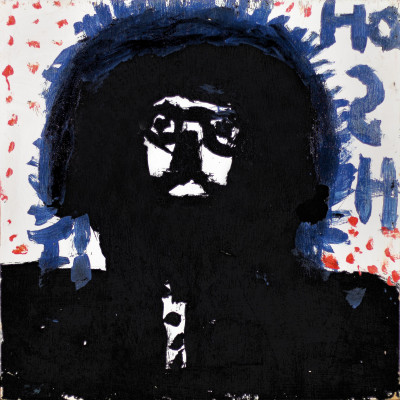 Untitled (black figure with blue writing), 1987
24.02 x 24.02 in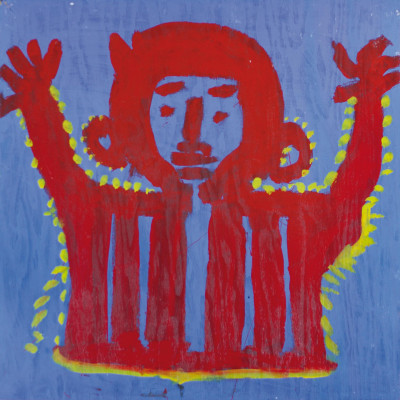 Untitled (red figure), 1988
24.02 x 24.02 in

untitled, 1980
14.96 x 55.12 in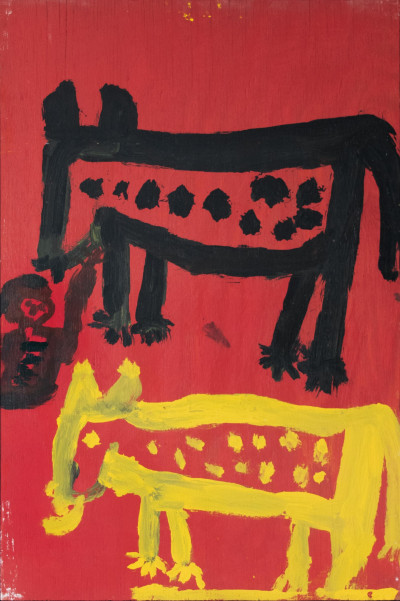 untitled, 1985
24.02 x 35.83 in
Catalog
Mary T. Smith
Mississipi shouting
Prefaces : Daniel Soutif et William Arnett
Foreword : Christian Berst
Catalog published to mark the exhibition Mary T. Smith : Mississipi shouting, from january 22nd, 2012 to marche 3rd, 2013.
Sereno variavel
curated by Antonia Gaeta, Centro de Arte Oliva, São João da Madeira.
From October 31, 2020 to May 2, 2021
.
A Different Mountain
selected works from the Arnett collection, marlborough gallery, London.
From November 21, 2019 to January 18, 2020
.
Alvaro Barrington: Artists I Steal From
Galerie Thaddaeus Ropac London.
From June 5 to August 9, 2019
.
Flying High
Women Artists of Art Brut, Kunstforum, Vienne.
From February 15 to June 23, 2019
.
Leben in art brut
coll. Hannah Rieger, Bildraum, Vienna.
From July 14 to August 16, 2018
.
In and out of Africa
Oliva Creative Factory, Portugal.
From October 7, 2017 to April 7, 2018
.
Living in art brut
123 works from the Hannah Rieger Collection, Musuem Krems an der Donau.
From September 8 to October 26, 2017
.
The Museum of everything
Museum of Old and New Art, Tasmania.
From June 17, 2017 to April 2, 2018
.
Revelations
l'art du sud africain-américain, fine Arts Museum de San Francisco, USA.
From June 3, 2017 to April 1, 2018
.
galeristes
salon des galeries et des collectionneurs engagés , carreau du temple.
From December 8 to 11, 2016
.
The Color Line
Musée du Quai Branly, Paris.
From October 4, 2016 to January 15, 2017
.
Art brut live
DOX centre for contemporary art, Praha.
From March 27 to August 17, 2015
.
Art brut
ABCD Collection / Bruno Decharme, la Maison rouge, Paris.
From October 17, 2014 to January 18, 2015
.
mary t. smith
mississippi shouting, at the gallery.
From January 22 to March 3, 2013
.
american outsiders I
the black south, at the gallery.
From June 19 to July 18, 2009
.
Inner Worlds Outside
Fundacion La Caixa, Madrid ; Whitechapel gallery, London ; Irish Museum of Modern Art, Dublin.
From January 18 to December 30, 2006
.
Treasures to go
traveling exhibition, Smithsonian American Art Museum, Washington .
From January 2, 2000 to May 2, 2003
.
Outside the mainstream
folk art in our time, High Museum of Art, Atlanta.
From May 19 to August 12, 1988
.
Christian Berst : « L'art brut est au cœur et non à la marge »
Marie-Laure Desjardins, Art Hebdo Médias.
October 22, 2020
.
The Bold, Blessed Paintings of a Sharecropper's Daughter
Edward M. Gómez, Hyperallergic.
June 8, 2019
.
Ruée vers l'art brut
Noémie Barré, Photos Nathalie Baetens, Coté Paris N°29.
October 15, 2013
.
composition in black and white
Paige Williams, The New Yorker.
August 5, 2013
.
L'étoile du sud
Séverine Kodjo-Grandvaux, Jeune Afrique.
February 24, 2013
.
Mary T. Smith Mississipi shouting
Bénédicte Phillipe, Télérama Sortir.
February 20, 2013
.
Le quotidien sans artifices de Mary T. Smith
Sonia Desprez, A Nous Paris.
February 18, 2013
.
Un cri passage du Mississipi
Animula Vagula.
February 16, 2013
.
Black art folk esthétique solaire
Eric Tariant, Le Journal Des Arts.
February 15, 2013
.
Mary Tillman Smith, Mississipi Shouting
Philippe Godin, ParisArt.com.
February 11, 2013
.
Sacré art brut
Version Femina.
February 10, 2013
.
Rencontre avec Christian Berst : l'art brut, une esthétique de l'altérité ?
Delphine Neimon, The Artchemists.
February 3, 2013
.
L'art brut afro américain
Séphanie Pioda, La Gazette De Drouot.
February 1, 2013
.
Mary T. Smith à la galerie Christian Berst
Sophie Lesort, Toutelaculture.com.
January 31, 2013
.
Mary T Smith peint le blues
Dominique Poiret, Liberation Next.
January 31, 2013
.
Pourquoi l'art brut suscite-t-il autant d'intérêt ?
Roxana Azimi, Le Quotidien De L'Art.
January 15, 2013
.
Mary T. Smith Mississippi Shouting
L'officiel Galeries & Musée.
January 8, 2013
.
American outsiders - The Black South
Télérama Sortir.
July 15, 2009
.