Search
Close
christian berst
art brut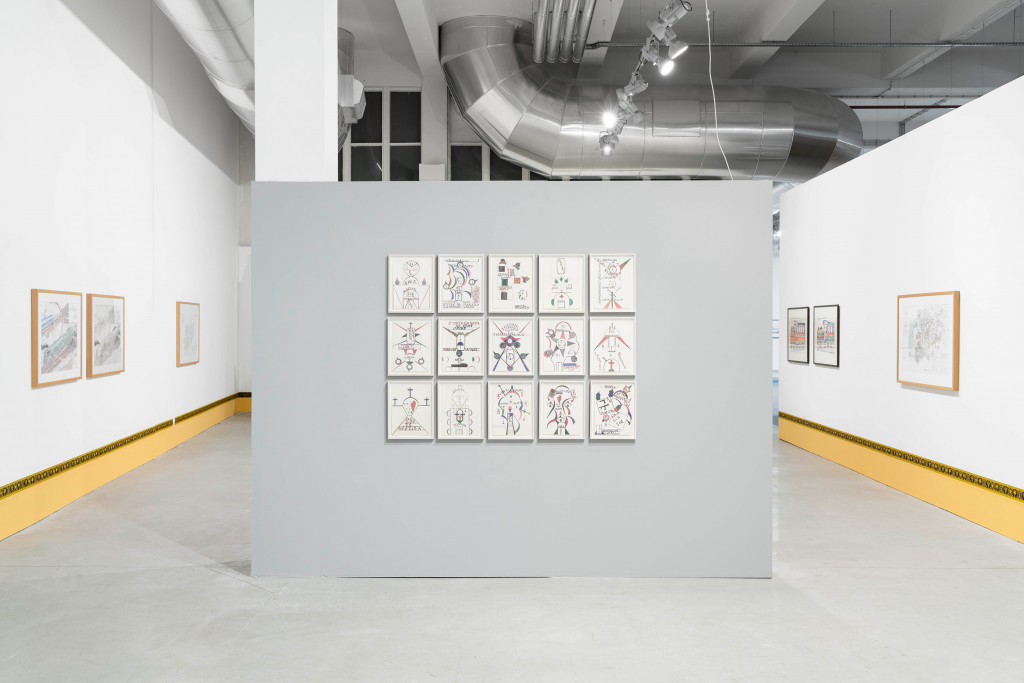 Spotted in Rosario's psychiatric institution, his work was exhibited for the first time in 2005 at the ArteBA contemporary art fair in Buenos Aires. Although his approach was initially dazibao, subtly off-center geometric patterns and a sharp typography clearly illustrate a more private formal grammar. The compositions of the enigmatic man, fascinated by conspiracy, appear like an attempt to alert humanity. Present in important collections, his works have been shown notably in the art brut exhibitions: a story of individual mythologies (Oliva Creative Factory, Portugal) and in the Museum of Everything by James Brett in MoNa (Australia).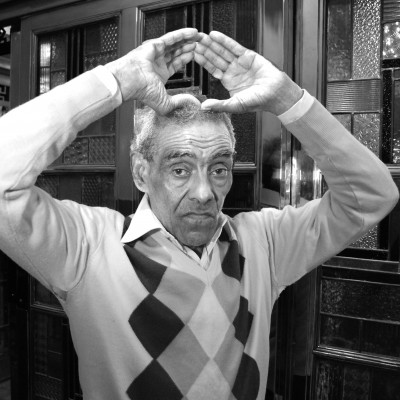 Commited to the Oliveros psychiatric centre in the Province of Santa Fe in 1963, little is known about Argentinean Aníbal Brizuela's previous life. Born in the Province of Buenos Aires in 1935, this short and skinny man led an austere life at the hospital for forty years, helping hospital staff with their daily tasks and surreptitiously devoting himself to his drawings with colored ballpoint pens on found papers or medicine boxes. If his oracle drawings evoke the Chinese dazibao, this is not only to do with the fact that he likes to display them all over the hospital. Charged with mystical or political references and symbols, punctuated by allusions to current events, his highly structured drawings are striking both for their sibylline character and their formal freedom.
It was only in 2003, when he met Fabiana Imola, director of the hospital's cultural space, that Brizuela started to benefit from the support and stimulation necessary for the thriving of his plastic work. Although he has never accepted the invitation to join other patients in drawing, he agreed to present his works, from 2005, at the ArteBA contemporary art fair in Buenos Aires attracting the attention of numerous national and international collectors and art galleries.
In his feature film Tanke Papi (2010), Rubén Plataneo (Muertes indebidas, 2005) explores the artist's past and attempts to decipher the enigma of the meaning of his drawings. In 2017, Espiritu que vuelve brings together some of Aníbal's texts in which he recounts his telekinetic experiences, the vision of a flying saucer and a temple descending from the sky no one but him is able to perceive. In his short and fragmentary autobiography, Aníbal explains: "I always write with ballpoint pens. I can decipher the shapes, but they're afraid. (…) By concentrating the mind, by building up mental strength, I begin to see and write. When I write, I don't feel anything. I'm concentrating. I can't stop thinking about this book. When the pencil leads are empty, I throw them into the tree to protect the animals eating there."
Aníbal Brizuela is part of major art brut collections and his works have been displayed in the group show art brut, collection abcd/bruno decharme at Maison rouge in 2014/2015 as well as in The Museum of Everything's travelling exhibition at MONA (Museum of Old and New Art) in Tasmania in 2017/2018. Thanks to the support of his psychiatrist and his entourage, Aníbal left the psychiatric centre in 2012 and moved into a small house in Oliveros. He died in Rosario in 2019.
Artworks
Please
contact us
to inquire about the available works.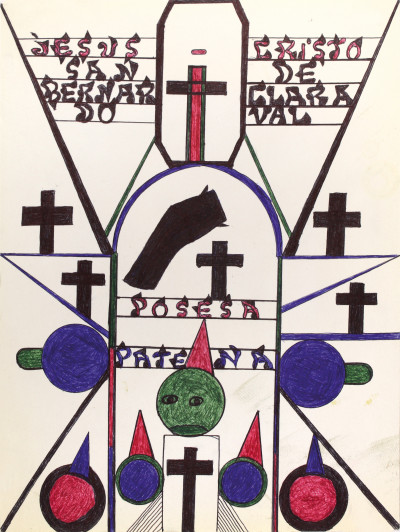 untitled, 2000
9.45 x 12.2 in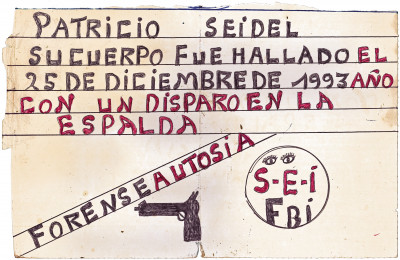 untitled, 1985
8.66 x 5.51 in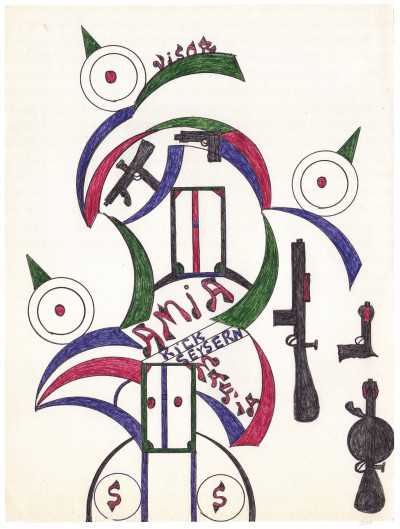 untitle, 2010
9.45 x 12.6 in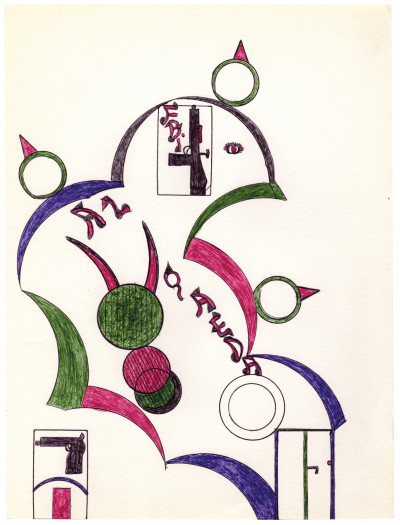 untitle, 2010
9.45 x 12.6 in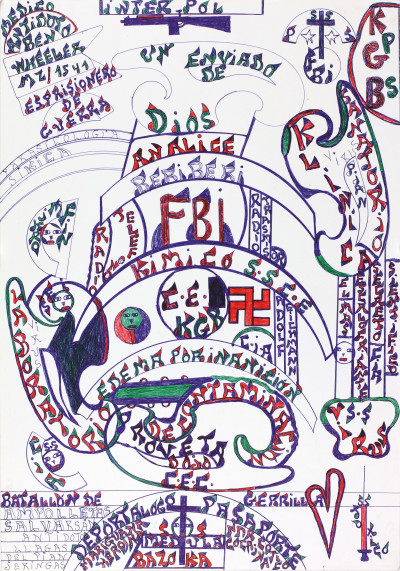 Untitled, 2000
13.78 x 19.29 in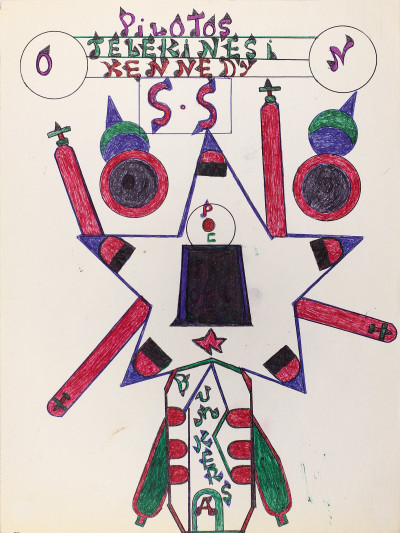 untitle, 2010
9.45 x 12.6 in
Catalog
Anibal Brizuela
ordo ab chao
Preface : Anne-Laure Peressin
Foreword : Christian Berst.
Catalog published to mark the exhibition Anibal Brizuela : ordo ab chao, from June 6th to July 13th, 2019.
in abstracto
#3, main gallery.
From February 9 to March 19, 2023
.
Power(less)
DOX centre d'art contemporain, Prague.
June 3, 2022
.
Eureka !
Centro de arte Oliva, Portugal.
From July 23, 2021 to August 27, 2022
.
Death salon 2
curated by Laurent Quénéhen, the bridge by christian berst.
From February 13 to March 19, 2021
.
Fiac
#47, cancelled.
From October 21 to 25, 2020
.
Ojo electrico
Casa Encendida, Madrid.
September 24, 2019
.
anibal brizuela
ordo ab chao, at the gallery.
From June 6 to July 13, 2019
.
do the write thing 2
read between the lines, at the gallery.
From April 26 to June 2, 2018
.
drawing now 2018
Carreau du Temple.
From March 22 to 25, 2018
.
Aesthetics of Rage
Aponia Centre d'art contemporain, Villiers sur Marne.
From November 4 to 26, 2017
.
The Museum of everything
Museum of Old and New Art, Tasmania.
From June 17, 2017 to April 2, 2018
.
in abstracto
at the gallery.
From June 8 to July 15, 2017
.
Art Brut
A Story of Individual Mythologies, Treger Saint Silvestre Collection, Portugal.
From January 1 to February 26, 2017
.
Writescape
Textual Poetry of Art Brut, Entrepot Gallery, Monaco.
From July 12 to September 29, 2016
.
PreTENse
at the Gallery.
From September 12 to October 10, 2015
.
Elevations, Bruno Decharme & Antoine de Galbert Collections
Hommage à Joseph Ferdinand Cheval, Château de Hauterives .
From April 30 to 27, 2015
.
Art brut live
DOX centre for contemporary art, Praha.
From March 27 to August 17, 2015
.
Enciclopedia Oliveros
MACRO - Museo de Arte Contemporáneo, Rosario.
From January 12 to February 25, 2015
.
do the write thing
read between the lines, new york gallery.
From October 30 to December 21, 2014
.
Art brut
ABCD Collection / Bruno Decharme, la Maison rouge, Paris.
From October 17, 2014 to January 18, 2015
.
Latin American Art
Hamer Gallery, Amsterdam.
From November 30, 2013 to January 4, 2014
.
drawing now 2012
drawing art fair, Carrousel du Louvre.
From March 28 to April 1, 2012
.
beyond the boundaries season 2011
discoveries and recent acquisitions, at the gallery.
From September 10 to 28, 2011
.
Sombra de toro
curator: Fabiana Imola, Galerie del Infinito, Buenos Aires.
From April 23 to June 4, 2009
.
Son sin nombre
Después, el silencio, MACRO - Museo de Arte Contemporáneo, Rosario.
From October 7 to December 15, 2007
.