Search
Close
christian berst
art brut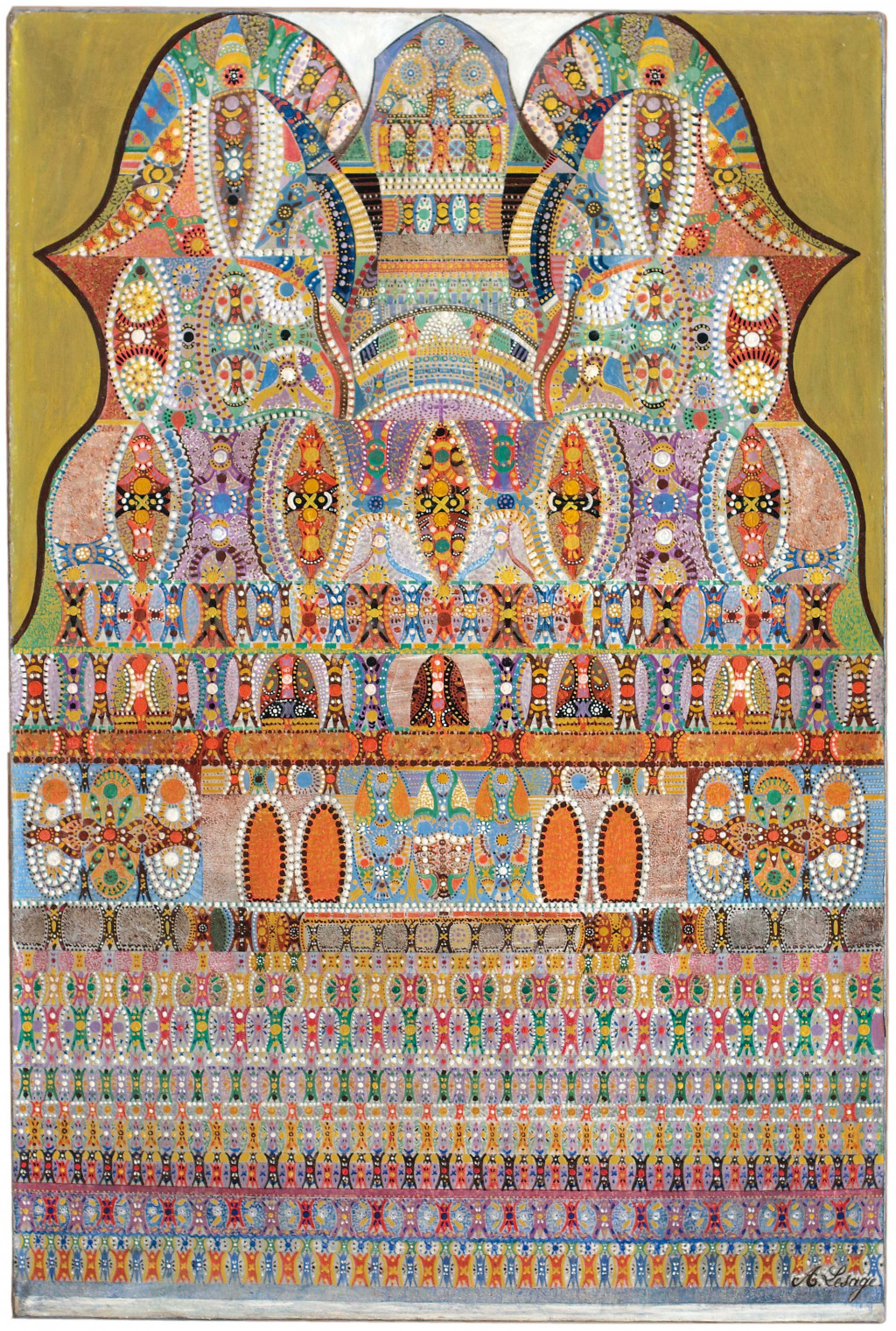 Augustin Lesage was born in 1876 in Brittany to a family of miners. At the age of fourteen he went to work in the mines, where, in 1911, "(he) heard a voice that said clearly, 'one day you will be a painter.'"
Afraid of being considered mentally unstable, he kept this revelation to himself and began to explore spiritualism. During one seance, a message conveyed by spirits confirmed his artistic calling. Under their instruction, he made nonrepresentational drawings of spiral shapes in colored pencil.
The spirits would soon tell Lesage to set his pencils aside and to work with oil paint instead. The miner followed their orders. His first canvas -very large, at 3m² _ revealed a new style, dominated by geometric composition. Lesage would work on one level at a time, painting line after line on the canvas, applying touches of the same color only once, vertical space by vertical space. His reputation grew, and Lesage moved his wife and children to Paris, where he worked full time as a painter.
Journalists, doctors, artists, and ethnologists all rushed to see the psychic at work. Lesage, who had been to a museum only once in his life, in 1899, became the official painter of the spiritualist movement. He was an object of fascination for André Breton, the surrealists, and later Dubuffet.
Today he is considered a classic of art brut. His work is found in the most important art collections, including the Musée National d'Art Moderne (Paris). He never stopped saying, "This is art from the beyond; it doesn't come from me."
Artworks
Please
contact us
to inquire about the available works.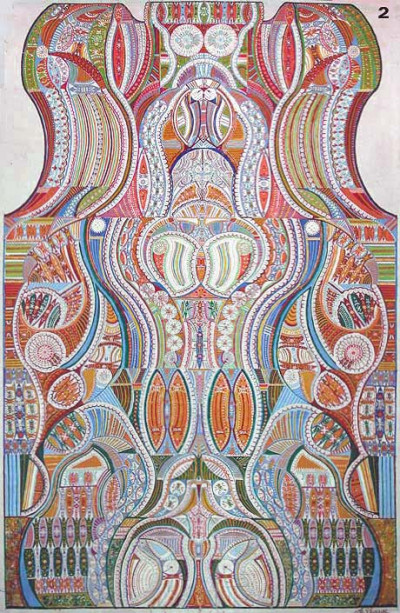 Untitled, 1950
37.01 x 57.48 in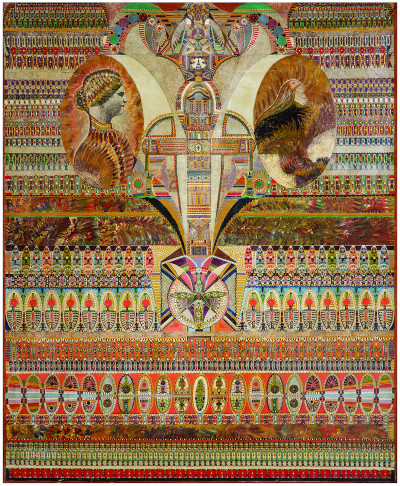 untitled, 1930
30.31 x 37.01 in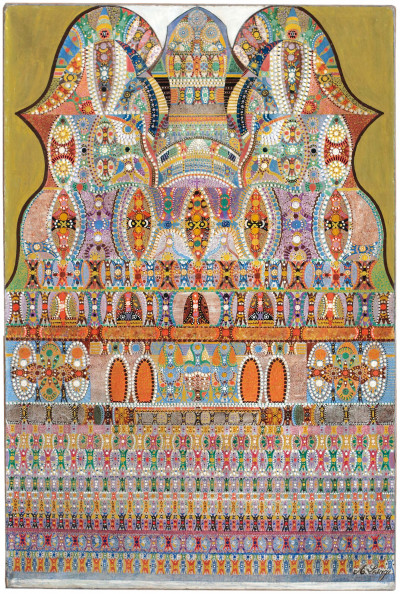 untitled, 1937
21.26 x 31.89 in
Catalog
Art brut, masterpieces and discoveries
carte blanche à Bruno Decharme
Preface : Bruno Decharme
Foreword : Christian Berst
Catalog published to mark the exhibition Art brut, masterpieces and discoveries : carte blanche à Bruno Decharme, from october 21st to november 29th, 2014.
Culturas Paralelas:
works from the treger saint silvestre collection, Faculdade de Belas Artes da Universidade do Porto, Portugal.
From February 17 to April 22, 2023
.
5th art brut biennial :
beliefs, Collection de l'Art Brut, Lausanne.
From December 17, 2021 to May 1, 2022
.
Spirit, are you there?
The Painters of the Beyond, Musée Maillol, Paris.
From June 10 to November 1, 2020
.
Floral Fantasies
Between Symbolism and Outsider Art, Wilhelm-Hack-Museum.
From March 31 to August 4, 2019
.
danser brut
lam, (musée d'art moderne, d'art contemporain et d'art brut lille métropole).
From September 28, 2018 to January 6, 2019
.
The Museum of everything
Museum of Old and New Art, Tasmania.
From June 17, 2017 to April 2, 2018
.
Art Brut
A Story of Individual Mythologies, Treger Saint Silvestre Collection, Portugal.
From January 1 to February 26, 2017
.
Architectures
Collection de l'Art Brut, Lausanne.
From November 13, 2015 to April 17, 2016
.
art brut masterpieces and discoveries
carte blanche à bruno decharme, at the gallery.
From October 21 to November 29, 2014
.
Art brut
ABCD Collection / Bruno Decharme, la Maison rouge, Paris.
From October 17, 2014 to January 18, 2015
.
Art brut: breaking the boundaries
curator Christian Berst, Oliva Creative Factory, Sao Joao da Madeira, Portugal.
From June 1 to September 11, 2014
.
il palazzo enciclopedico, Venice Bienale #55
curator Massimiliano Gioni, Arsenale.
From May 29 to July 28, 2013
.
Arte Bruta Terra Incognita
by Christian Berst, Collection Treger-Saint Silvestre, Lisbonne.
From April 20 to September 13, 2012
.
Inner Worlds Outside
Fundacion La Caixa, Madrid ; Whitechapel gallery, London ; Irish Museum of Modern Art, Dublin.
From January 18 to December 30, 2006
.
Dubuffet & l'art brut
Museum kunst palast, Dusseldorf ; Collection de l'art brut, Lausanne ; LAM, Villeneuve d'Ascq.
From April 23 to September 23, 2005
.
Art Spirite, Mediumnique, Visionnaire
Messages D'Outre-Monde, La Halle Saint Pierre, Paris.
From September 13, 1999 to February 27, 2000
.
Que devient l'art brut?
Françoise Monnin, Artension.
September 10, 2023
.
L'art brut, nouvelle folie des musées
Valérie Duponchelle, Le Figaro.
February 28, 2023
.
confessioni di un collezionista. Intervista a antoine de galbert
Roberta Trapani, Rivista Osservatorio Outsidersart N°24.
September 23, 2022
.
Lorsque l'art brut est poli par les croyances
Laurence Desbordes, L'illustré.
February 25, 2022
.
dans un pli du temps
Véronique Bergen, Flux News.
February 1, 2022
.
Comment les croyances animent l'Art Brut
Claire Margat, Lacritique.org.
January 17, 2022
.
dans un pli du temps au musée art et Marges, se glisser dans la temporalité
Pascal Goffaux, Musiq3 - RTBF.
October 27, 2021
.
Au Centre Pompidou, l'art brut trouve sa place dans les collections du musée
Clémentine Mercier, Libération.
June 11, 2021
.
Blistène achève son mandat avec une énorme donation d'art brut
Rafael Pic, Le Quotidien De L'Art.
June 10, 2021
.
L'art brut prend ses quartiers à Beaubourg
Roxana Azimi, Le Monde.
June 10, 2021
.
que reste-t-il de la vogue de l'art brut
Roxana Azimi, Quotidien De L'art.
September 12, 2019
.
le nouveau pôle de l'art brut
Véronique Bouruet-Aubertot, Connaissance Des Arts.
February 2, 2015
.
L'art brut à contre courant
Aurelie Romanacce, Pascaline Vallee Et Patrick Le Fur, Arts Magazine.
August 29, 2014
.
La flambée de l'art brut
Emmanuelle Lequeux, Beaux Arts.
August 29, 2014
.
5 clefs art brut le singulier en question(s)
Colin Cyvoct, L'oeil.
October 18, 2013
.
Exhibiting art brut
Christian Berst Propos Recueillis Par Claire Margat, Artpress 2.
August 23, 2013
.
D'art et d'actu : L'art brut