Search
Close
christian berst
art brut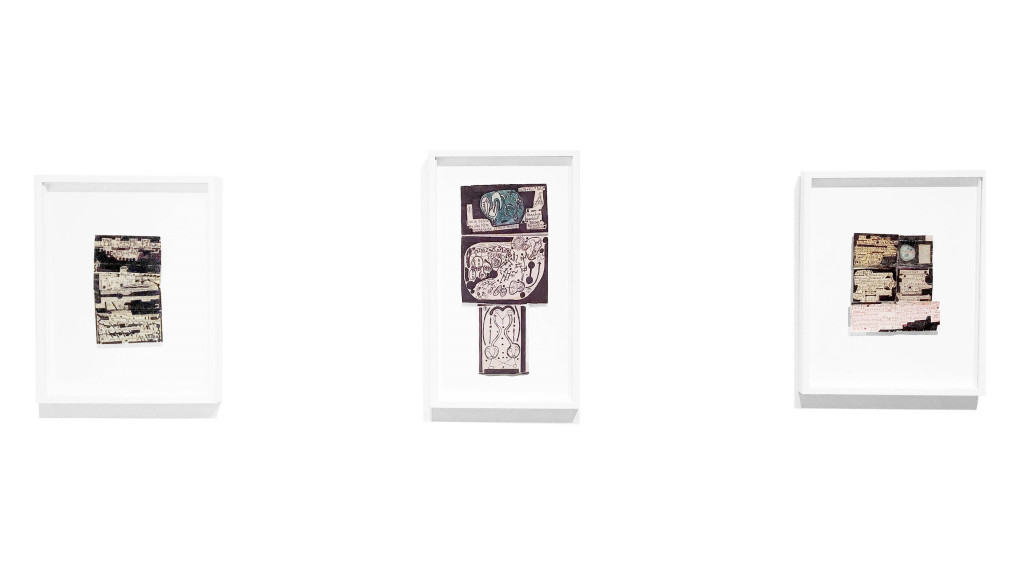 Discovered in the early 1980s at a homeless center in New York City, Melvin Way is now a key figure in contemporary art brut. Having interrupted his scientific studies because of his schizophrenia, he relentlessly covers fragments of papers of mathematical and chemical formulas, sibylline sketches… These dense talismanic notes, which he treasures in his pockets, exhale a rare magnetism. The 2018 Pulitzer Prize for Critics, Jerry Saltz, considers him "a mystic visionary genius, one of the greatest living American artists." The artist's works are now in the collections of the MoMA (New York) and the Smithsonian (Washington).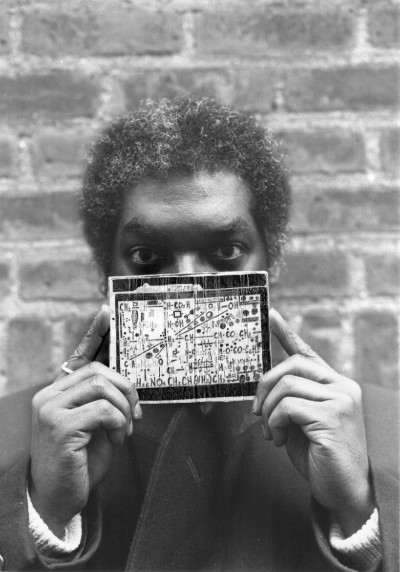 Scraps of found paper covered in writing, numbers, mathematical and chemical formulae, geometric shapes, musical scores, and sticky tape… The density of script layered on Melvin Way's graceful works gives them a rare magnetism. They reflect his obsession with space and time, while his equations seem intended to calculate the channels between the two; they act as a path of enfranchisement, abolishing the place assigned to us by time and space, thereby opening new vistas to the artist, who sometimes signs his works Melvin "Milky" Way.
Melvin was born in South Carolina and brought up by relatives in Brooklyn. He was fascinated by science at high school, where he also played bass and sang in a group. He was a student at the Technical Career Institute when he developed symptoms of mental illness that worsened over time. His girlfriend at the time was also struggling with drug addiction. He decided to become a musician before eventually finding himself homeless on Wards Island. The artist Andrew Castrucci came across Melvin's drawings in a homeless drop-in centre in the mid-1980s and set up an exhibition to showcase them. Melvin used a ball-point pen to draw on scraps of paper, scribbling countless signs, forms, and mysterious formulae, some gleaned from books, their secret known to no-one but him. He spends weeks, even months, working on his drawings, keeping them in his pocket or between the leaves of a book, and returning to work on them years later.
Melvin Way's art has been admired by eminent critics such as Jerry Saltz, who described him as "a mystic visionary genius". His works are part of the world's largest collections of art brut and he has recently been integrated into the collection of the Museum of Modern Art in New York.
Artworks
Please
contact us
to inquire about the available works.

Drel Thrice, 2015
2.76 x 7.87 in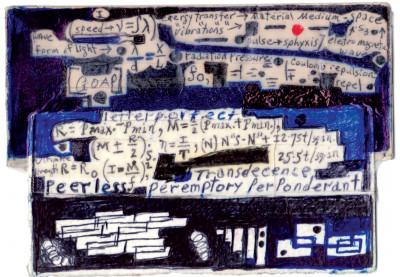 Perpetual incessance affinitive, 2005
5.12 x 3.54 in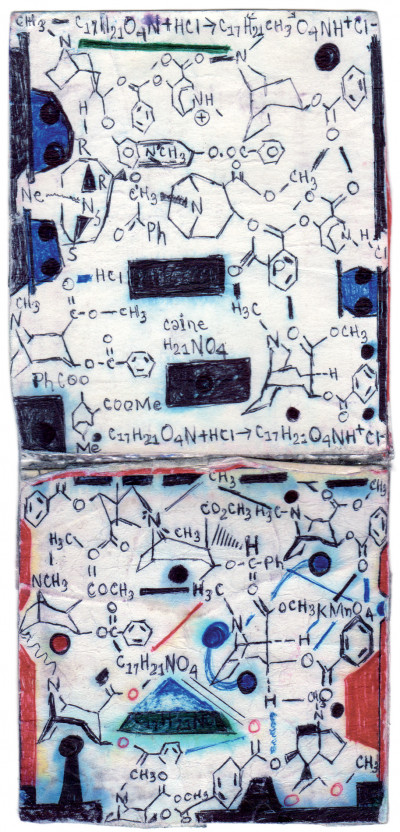 sntitled, 2013
3.94 x 8.66 in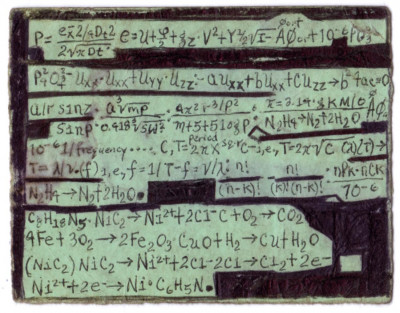 Andromeda.DELPHINUS (both side), 2002
3.54 x 2.76 in
Catalog
Melvin Way
a vortex symphony
Preface : Laurent Derobert, Jay Gorney & Andrew Castrucci
Foreword : Christian Berst
Catalog published to mark the exhibition Melvin Way : a vortex symphony, from May 26th to July 16th, 2016.
Culturas Paralelas:
works from the treger saint silvestre collection, Faculdade de Belas Artes da Universidade do Porto, Portugal.
From February 17 to April 22, 2023
.
Within a Fold
of Time, Art et marges museum, Bruxelles.
From October 7, 2021 to March 13, 2022
.
Eureka !
Centro de arte Oliva, Portugal.
From July 23, 2021 to August 27, 2022
.
POCORART
World Exhibition, 3331 Arts Chiyoda, Tokyo.
From July 16 to September 5, 2021
.
Fiac
#47, cancelled.
From October 21 to 25, 2020
.
Scrivere Disegnando
when the language seeks its other, Centre d'Art Contemporain Genève .
From January 29 to August 23, 2020
.
Ojo electrico
Casa Encendida, Madrid.
September 24, 2019
.
Photo Brut
coll. Bruno Decharme & cie, Rencontre d'Arles.
From July 1 to September 22, 2019
.
ART BRUT
La Pinacothèque, Luxembourg.
From January 26 to June 15, 2019
.
galeristes #3
art fair, Le Carreau du Temple.
From November 30 to December 2, 2018
.
Rits, Living Images
H gallerie, Paris.
From June 22 to July 21, 2018
.
do the write thing 2
read between the lines, at the gallery.
From April 26 to June 2, 2018
.
drawing now 2018
Carreau du Temple.
From March 22 to 25, 2018
.
In and out of Africa
Oliva Creative Factory, Portugal.
From October 7, 2017 to April 7, 2018
.
session #6
system, galerie paris-beijing, Paris.
From July 13 to 29, 2017
.
The Museum of everything
Museum of Old and New Art, Tasmania.
From June 17, 2017 to April 2, 2018
.
in abstracto
at the gallery.
From June 8 to July 15, 2017
.
You & Me
DIX291 gallery.
From April 29 to July 8, 2017
.
Drawing Now 2017
Le Carreau du Temple, Paris.
From March 23 to 26, 2017
.
Art Brut
A Story of Individual Mythologies, Treger Saint Silvestre Collection, Portugal.
From January 1 to February 26, 2017
.
Brut Now
art brut in the technological era, Belfort Museums .
From October 29, 2016 to January 16, 2017
.
Cracking The Code
Appleton Square, Lisbonne.
From October 7 to November 3, 2016
.
Melvin Way
A Vortex Symphony, at the gallery.
From May 26 to July 16, 2016
.
To Create Is To Resist
Bibliothèque de Lyon.
From October 8, 2015 to January 9, 2016
.
PreTENse
at the Gallery.
From September 12 to October 10, 2015
.
Melvin Way
Gaga City, at the Gallery in New York City.
From June 7 to July 19, 2015
.
Art brut live
DOX centre for contemporary art, Praha.
From March 27 to August 17, 2015
.
The Wall
Antoine de Galbert Collection , la Maison rouge, Paris.
From June 14 to September 21, 2014
.
on the horizon
at the gallery.
From January 28 to March 1, 2014
.
An Alternative Guide to the Universe
Hayward Gallery, Londres.
August 28, 2013
.
Farfetched
mad science, fringe architecture and visionary engineering, Gregg Museum of Art and Design, Raleigh.
From January 17 to April 26, 2013
.
Towards a warm math, on stellar rays
New York, USA.
From April 24 to June 24, 2012
.
drawing now 2012
drawing art fair, Carrousel du Louvre.
From March 28 to April 1, 2012
.
beyond the boundaries season 2011
discoveries and recent acquisitions, at the gallery.
From September 10 to 28, 2011
.
Approaching abstraction
American Folk Art Museum, New York.
From October 6, 2009 to September 12, 2010
.
Cryptic communications
transformer, Washington, USA.
From April 24 to May 24, 2004
.
Art's mouth
by Connie Butler, Artists Space, New York.
From March 16 to June 29, 1991
.
Art contemporain : Pascal Leyder lauréat du Prix de dessin 2023 de la Fondation Daniel et Florence Guerlain
Agathe Hakoun, Connaissance Des Arts.
March 23, 2023
.
De l'art brut pour le prix de la Fondation Guerlain
Julie Chaizemartin, Le Quotidien De L'art.
January 1, 2023
.
La collection de Bruno Decharme, un trésor d'art brut
Philippe Dagen, Le Monde.
June 10, 2021
.
Melvin Way by Sophia Cosmadopoulos
Sophia Cosmadopoulos, Art Et Al..
January 1, 2019
.
christian berst, la nature irréductible de l'art brut
Tom Laurent, Art Absolument.
September 27, 2018
.
Portrait de galeriste: Christian Berst
La Rédaction, Revue Point Contemporain.
March 1, 2017
.
Melvin Way, A vortex symphony
Félix Gatier, Art Press Online.
July 13, 2016
.
artistes new yorkais à Paris
La Rédaction, Que Faire à Paris.
June 23, 2016
.
Expo Dessin Contemporain: Melvin WAY « a vortex symphony »
Nituadmin Art, Http://www.artsculture.fr/.
June 17, 2016
.
Novas obras de Arte Bruta em mostra nacional sobre "mitologias individuais" de outsiders
Lusa, RTP O Essencial.
June 13, 2016
.
Melvin Way - A Vortex Symphony
Bénédicte Philippe, Télérama Sortir.
June 9, 2016
.
Notre rencontre avec Christian Berst
Lucien, Lesjeudisarty.squarespace.com.
May 26, 2016
.
Annette Messager - galerie christian berst
Philippe Dagen, Le Monde.
September 28, 2015
.
Artist Melvin Way's Journey from Homelessness to Art World Acclaim
Alanna Martinez, New York Observer.
July 17, 2015
.
Studying the Masterpieces of Visionary Melvin Way
Jerry Saltz, Vulture.
June 17, 2015
.
Melvin Way's fantasy formulas meet Andrew Castrucci's diagrams of dysfunction
Edward Gómez, Edwardmgomez.com.
June 10, 2015
.
retour du carrousel
Animula Vagula.
April 8, 2012
.
Au Salon du dessin, des œuvres d'art empilées comme autant de liasses sur les murs
Philippe Dagen, Le Monde.
March 30, 2012
.
galeries une rentrée
Lunettes Rouges, Amateur D'art Par Lunettes Rouges.
September 22, 2011
.
Melvin Way a vortex symphony