Search
Close
christian berst
art brut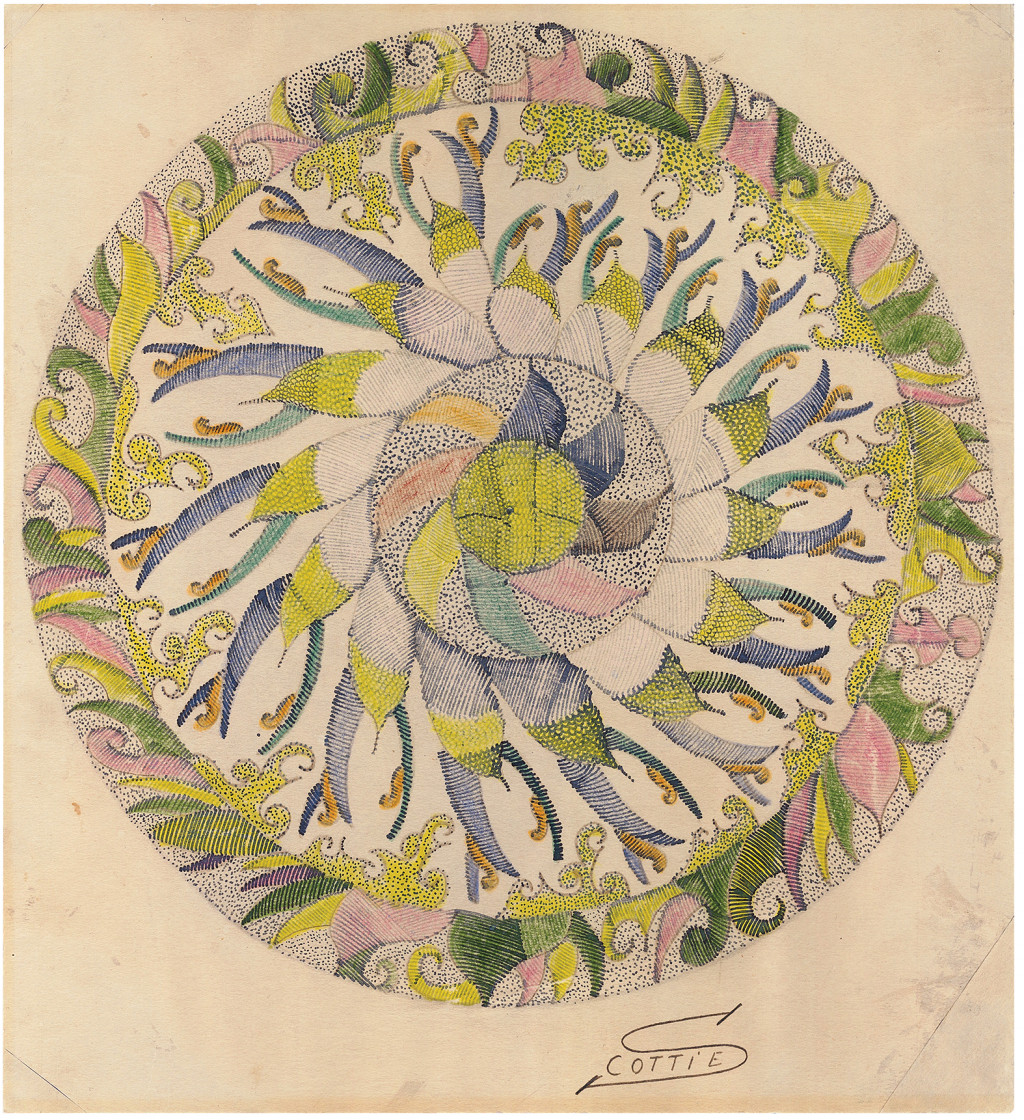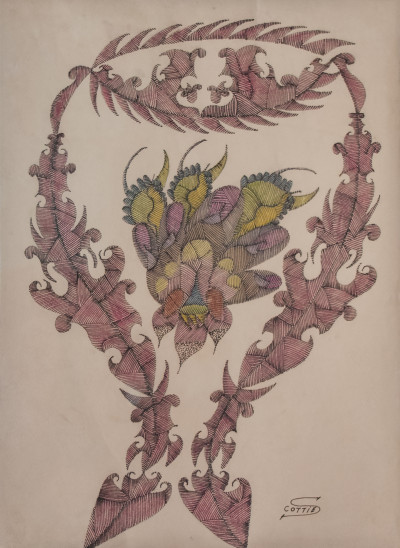 Name
Scottie Louis Freeman Wilson
Collected by Picasso, André Breton, and Jean Dubuffet, Scottie Wilson was a major figure in twentieth-century art. One of five children, Wilson was born in Glasgow in 1888. As a child he was fond of trees and animals, especially birds. Ten years old and illiterate, Wilson sold newspapers; and at the age of sixteen he joined the army, serving in the West Indies and South Africa. Back in London, Wilson made a living as an itinerant engraver. In 1928 he emigrated to Canada, where he opened a secondhand shop in Toronto and collected fountain pens. It was with one such pen—nicknamed Bulldog—that one day, out of boredom, Wilson made his first drawing. He was forty years old.
From that time his creative output grew steadily. His early drawings, dark and disturbing, gave way gradually to a joyous universe, colorful and calm. These works — "some of the most stunning and fascinating," said Dubuffet — represent ghosts, trees, totems, castles, fountains, and animals. Yet all these flora and fauna exist for the artist only once the drawing has been completed. "They are too beautiful for this earth," said Wilson.
After World War II and again back in London, Wilson showed his drawings at exhibitions he himself organized, often in unusual settings. Today Wilson's work is exhibited in numerous museums throughout the world.
Artworks
Please
contact us
to inquire about the available works.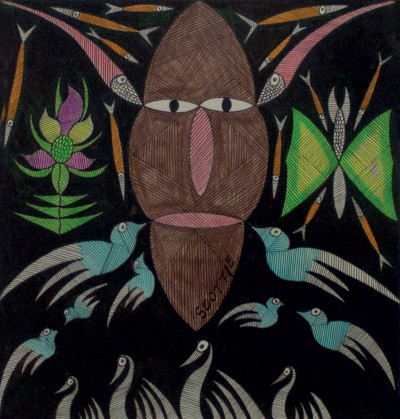 untitled, 1950
8.66 x 9.45 in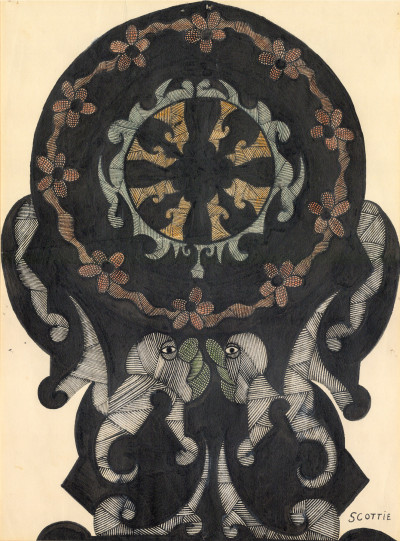 untitled, 1945
10.63 x 14.57 in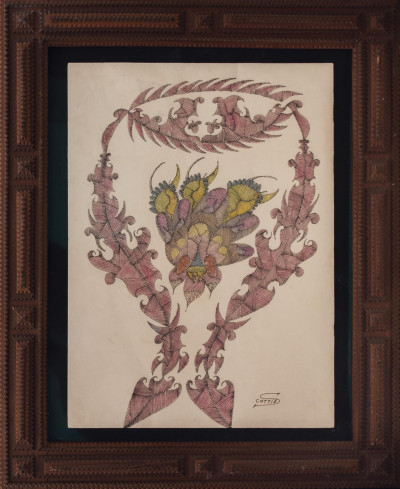 untitled, 1940
10.63 x 14.96 in
Catalog
Beyond
on the edge of the visible and the invisible
Preface : Philippe Baudouin
Foreword : Christian Berst.
Catalog published to mark the exhibition Beyond : on the edge of the visible and the invisible, from March 6th to April 13th, 2019.
Culturas Paralelas:
works from the treger saint silvestre collection, Faculdade de Belas Artes da Universidade do Porto, Portugal.
From February 17 to April 22, 2023
.
Other Transmissions
conversations with outsider art, The Whitworth, Manchester, UK.
From February 14 to June 14, 2020
.
Travel memories
Antoine de Galbert collection, musée de Grenoble.
From April 27 to July 28, 2019
.
Floral Fantasies
Between Symbolism and Outsider Art, Wilhelm-Hack-Museum.
From March 31 to August 4, 2019
.
beyond
on the edge of the visible and the invisible, at the gallery.
From March 7 to April 13, 2019
.
danser brut
lam, (musée d'art moderne, d'art contemporain et d'art brut lille métropole).
From September 28, 2018 to January 6, 2019
.
drawing now 2018
Carreau du Temple.
From March 22 to 25, 2018
.
The Museum of everything
Museum of Old and New Art, Tasmania.
From June 17, 2017 to April 2, 2018
.
The Golden Ratio Laws
Oliva Creative Factory, Portugal.
From April 29 to September 30, 2017
.
Art Brut
A Story of Individual Mythologies, Treger Saint Silvestre Collection, Portugal.
From January 1 to February 26, 2017
.
On The Wire
by Jean-Hubert Martin, at the gallery.
From April 9 to May 22, 2016
.
The Museum Of Everything
Kunsthal, Rotterdam.
From March 5 to May 22, 2016
.
Architectures
Collection de l'Art Brut, Lausanne.
From November 13, 2015 to April 17, 2016
.
Elevations, Bruno Decharme & Antoine de Galbert Collections
Hommage à Joseph Ferdinand Cheval, Château de Hauterives .
From April 30 to 27, 2015
.
art brut masterpieces and discoveries
carte blanche à bruno decharme, at the gallery.
From October 21 to November 29, 2014
.
The Wall
Antoine de Galbert Collection , la Maison rouge, Paris.
From June 14 to September 21, 2014
.
Art brut: breaking the boundaries
curator Christian Berst, Oliva Creative Factory, Sao Joao da Madeira, Portugal.
From June 1 to September 11, 2014
.
Amicalement brut
Collection Eternod & Mermod, Musée d'Art Contemporain et d'Art Brut, Lille.
From April 9 to August 28, 2011
.
glossolalia: languages of drawing
MoMA, New York.
From March 26, 2008 to July 7, 2007
.
Inner Worlds Outside
Fundacion La Caixa, Madrid ; Whitechapel gallery, London ; Irish Museum of Modern Art, Dublin.
From January 18 to December 30, 2006
.
Scottie Louis Freeman Wilson