Search
Close
christian berst
art brut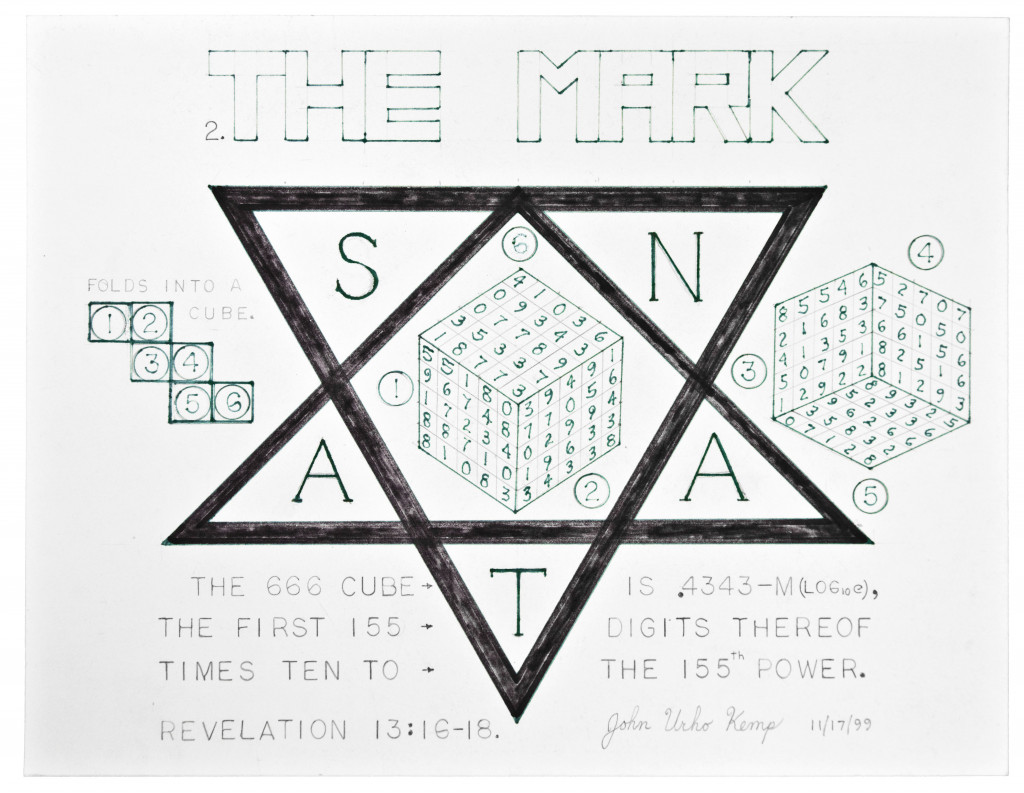 This Californian artist, who died in 2010, had a degree in chemical engineering. Fascinated by meditation and metaphysics, he sought to unravel the mysteries of existence through formulas and numbers drawn from his own history. This "conceptual brut" artist sometimes photocopied his work to distribute it to as many people as possible. In 2014, Daniel Baumann introduced him to the 548 Center in New York. The following year, we entrusted Gael Charbau with writing an essay and curing the monographic exhibition held at the gallery. In the same year, Alfred
A significant number of his works was donated to the Centre Pompidou collection in 2021.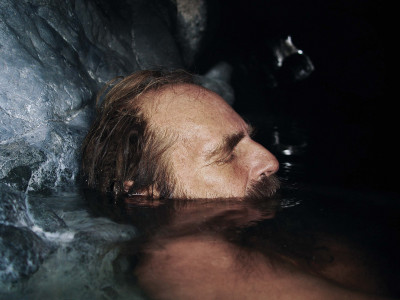 John Urho Kemp (1942-2010) graduated from the University of California, Berkeley in 1965 with a degree in chemical engineering and biochemistry.  He worked as a chemical engineer for almost two years, then quit to study Scientology in England and Los Angeles until 1971.  He spent the next decade running an antique store in Los Angeles.  Amongst other interests, he traveled the world to witness solar eclipses and frequented hot springs of Northern California. Throughout his life he sought revelations through meditation, metaphysics, formulas, and numbers, recorded primarily in pencil and pen on the blank surfaces of scrap papers.
Much of his work was refined and compiled into compact documents that were then photocopied and leafletted as a means of sharing his findings with as many people as he could.  An online archive of his work is underway, and includes poems, equations, drawings, and collages from 1979-2010.
We owe the rescue and archiving of his numerous works to his friend, the photographer Aram Muksian, namely thousands of pages, diagrams, sketches and numerical sequences, to the point of colonizing endless bundles of dot-matrix printer paper.
Daniel Baumann – curator, art critic and current director of the Kunsthalle of Zürich as well as of the Wölfli Foundation in Berne – dedicated an exhibit to him at the 548 Center in NY in 2014.
Artworks
Please
contact us
to inquire about the available works.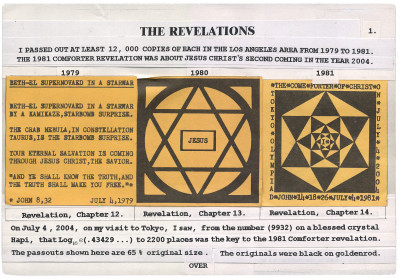 untitled (The revelations), 2001
8.27 x 5.51 in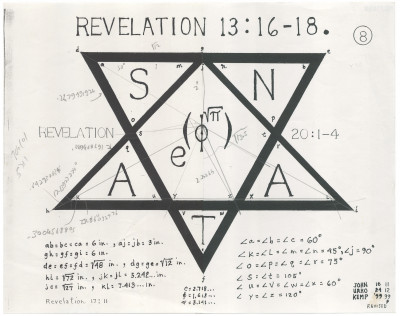 Revelation 13: 16-18, 1999
8.27 x 10.63 in
untitled, 2 pages, 1989
5.51 x 8.27 in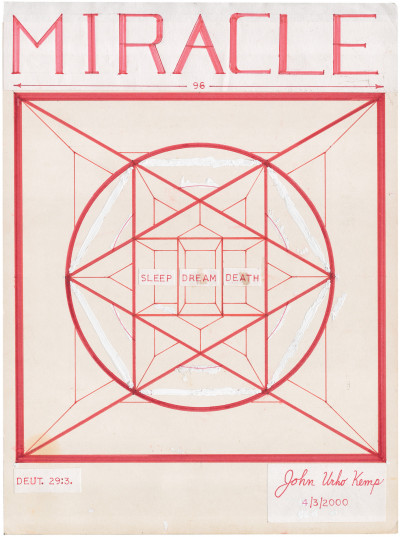 untitled (Miracle), 1990
8.27 x 10.63 in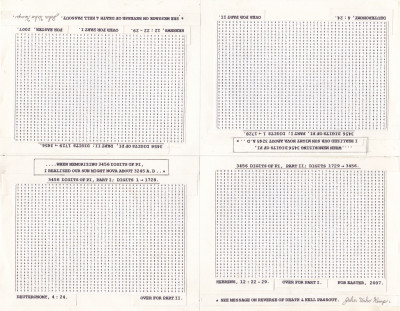 untitled, 2007
10.63 x 8.27 in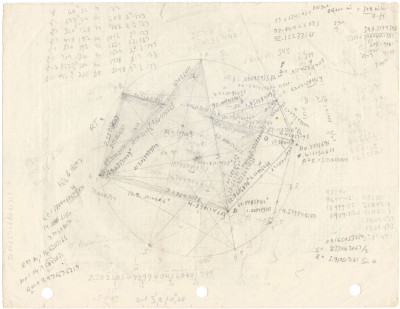 untitled, double-sided, 2005
10.63 x 8.27 in
Catalog
John Urho Kemp
a bermuda triangle
Preface : Gaël Charbau
Foreword : Christian Berst
Catalog published to mark the exhibition John Urho Kemp : a bermuda triangle, from may 30th to july 18th, 2015.
Culturas Paralelas:
works from the treger saint silvestre collection, Faculdade de Belas Artes da Universidade do Porto, Portugal.
From February 17 to April 22, 2023
.
i love the movement that displaces lines
curator: Léa Bismuth, the bridge.
From February 9 to March 19, 2023
.
The Beauty of the Beast :
with John Urho Kemp, Frac Franche-Comté - Cité des Arts.
From October 15, 2022 to May 14, 2023
.
Power(less)
DOX centre d'art contemporain, Prague.
June 3, 2022
.
do the write thing :
read between the lines #3, main gallery.
From April 2 to May 22, 2022
.
Eureka !
Centro de arte Oliva, Portugal.
From July 23, 2021 to August 27, 2022
.
L'homme gris
Casino Luxembourg.
From November 14, 2020 to June 6, 2021
.
Fiac
#47, cancelled.
From October 21 to 25, 2020
.
Ojo electrico
Casa Encendida, Madrid.
September 24, 2019
.
beyond
on the edge of the visible and the invisible, at the gallery.
From March 7 to April 13, 2019
.
do the write thing 2
read between the lines, at the gallery.
From April 26 to June 2, 2018
.
drawing now 2018
Carreau du Temple.
From March 22 to 25, 2018
.
The Museum of everything
Museum of Old and New Art, Tasmania.
From June 17, 2017 to April 2, 2018
.
in abstracto
at the gallery.
From June 8 to July 15, 2017
.
Art Brut
A Story of Individual Mythologies, Treger Saint Silvestre Collection, Portugal.
From January 1 to February 26, 2017
.
Brut Now
art brut in the technological era, Belfort Museums .
From October 29, 2016 to January 16, 2017
.
Cracking The Code
Appleton Square, Lisbonne.
From October 7 to November 3, 2016
.
YIA
art fair, Espace Louise 186, Bruxelles.
From April 21 to 24, 2016
.
On The Wire
by Jean-Hubert Martin, at the gallery.
From April 9 to May 22, 2016
.
PreTENse
at the Gallery.
From September 12 to October 10, 2015
.
John Urho Kemp
a Bermuda Triangle, at the gallery.
From May 30 to July 18, 2015
.
CHOICES
2015, Palais des Beaux Arts, Paris .
From May 29 to 31, 2015
.
à l'avant-garde : john urho kemp – sans titre – 2002
Delphine Neimon, The Artchemists.
June 6, 2017
.
Portrait de galeriste: Christian Berst
La Rédaction, Revue Point Contemporain.
March 1, 2017
.
de l'art brut art high-tech
Stéphanie Lemoine, L'oeil.
January 10, 2017
.
Une œuvre d'art a-t-elle toujours un sens ?
Philippe Godin, Diagonale De L'art - Blog Libération.
June 18, 2015
.
John Urho Kemp – Un triangle des Bermudes
Benedicte Phillipe, Telerama Sortir.
June 10, 2015
.
Abracadabrantesque
Alain Berland, Mouvement.net.
June 2, 2015
.
Les Jeudis Arty, la nocturne d'art contemporain revient dans le Marais le 4 juin
Tania Brimson, Timeout.
June 1, 2015
.
CHOICES PARIS 2015
Guillaume Benoît, Slash.
May 29, 2015
.
Mathématiques Métaphysique Art