Search
Close
christian berst
art brut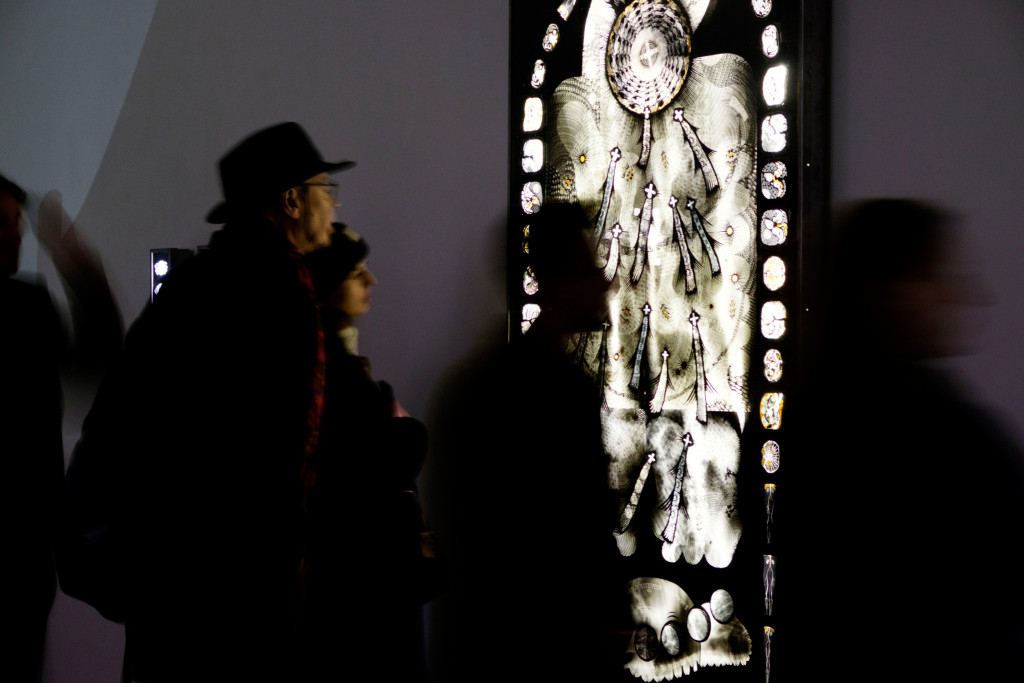 Deeply impacted by his discovery of Augustin Lesage, Éric Benetto explores the most arduous spiritual paths: monastic life and ascetic practices of the Orthodox hesychasm. His Chinese ink or pencil drawings, on paper, radiographs and other MRI scans are imbued with syncretic mysticism as well as an exceptional modernity. Before his first solo exhibition organized by the gallery in 2019, his work had already been noticed at the exhibition Brut Now: art brut in the time of technologies, at the Belfort museums. Since then, he has joined prestigious collections such as those of Laurent Dumas (France) or Treger-Saint Silvestre (Portugal).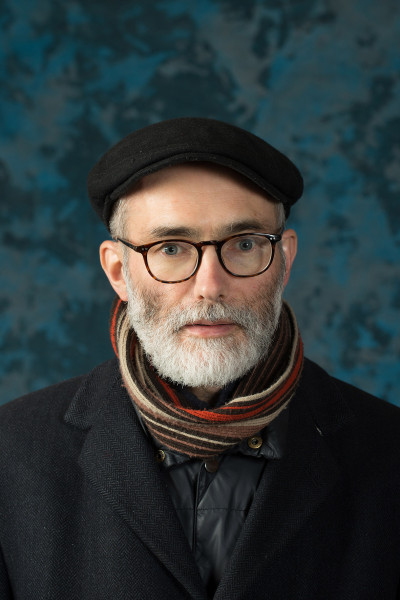 For Éric Benetto, born in 1972 in La Roche-sur-Yon, the discovery - at the age of 17 - of the mediumistic work of underground miner Augustin Lesage was a real epiphany. His meeting with Abbé Coutant, who became a painter himself thanks to his friend Gaston Chaissac, left his mark just as much on him. Deeply meditative, fundamentally fierce, Benetto understood then that his feeling of exile would find in art an unsuspected outcome.
Between two trips to India, he worked in a wide variety of jobs: roadmender, telephone pollster, chemical plant guard, and many others. He began to write down in travel diaries what would become his formal grammar. Like an uninterrupted prayer, a silent, vertiginous recitation, a haunting graphic mantra.
Soon, India ink, especially, and pencil, sometimes, would conquer larger surfaces. Kraft paper, first of all, before, thanks to a job in a hospital, he discovered the potential of radiographs and other MRI images: both transparency and darkness in search of light. His pen overcome by the trance would do the rest.
While the motifs are repeated ad libitum and the serial incantations unfold like the primordial om, the artist gives substance to what Romain Rolland called the "oceanic feeling", this formidable thirst for osmosis with the universe. In Benetto's case, it extends from limbo to men. Urbi et orbi. Especially when his assemblies of magnetic resonance images are studded with negatives of photographs of those who he refers to as his " terrestrial family ". Or when the peregrination of memory is coupled with a redemptive impetus. Not to mention these organs freed from their condition, reinvented, poetized, sublimated.
Éric Benetto has never stopped walking the most arduous spiritual paths, from the rigors of monastic life to the ascetic practices of orthodox hesychasm. However, his extreme humility prevents him from admitting his singularity, because the work he has conceived is not only marked by an exacerbated, syncretic mysticism, but also by an exceptional modernity. His work was particularly noticed in 2016 during the exhibition Brut Now: l'art brut au temps des technologies at the Musées de Belfort and is part of major collections, both of art brut and contemporary art.
Artworks
Please
contact us
to inquire about the available works.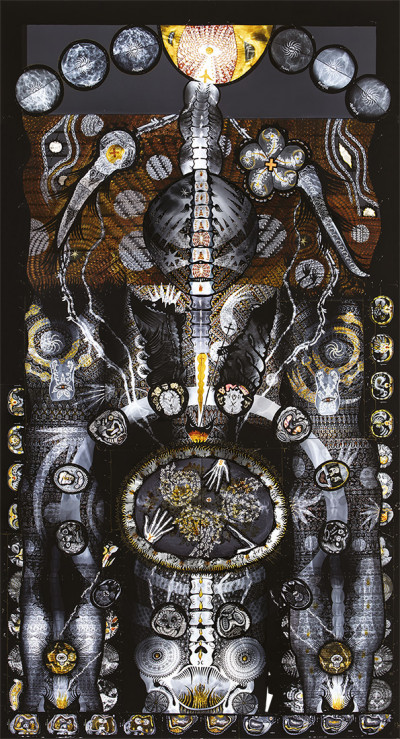 untitled, 2021
34.25 x 63.78 in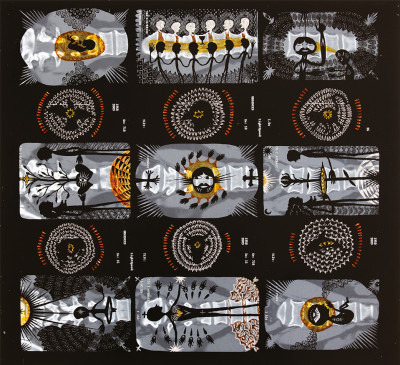 from one fetus to another, 2021
9.45 x 10.24 in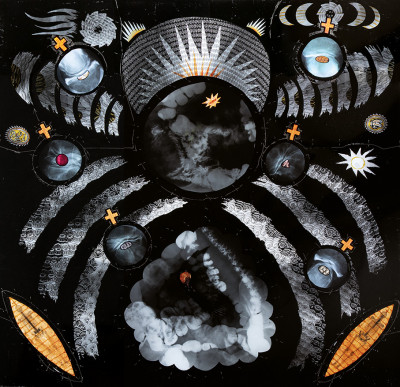 ruah, 2021
26.38 x 26.38 in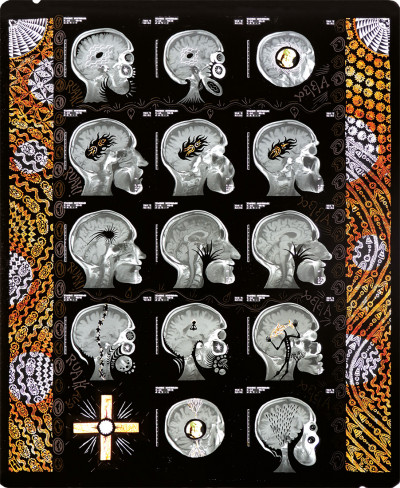 this is the man, 2022
13.78 x 16.93 in

untitled, 2021
78.74 x 18.5 in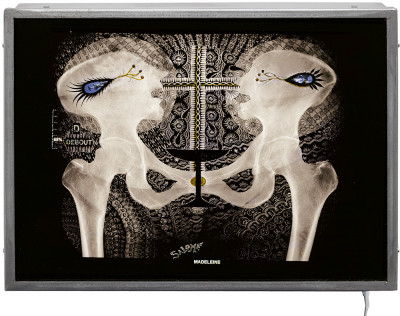 untitled (madeleine), 2021
14.57 x 11.81 in

Cosmic Song- Les 3 soeurs, 2007
25.59 x 9.84 in
Cosmic song - le transfert de rêve, 2006
18.9 x 12.6 in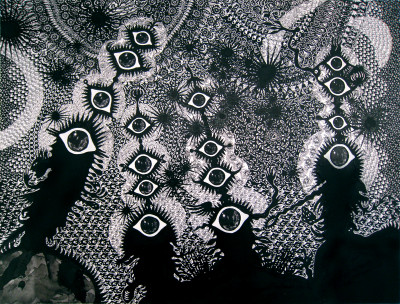 Cosmic Song - the watchers, 2007
18.9 x 14.17 in
Foreword : Christian Berst.
Catalog published to mark the exhibition Éric Benetto : in excelsis, from January 26th to March 2nd, 2019.
Paris +
by art basel, grand palais éphémère, Paris.
From October 20 to 23, 2022
.
débordement #1: the pathfinders
by anaël pigeat & yvannoé krüger, the bridge + main gallery.
From November 25, 2021 to January 16, 2022
.
Deus ex machina
Musées de Soissons.
From October 22, 2021 to January 30, 2022
.
éric benetto
in excelsis, at the gallery.
From January 26 to March 2, 2019
.
Art Brut
A Story of Individual Mythologies , Treger Saint Silvestre Collection, Portugal .
From January 1 to February 26, 2017
.
Brut Now
art brut in the technological era, Belfort Museums .
From October 29, 2016 to January 16, 2017
.
On The Wire
by Jean-Hubert Martin, at the gallery.
From April 9 to May 22, 2016
.
Drawing Now 2016
Carreau du temple, Paris.
From March 30 to April 3, 2016
.
PreTENse
at the Gallery.
From September 12 to October 10, 2015
.
Drawing Now 2015
Carreau du Temple, Paris.
From March 25 to 29, 2015
.
Art brut: breaking the boundaries
curator Christian Berst, Oliva Creative Factory, Sao Joao da Madeira, Portugal.
From June 1 to September 11, 2014
.
Arte Bruta Terra Incognita
by Christian Berst, Collection Treger-Saint Silvestre, Lisbonne.
From April 20 to September 13, 2012
.
drawing now 2012
drawing art fair, Carrousel du Louvre.
From March 28 to April 1, 2012
.
beyond the boundaries season 2011
discoveries and recent acquisitions, at the gallery.
From September 10 to 28, 2011
.
beyond the boundaries season 2009
discoveries and recent acquisitions, at the gallery.
From September 11 to October 17, 2009
.
5 expos gratuites qui nous motivent en janvier
Maïlys Celeux-Lanval , Beaux Arts Magazine.
January 2, 2022
.
is there such a thing as outsider photography?
Claire Margat, Artpress.
May 22, 2020
.
méditation sous rayons X
Inès Boittiaux, Beaux Arts Magazine.
February 13, 2019
.
in pictures : exposition éric benetto
La Rédaction, The Art Newspaper Daily.
February 1, 2019
.
éric benetto : radiographies mystiques
François Salmeron Et Juliette Soulez, Le Quotidien De L'art.
January 29, 2019
.
les outsiders sortent du ghetto
Armelle Malvoisin, Beaux Arts.
September 27, 2018
.
art brut 2.0
Philippe Godin, Diagonale De L'art.
January 13, 2017
.
L'art brut sort de l'ombre
Catherine Robet, Vivre Le Territoire N°167.
November 25, 2016
.
Drawing Now : 10 ans et en pleine forme
Thierry Hay, Culturebox.
March 30, 2016
.
Drawing Now passe le cap des 10 ans
Fanny Drugeon, L'Objet D'art.
March 3, 2016
.
retour du carrousel
Animula Vagula.
April 8, 2012
.
Radiographié
Arts Magazine.
March 27, 2012
.
galeries une rentrée
Lunettes Rouges, Amateur D'art Par Lunettes Rouges.
September 22, 2011
.
Une rentrée hors les normes 2009
Bénédicte Philippe, Télérama Sortir.
September 30, 2009
.
une rentrée hors les normes pour Christian Berst
Le Poignard Subtil.
September 6, 2009
.
Brut Now L'art brut au temps des nouvelles technologies
trailer - débordement #1 : les révélateurs / the pathfinders
video - the exhibition presented by the curators
éric benetto à Paris + par art basel 2022 (stand E07)
du 20 au 23 octobre 2022 au grand palais éphémère À l'occasion de la première édition de Paris +[…]