Search
Close
christian berst
art brut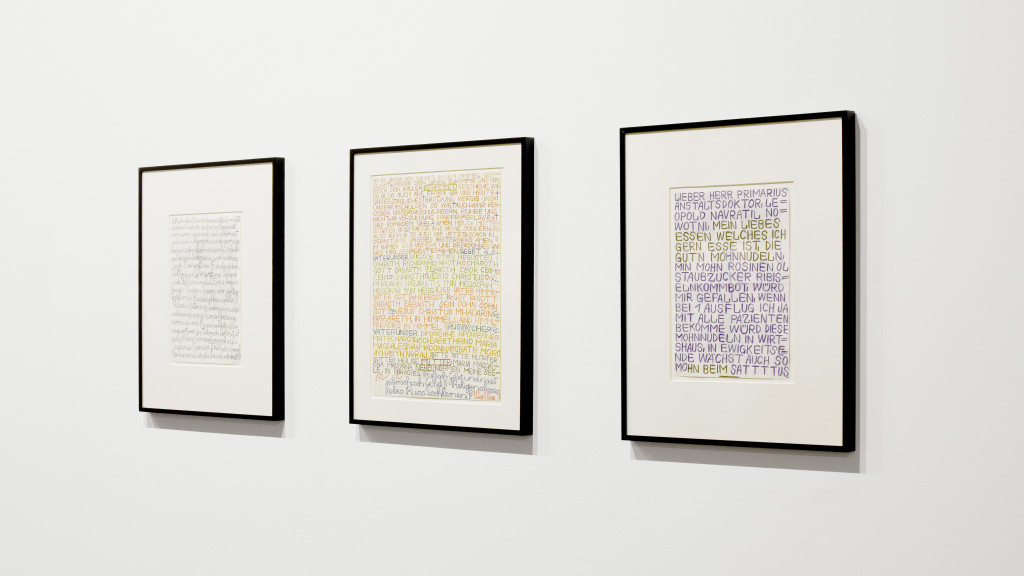 After a troubled childhood and a turbulent adolescence, August Walla was diagnosed with schizophrenia and was finally admitted - along with his mother - to the Gugging hospital, near Vienna, in 1970. Resident of the Haus der Künstler (house of artists), he will remain there for the rest of his life. Expressing himself through photography, installation, diversion of objects and typing of manifestos, writing and drawing have become inseparable in his work. A key figure in art brut, collected by David Bowie, Walla is present in a number of collections around the world, including those of the MoMa (New York) or the Milwaukee Art Museum (Wisconsin).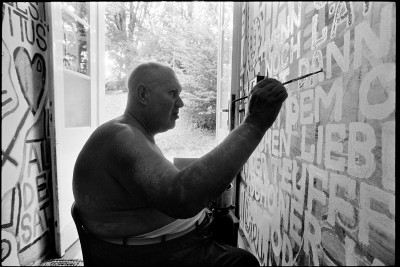 Born in Klosterneuberg in Lower Austria, August Walla remained an only son and had a very tight bond with his mother, who raised him as if her were a girl, hoping thus to spare him being enlisted in the army. He imagined for a long time that Hitler was his father, not having known his own, who died during his early childhood. Incapable of adapting to school, he was placed in a specialized institution. At the age of nine, after having lived through the traumatizing experience of losing sleep for three months, he wrote in his school notebooks: "Everything that is red is diabolical."
The punching bag of his classmates, he remained helpless, regretting he was not a girl. At age 16, after having threatened to commit suicide and to burn down his house, he was committed for four years to a psychiatric hospital where he was diagnosed with schizophrenia. Upon his departure, his mother dedicated herself entirely to him. But in 1970, August was again admitted to the psychiatric ward, in the Gugging hospital, near Vienna. Sixteen years later, he became one of the members of the House of Artists (Haus der Künstler), created a few years earlier by Doctor Navratil outside the hospital, and where he would remain until the end of his life.
Like Wölfli, Walla filled pages with writing and when the sheet of paper turned out to be too narrow, he covered the walls of his room with drawings and inscriptions. Sometimes, he even painted on trees or on roads, only to then photograph his messages with a camera he had painted green because he hated black. Walla constantly invented imaginary languages inspired by his readings of foreign language dictionaries. Writing and drawing are inseparable in his work, covered in obsessive symbols and which develops as a continuum, of which each part seems inseparable from the ensemble.
For almost 25 years, August Walla has been considered a "classic" of art brut and, as such, appears in the most important public and private collections.
 
Artworks
Please
contact us
to inquire about the available works.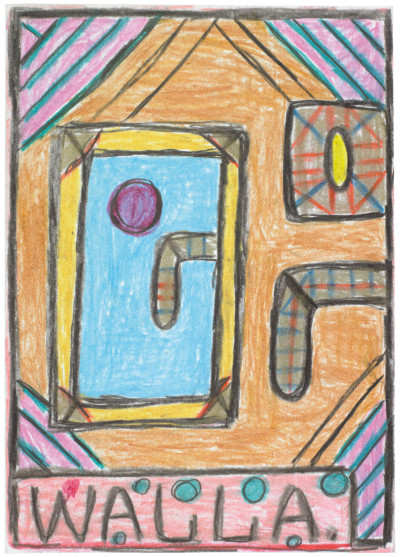 untitled (1 TÜRE.?), 2001
3.94 x 5.91 in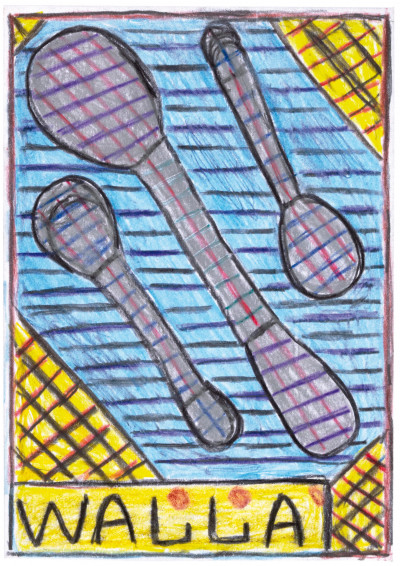 untitled (LÖFFL), 2001
3.94 x 5.91 in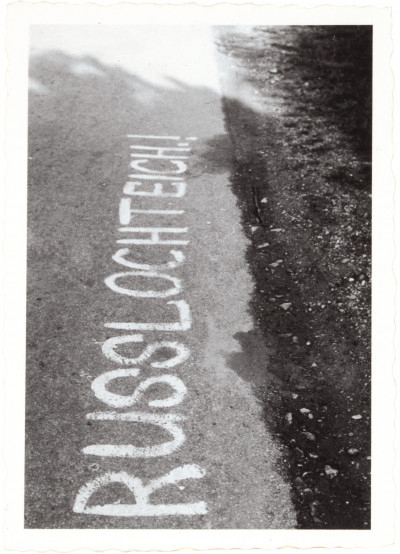 untitled ((Russlochteich), 1960
2.76 x 3.94 in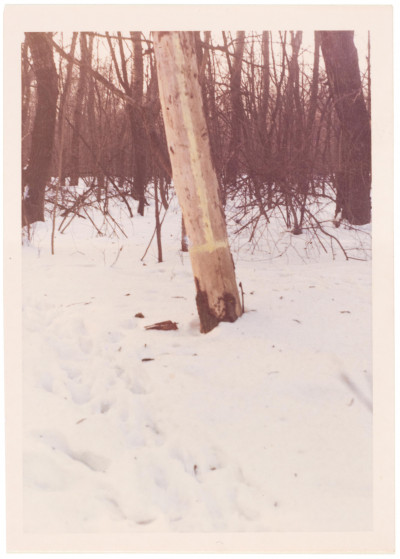 untitled (Bemalter Baum), 1970
2.76 x 3.94 in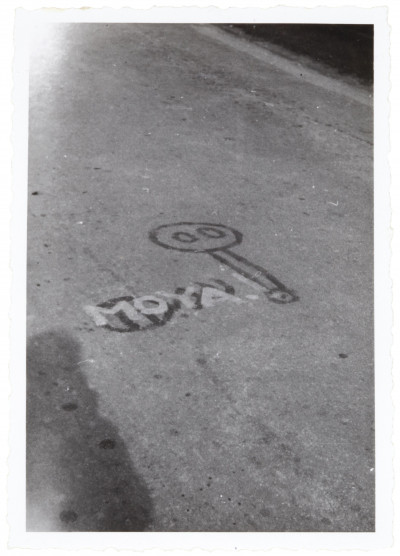 untitled (Graffiti), 1960
2.76 x 3.94 in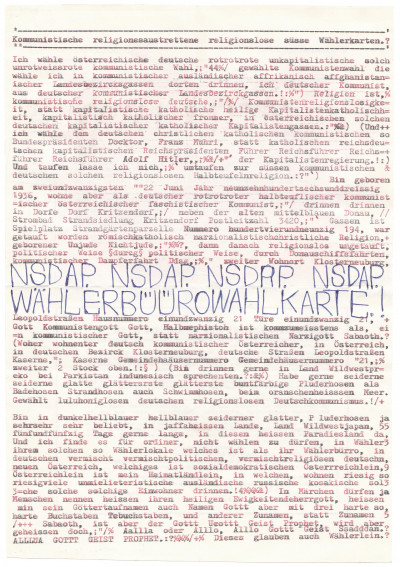 untitled (Kommunistische…), 1986
7.87 x 11.02 in
Preface : Johann Feilacher
Foreword : Christian Berst
Catalog published to mark the exhibition August Walla : ecce walla, from april 18th to may 23rd, 2015.
Culturas Paralelas:
works from the treger saint silvestre collection, Faculdade de Belas Artes da Universidade do Porto, Portugal.
From February 17 to April 22, 2023
.
i love the movement that displaces lines
curator: Léa Bismuth, the bridge.
From February 9 to March 19, 2023
.
brut favorites.!
feilacher's choice, Museum Gugging.
From September 30, 2022 to March 5, 2023
.
the chobot collection :
art brut at the albertina museum, the albertina museum, Paris.
From July 14 to September 18, 2022
.
Power(less)
DOX centre d'art contemporain, Prague.
June 3, 2022
.
Mellitius !
august walla: food passion, galerie gugging, Autriche.
From March 10 to June 12, 2022
.
5th art brut biennial :
beliefs, Collection de l'Art Brut, Lausanne.
From December 17, 2021 to May 1, 2022
.
otherworldly :
where words end and eternity begins …, galerie Gugging, Autriche.
From November 18, 2021 to February 27, 2022
.
Photo Brut
Coll. Bruno Decharme & cie, American Folk Art Museum, New York.
From January 24 to June 6, 2021
.
Sereno variavel
curated by Antonia Gaeta, Centro de Arte Oliva, São João da Madeira.
From October 31, 2020 to May 2, 2021
.
ladies brut
Galerie Gugging.
From September 17 to November 8, 2020
.
Scrivere Disegnando
when the language seeks its other, Centre d'Art Contemporain Genève .
From January 29 to August 23, 2020
.
The Dagmar and Manfred Chobot Collection
a donation to the Albertina Museum, Albertina Museum, Vienna.
From December 13, 2019 to February 23, 2020
.
Photo Brut
coll. Bruno Decharme & cie, Rencontre d'Arles.
From July 1 to September 22, 2019
.
Flora & Fauna brut
Gugging Gallery.
From May 15 to August 30, 2019
.
Travel memories
Antoine de Galbert collection, musée de Grenoble.
From April 27 to July 28, 2019
.
do the write thing 2
read between the lines, at the gallery.
From April 26 to June 2, 2018
.
heterotopias
architectural dwellings, at the gallery.
From December 9, 2017 to January 20, 2018
.
3rd Biennale de l'Art Brut
Bodies, Lausanne, Suisse .
From November 17, 2017 to April 29, 2018
.
Living in art brut
123 works from the Hannah Rieger Collection, Musuem Krems an der Donau.
From September 8 to October 26, 2017
.
gugging !
the crazed in the hot zone, at the gallery.
From September 2 to October 21, 2017
.
The Museum of everything
Museum of Old and New Art, Tasmania.
From June 17, 2017 to April 2, 2018
.
Drawing Now 2017
Le Carreau du Temple, Paris.
From March 23 to 26, 2017
.
Art Brut
A Story of Individual Mythologies, Treger Saint Silvestre Collection, Portugal.
From January 1 to February 26, 2017
.
Fotografie
Lejo & Walla, Gugging Galerie, Vienna.
From September 29 to November 23, 2016
.
YIA
art fair, Espace Louise 186, Bruxelles.
From April 21 to 24, 2016
.
On The Wire
by Jean-Hubert Martin, at the gallery.
From April 9 to May 22, 2016
.
The Museum Of Everything
Kunsthal, Rotterdam.
From March 5 to May 22, 2016
.
PreTENse
at the Gallery.
From September 12 to October 10, 2015
.
August Walla
Ecce Walla, at the gallery.
From April 18 to May 23, 2015
.
Art brut live
DOX centre for contemporary art, Praha.
From March 27 to August 17, 2015
.
Collecting Madness
Outsider Art from the Damman Collection Volume #2, Prinzhorn Collection, Allemagne .
From March 14 to April 14, 2014
.
Raw Vision
25 years of art brut, Halle Saint Pierre, Paris .
From September 18, 2013 to August 22, 2014
.
Walla!
weltallende, Gugging Museum, Vienna.
From March 29 to October 29, 2012
.
Accidental Genius
art from the Anthony Petullo Collection, Milwaukee, USA.
From February 10 to May 6, 2012
.
World transformers
the art of outsiders, Schirn Kunsthalle .
From September 24, 2010 to January 9, 2011
.
Gugging
A home for Art Brut, at the gallery.
From April 7 to May 27, 2006
.
Inner Worlds Outside
Fundacion La Caixa, Madrid ; Whitechapel gallery, London ; Irish Museum of Modern Art, Dublin.
From January 18 to December 30, 2006
.
Ecriture en délire
Collection de l'art brut Lausanne.
From February 12 to September 26, 2004
.
Parallel visions: modern artists and outsider art
Los Angeles county museum of art.
From October 18, 1992 to January 3, 1993
.
Comment les croyances animent l'Art Brut
Claire Margat, Lacritique.org.
January 17, 2022
.
Photo brut, collection Bruno Decharme & compagnie
Lyle Rexer, The Brooklynrail.
February 5, 2021
.
scrivere disegnando. Quand la langue cherche son autre.
Claire Margat, Artpress.
May 22, 2020
.
Arles 6 : Photographie brute, vers un peu de cohérence
Marc Lenot, Amateur D'art, Par Lunettes Rouges.
September 4, 2019
.
Artpress à Arles. épisode 3
Charles-Arthur Boyer, Artpress.
July 18, 2019
.
graphomanies brutes
Claire Margat, Art Press.
December 7, 2018
.
bouge la ligne !
Philippe Godin, La Diagonale De L'art.
May 9, 2018
.
l'envolée de l'art brut
éric Tariant, Le Temps.
November 13, 2017
.
gugging !
Aurélie Romanacce, L'oeil.
September 29, 2017
.
A arte não se deita na cama que lhe preparam
Ágata Xavier, Sabado.
June 20, 2016
.
champagne and art at christian berst galerie in Paris
Shari, What We Adore.
May 27, 2015
.
Galerie Christian Berst presents the work of Austrian outsider artist August Walla
Artdaily.org.
April 20, 2015
.
August Walla : ecce Walla
La Rédaction, Le Vadrouilleur Urbain.
April 16, 2015
.
August Walla : ecce Walla
Clarisse Treilles, Actu Photo.
April 16, 2015
.
Annonce de l'exposition : Gugging, un foyer pour l'art brut
Animula Vagula.
April 5, 2006
.
Gugging the crazed in the hot zone