Search
Close
christian berst
art brut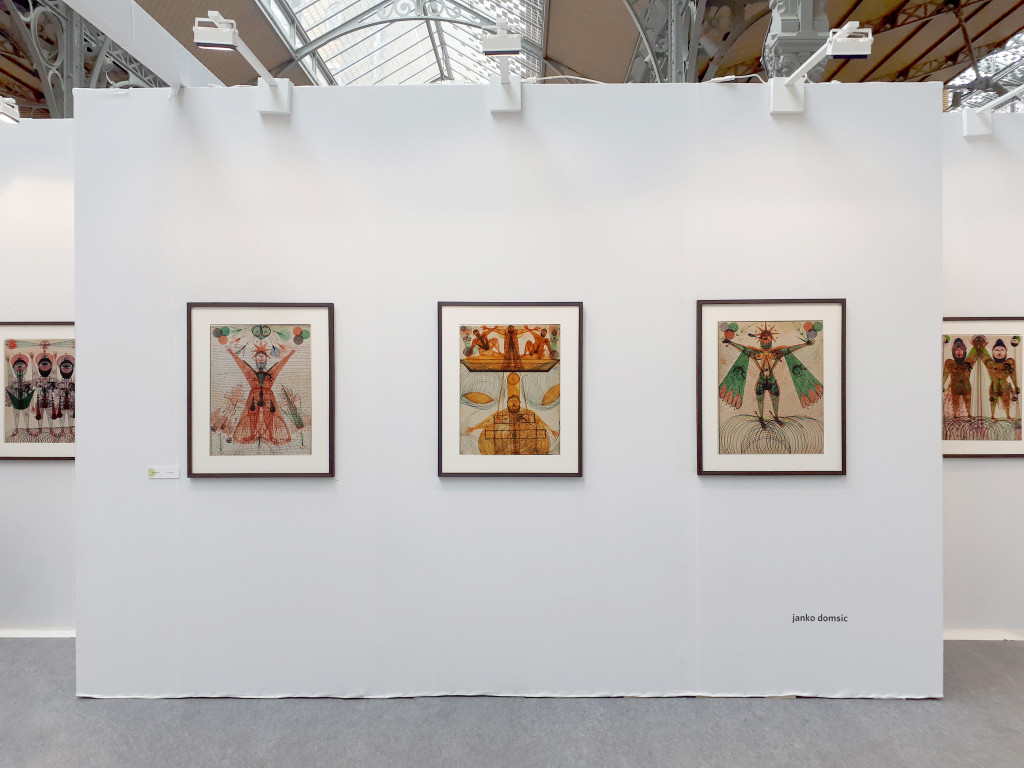 Janko Domsic was, among many other things, a demiurge, a builder, an organizer, and an artist. It was in his makeshift dormitory not far from the Montmartre cemetery, in Paris, that this Croatian exile made his celestial compositions, filled with religious political and Masonic symbols. "My writings are coded." His drawings, like the texts that accompany them, respond to a very elaborate system. Magnified in the exhibition Art brut, works of the Antoine de Galbert collection, in 2015, at the maison rouge (Paris), his pieces appear in all the major world collections, both public and private, of art brut.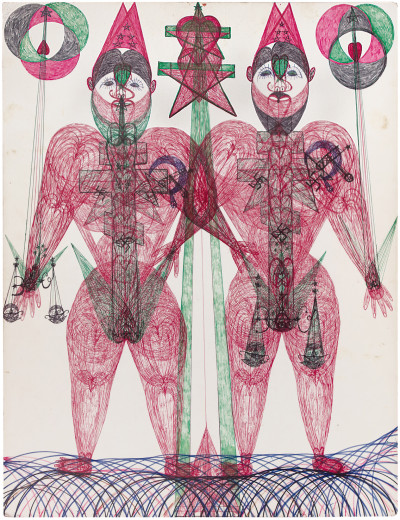 Janko Domsic was born in Malunje (Yugoslavia) in 1915. Very little is known about his life, except that he arrived in France under obscure circumstances, that he might have stayed in prison for a while and that he worked for some time on the construction of the railway in Pont-sur-Yonne. In Paris, near the Place de Clichy, he lived in very poor conditions.
Domsic drew and wrote abundantly: religious, political, Masonic themes. "My writings are coded," he said, with each letter of one word forming another word and each symbol part of a personal coding system.
A brilliant inventor of many neologisms, he writes in French - although Croatian or German words sometimes slip in - and speaks about himself in the third person. His writing in coloured pencil, ballpoint pen or felt pen follows the drawing in a perpendicular or circular way. The unique geometry of the figures produces a global tension underlying the entire composition and creating a universe of anonymous and disembodied characters.
As a document from the police prefecture attests, he called himself Janko Bonsang Halleluya Domsic. He died in 1983, taking with him the secrets of his art and leaving behind a beautiful legacy since his masterpiece currently appears in the largest collections of art brut in the world.
Artworks
Please
contact us
to inquire about the available works.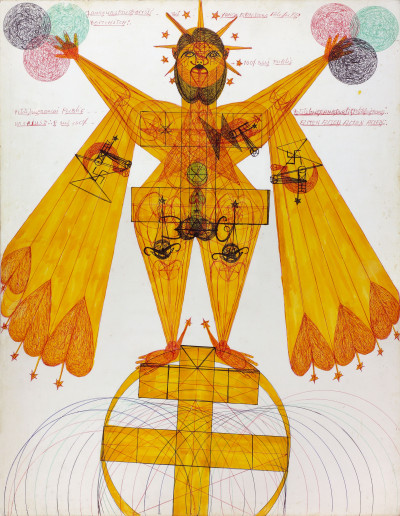 untitled, 1975
19.69 x 27.56 in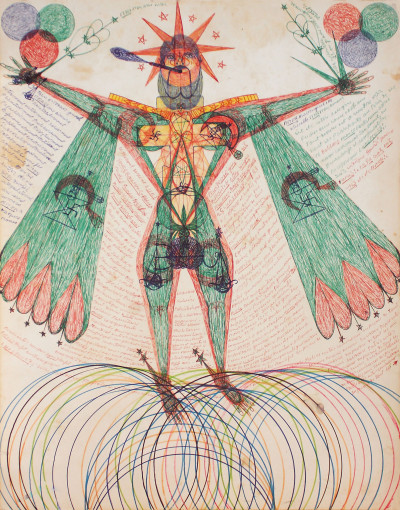 untitled, 1975
19.69 x 25.59 in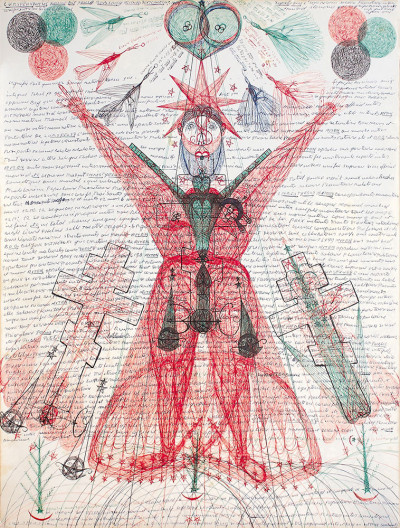 untitled, 1975
19.69 x 25.2 in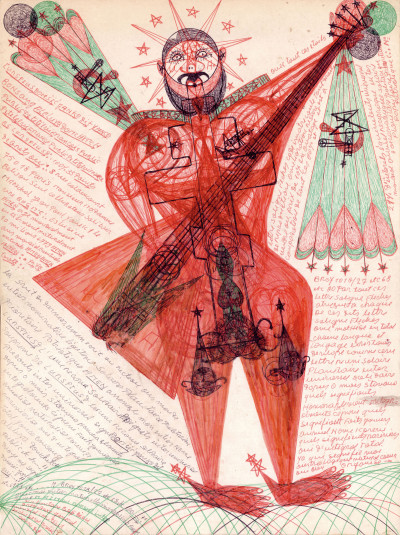 untitled, 1975
13.39 x 17.72 in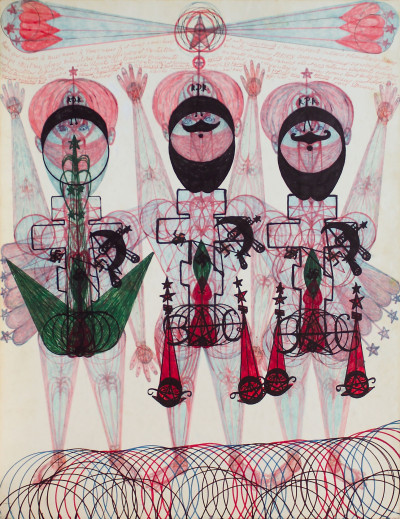 untitled, 1975
19.29 x 25.59 in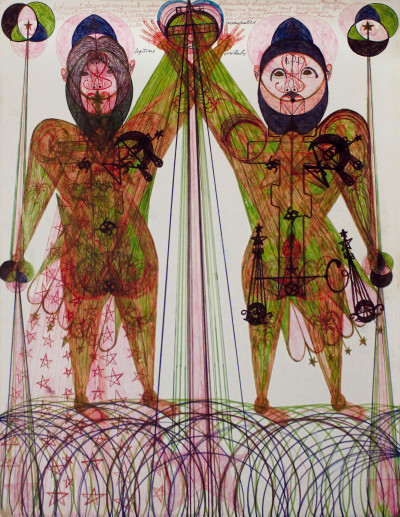 untitled, 1975
19.69 x 25.2 in
Catalog
Janko Domsic
the celestial mechanic
Foreword : Christian Berst
Catalog published to mark the exhibition Janko Domsic : the celestial mechanic, from October 17th to November 22th, 2008. Extended and revisited version, 2018.
fiac
online viewing rooms, online.
From March 4 to 7, 2021
.
Sereno variavel
curated by Antonia Gaeta, Centro de Arte Oliva, São João da Madeira.
From October 31, 2020 to May 2, 2021
.
Fiac
#47, cancelled.
From October 21 to 25, 2020
.
À deux
by Gustavo Giacosa, galerie Zola, Aix-en-Provence.
From January 17 to March 7, 2020
.
Ojo electrico
Casa Encendida, Madrid.
September 24, 2019
.
beyond
on the edge of the visible and the invisible, at the gallery.
From March 7 to April 13, 2019
.
danser brut
lam, (musée d'art moderne, d'art contemporain et d'art brut lille métropole).
From September 28, 2018 to January 6, 2019
.
L'envol
Maison Rouge, Paris.
From June 16 to October 28, 2018
.
drawing now 2018
Carreau du Temple.
From March 22 to 25, 2018
.
Art Brut
A Story of Individual Mythologies , Treger Saint Silvestre Collection, Portugal .
From January 1 to February 26, 2017
.
On The Wire
by Jean-Hubert Martin, at the gallery.
From April 9 to May 22, 2016
.
CONNECTED
La Centrale, Bruxelles.
From March 24 to August 28, 2016
.
Du nombril au cosmos
autour de la collection abcd/ Bruno Decharme, Art et Marges museum, Bruxelles.
From September 25, 2015 to January 24, 2016
.
PreTENse
at the Gallery.
From September 12 to October 10, 2015
.
Elevations, Bruno Decharme & Antoine de Galbert Collections
Hommage à Joseph Ferdinand Cheval, Château de Hauterives .
From April 30 to 27, 2015
.
Art brut live
DOX centre for contemporary art, Praha.
From March 27 to August 17, 2015
.
art brut masterpieces and discoveries
carte blanche à bruno decharme, at the gallery.
From October 21 to November 29, 2014
.
Art brut
ABCD Collection / Bruno Decharme, la Maison rouge, Paris.
From October 17, 2014 to January 18, 2015
.
The Wall
Antoine de Galbert Collection , la Maison rouge, Paris.
From June 14 to September 21, 2014
.
Art brut: breaking the boundaries
curator Christian Berst, Oliva Creative Factory, Sao Joao da Madeira, Portugal.
From June 1 to September 11, 2014
.
Collecting Madness
Outsider Art from the Damman Collection Volume #2, Prinzhorn Collection, Allemagne .
From March 14 to April 14, 2014
.
on the horizon
at the gallery.
From January 28 to March 1, 2014
.
janko domsic
the celestial mechanic, at the gallery.
From October 17 to November 22, 2008
.
salon du dessin contemporain
From March 22 to 26, 2007
.
Janko Domsic and Zdenek Košek
creators of the sky and earth, Institut français de Prague.
From June 15 to September 9, 2006
.
Inner Worlds Outside
Fundacion La Caixa, Madrid ; Whitechapel gallery, London ; Irish Museum of Modern Art, Dublin.
From January 18 to December 30, 2006
.
le nouveau pôle de l'art brut
Véronique Bouruet-Aubertot, Connaissance Des Arts.
February 2, 2015
.
L'art brut à contre courant
Aurelie Romanacce, Pascaline Vallee Et Patrick Le Fur, Arts Magazine.
August 29, 2014
.
droit au brut
Dominique Poiret, Liberation Next.
February 3, 2014
.
Il bello del Brut: i dilettanti sono blue-chips
Luana De Micco, Il Giornale Dell'Arte.
January 23, 2014
.
Collectors of Skies Time Out says
Time Out New York.
October 15, 2012
.
Janko Domsic : le mécanicien céleste
Animula Vagula.
November 1, 2008
.
Janko Domsic (1915-1983)
Bénédicte Philippe, Télérama Sortir.
October 29, 2008
.